NDAs under fire as 'weaponising' mechanism to silence victims of sex crimes
RUTH GREEN, IBA MULTIMEDIA JOURNALIST
In October, the United Kingdom government revealed plans to limit the use of gagging orders after a series of high-profile scandals exposed how wealthy employers continue to use these legal agreements to silence victims of sex crimes.
The announcement comes a year after the revelations regarding American film producer Harvey Weinstein, which sparked the #MeToo movement against sexual harassment and assault. The Weinstein case prompted considerable focus on the use of non-disclosure agreements (NDAs), understood to have been used to prevent his victims from speaking out for at least 20 years.
Concern that there could be thousands of similar cases in the UK prompted the House of Commons Women and Equalities Select Committee to conduct an inquiry into sexual harassment in the workplace in early 2018 and call for new measures to tackle the problem.
In response, the government has proposed to ban the use of NDAs to conceal a criminal act, impose a legal duty on employers to take effective measures to prevent sexual harassment and launch a national database for reporting incidents.
Clare Murray, Managing Partner at employment and partnership specialists CM Murray, says shifting the onus of responsibility onto employers is significant. 'This should cause a seismic shift in the way employers seek to eradicate sexual harassment at work,' she says. 'Legislation currently is much more reactive. Apart from the general obligation to protect the health and safety of workers, there's currently no positive obligation on employers to prevent sexual harassment at work.'
Zelda Perkins, Weinstein's former assistant, is among those calling for the burden to be shifted away from victims and onto employers. She is one of several former Miramax employees who came forward two decades after signing an NDA in exchange for a financial settlement that prevented her from reporting allegations that Weinstein had attempted to rape another employee.
Perkins describes the UK government's proposals as 'hugely positive' as she continues to ask questions of the legal profession regarding NDAs, as well the culture that enabled behaviour like Weinstein's to go unchecked. 'We have a duty to highlight this so that the law can be made more impeccable,' she tells Global Insight. 'This isn't about my individual agreement, it's about the weaponising of NDAs, and maybe they shouldn't ever be available for use in these sorts of circumstances.'
A new legal duty on UK employers to prevent sexual harassment has been proposed
Iain Miller, a partner specialising in regulation and public law at Kingsley Napley, agrees that employers have a responsibility to use NDAs ethically. 'There's one school of thought that says all NDAs should be banned, but there's also an accepted view that organisations can enter into NDAs for commercial purposes,' he says. 'My feeling is that NDAs should exist, but there should be much greater care over their use in an employment landscape.'
Elise Groulx Diggs, a human rights lawyer and Associate Tenant at Doughty Street Chambers, and Vice-Chair of the IBA's Business Human Rights Committee, says the issue of NDAs overshadows a broader cultural threat of abuse of power. 'To me, the failure is really about the wider issue of due process,' she says. 'There have been many institutional failures and disincentives, including threats that put pressure on women and other victims to remain silent about cases of abuse and harassment.'
The UK government's proposals move it closer to the United States, where six states have already passed laws to impose limits on private companies using NDAs in sexual harassment cases. At least ten other US states are considering similar legislation.
A week after the UK announced its plans, a Labour peer in the House of Lords exercised parliamentary privilege to name Topshop owner Sir Philip Green as the businessman who obtained a privacy injunction to prevent the UK media from publishing allegations made against him by former employees. Dubbed the 'British #MeToo scandal', this and other cases have prompted renewed questions about the role of lawyers in preventing allegations being reported to the appropriate authorities.
The Solicitors Regulation Authority (SRA) issued a notice in March 2018 warning lawyers about the risks posed by NDAs. The notice prompted a steady rise in reported incidents of sexual harassment or misconduct within law firms. The SRA received 19 reports of cases in the six months from November 2017 to June 2018, compared with 12 cases for the whole of the previous 12-month period. The regulator is currently investigating more than 50 ongoing cases related to alleged improper use of NDAs. Eight of these involve sexual misconduct allegations.
'The level of tolerance has definitely reduced,' says Miller. 'Now it's about encouraging an environment where these acts can't take place and an environment where people feel they can speak out.'
---
Thomas Buergenthal receives 2018 Stockholm Human Rights Award
International jurist and professor of law for more than half a century, Thomas Buergenthal has become the 10th recipient of the Stockholm Human Rights Award. He was presented with the Award in Stockholm, Sweden, on 20 November, at a gathering of around 1,000 guests.
Bestowed annually by the IBA, the Swedish Bar Association and the International Legal Assistance Consortium, the Award honours outstanding work done to advance international justice and the rule of law, and to protect and promote human rights.
Judge Buergenthal's long and distinguished career was shaped by his experiences as a survivor of Nazi concentration camps. He has served as a judge on multiple international courts and has held many academic positions, including his present role as Lobingier Professor Emeritus of Comparative Law and Jurisprudence at The George Washington University Law School.
In a wide-ranging interview following the presentation, Judge Buergenthal discussed issues including the Trump Presidency, immigration and the collapse of civic space in Europe. He also called for an 'intelligent human rights education' to tackle root causes of endemic human rights violations.
Watch the Award presentation and interview at tinyurl.com/stockholm-award-18
---
Baroness Helena Kennedy to join IBAHRI as new Director
Baroness Helena Kennedy QC has been appointed as the new Director of the IBA's Human Rights Institute (IBAHRI). The prominent barrister, broadcaster and Labour member of the United Kingdom's House of Lords will take up the role in January 2019.
She will be the IBAHRI's third Director since its foundation in 1995, and succeeds Dr Phillip Tahmindjis AM, who has established the IBAHRI as a preeminent human rights entity and is retiring after 16 years at the Institute.
Baroness Kennedy said: 'I feel very honoured and excited to be taking on this role. The IBA is a truly global force, with formidable heft across all areas of law and unmatched convening power in the legal profession and beyond. Its groundbreaking Human Rights Institute is one of its great achievements and to lead it is a privilege.'
A barrister with expertise in human rights and constitutional matters, Baroness Kennedy has acted in some of the most prominent cases of the last 30 years, including the Guildford Four appeal, the Michael Bettaney espionage trial, and the Israeli Embassy bombing. Baroness Kennedy has also held many high-level positions, including Chair of the 2004 Power Inquiry into the political participation of citizens in British democracy.
IBA Executive Director Mark Ellis said of Baroness Kennedy's appointment: 'A seminal force, she brings a wealth of experience to the IBAHRI on issues concerned with human rights, liberties, social justice and more.'
---
Look after the rule of law – short films
With the rule of law under threat, the IBA has produced a series of one-minute films illustrating its importance in our everyday lives, under the catchphrase 'Look after the rule of law, and it will look after you'.
Intended to be shared as widely as possible, the eight films warn of the dangers of flouting the different elements that make up the rule of law. At times hard-hitting, they highlight why the law matters to society and the importance of, for example, independent judges and lawyers, free speech and freedom of the press, equal treatment and legal representation.
Launching the initiative, IBA President Martin Šolc said: 'If we do not require and demand the rule of law as the key element of our societies, the protection it gives us begins to be eroded and will, ultimately, cease to exist.'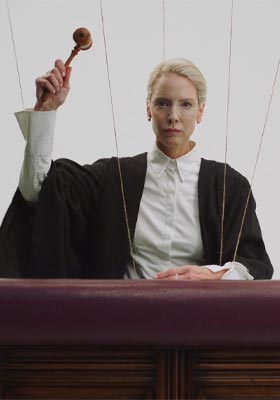 View and share the films at tinyurl.com/look-after-law
---
eyeWitness to Atrocities app footage leads to guilty verdict in DR Congo trial
Footage taken with the eyeWitness to Atrocities app, which enables photos and video to be stored as virtual evidence for investigations and trials, has been used to secure two convictions for crimes against humanity in the Democratic Republic of the Congo.
The eyeWitness team partnered with non-governmental organisations TRIAL International, WITNESS and local actors in the case against two high-ranking rebel commanders of the Democratic Forces for the Liberation of Rwanda. They received life sentences at a military tribunal in September.
The crimes dated back to 2012, when militiamen led by the commanders looted, killed and tortured civilians in the villages of Kamananga and Lumenka, in South Kivu province.
As part of the case, eyeWitness's app technology mapped the location of a mass grave and was used to corroborate other evidence against the accused. On the request of the Prosecutor, eyeWitness submitted the footage along with its accompanying metadata and an affidavit explaining the technology and its data-handling procedures.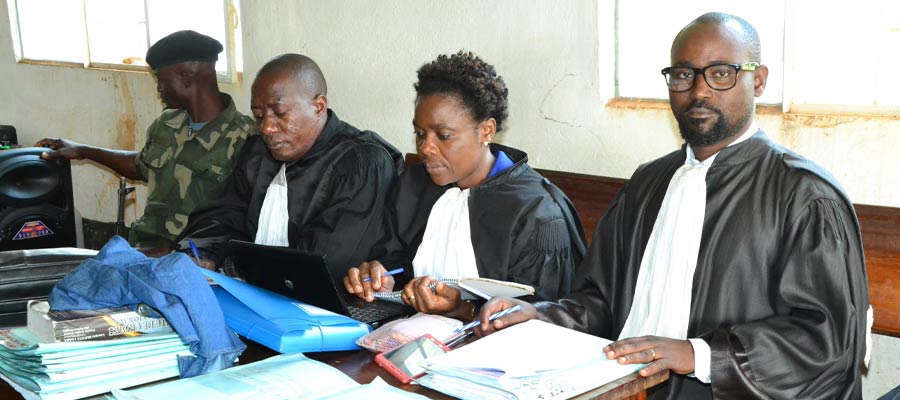 Since its launch in 2015, eyeWitness has been working to place itself as the bridge between those collecting evidence of atrocity crimes and justice mechanisms seeking accountability.
The app allows photos and video to be captured with information that can verify when and where the footage was taken, and confirm the footage was not altered. Transmission protocols and a secure server system create a chain of custody that allows the information to be presented in court.
'This is an incredible milestone for a relatively young eyeWitness organisation,' said Wendy Betts, Project Director at eyeWitness to Atrocities. 'Documenting sufficient evidence to convict perpetrators of the world's worst crimes can often make the work of international justice long and arduous. The outcome of the Kamananga case can be seen as proof that a tool like eyeWitness can have real impact when used to support the work of those seeking justice.'
For more information on the conviction, go to tinyurl.com/eyewitness-conviction-congo. Further details of the eyeWitness to Atrocities app can be found at tinyurl.com/eyewitness-app-2018
---
Nigerian lawyer accepts human rights award for pioneering public information initiative
The IBA's 2018 Award for Outstanding Contribution by a Legal Practitioner to Human Rights was presented to Nigerian lawyer Adeola Oyinlade during the Annual Conference in Rome.
Oyinlade was recognised for his pioneering Constitutional Rights Awareness and Liberty Initiative, which has helped raise public awareness and understanding of constitutional and human rights in the country.
Originally set up as a call-in radio programme in the city of Lagos in 2008, it has developed into a more far-reaching multimedia initiative involving a group of 50 lawyers. Central to the initiative is a mobile app that provides users with easy-to-understand information about their rights, and helps them to report violations and lodge complaints with the relevant authorities.
The Award is given out annually at the Rule of Law Symposium during Conference week, in recognition of remarkable efforts to promote, protect and advance human rights.
---
Watch IBA event: What makes for a healthy democracy?
At a time of tumultuous change in Europe, senior representatives from European Union institutions and civil society came together at an event held at the European Parliament to address the key elements of a healthy democracy. The discussion on 6 November featured keynote addresses from First Vice-President of the European Commission, Frans Timmermans, and MEP Claude Moraes, as well as an expert panel discussing challenges to the rule of law and core EU values.
Watch the filmed event at tinyurl.com/democracy-event
---
US Presidency: the 'age of the downloadable gun'
MICHAEL GOLDHABER, IBA US CORRESPONDENT
Cody Wilson is no supporter of the Parkland student movement against guns in the United States. On the contrary, his avowed goal is to crush the teenagers' dreams: 'All this Parkland stuff, the students, all these dreams of "common-sense gun reforms"? No. The internet will serve guns.'
Wilson founded Defense Distributed, a non-profit company with the mission of posting online the 3D printer blueprints for making homemade plastic guns that can't be traced or detected.
Under the Obama administration, the Department of State blocked Defense Distributed, under the Export Control Act, from publishing instructions for making homemade guns on the internet. Defense Distributed sued but lost in a Texas federal court and the Fifth Circuit Court of Appeals. Then the Trump administration took over the case.
In summer 2018, the State Department abruptly settled the case – completely dropping its opposition to Defense Distributed's plan and announcing that it would narrow export control rules to permit the publication of technical data on gun-making. Cody Wilson trumpeted the 'age of the downloadable gun'.
But, at the end of the summer, a scrum of Democratic state attorneys general persuaded a federal judge in Seattle to grant a new preliminary injunction on the publishing of 3D gun blueprints. In the latest twist, Texas charged Wilson with sexually assaulting a 16-year-old girl he'd met online, and Wilson resigned from the firm he founded. Defense Distributed vows to carry on the lawsuit and win on the merits.
Gun reformers like Adam Skaggs, Chief Counsel of the Giffords Law Center to Prevent Gun Violence, blame the gun lobby for the government's flip flop. 'The only thing that changed in this case,' he says, 'is that the Trump administration took over and decided they had no problem with downloadable guns being available to anyone anywhere in the world.' Although manufacturers may care little about 3D guns, Skaggs says, the arms industry cares intensely about expanding gun exports. 'The administration's reversal of course is almost certainly a product of gun lobby efforts to make it easier to export guns and gun technology,' he argues.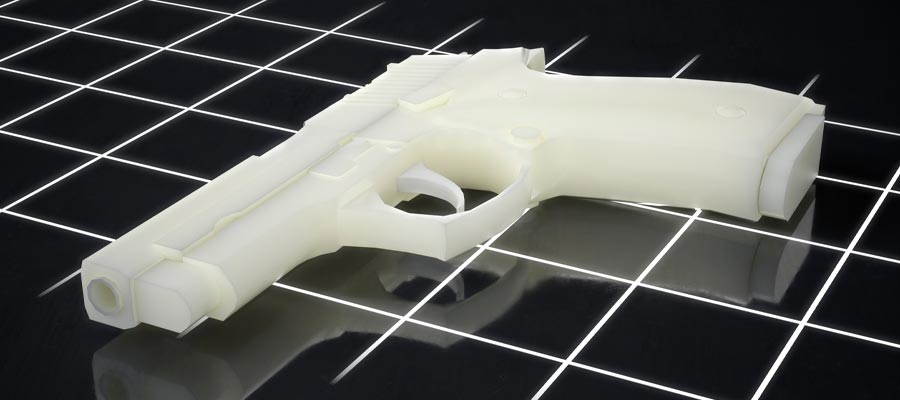 3D gun blueprints are at the centre of a US legal tussle over gun export controls
Defense Distributed lawyer Josh Blackman, of the South Texas College of Law, says that's nonsense. The gun lobby 'has never been on our side,' he says. 'The reason why the government settled is they were going to lose.' Courts had only ruled preliminarily against 3D guns, says Blackman, because it was a question of whether online publication would cause 'irreparable harm'. But if the case proceeded to the merits, that standard wouldn't apply, and the Justice Department told the State Department they'd lose.
The First Amendment demands that judges strictly scrutinise the constitutionality of rules that constrain speech based on its content, says Blackman. And under First Amendment case law, publishing gun plans doesn't fit the narrow exception for 'imminently inciting unlawful violence'.
Furthermore, Blackman argues, 'the export control law is not the vehicle to censor the internet'. That law traditionally applies to confidential rather than public information, he says, whereas 'all the files that Cody posted were already available on the internet'. In any event, export control has no relevance to the domestic gun violence that is the main concern of state attorneys general.
Skaggs views the case differently. 'The idea that Defense Distributed was somehow destined to win, when they lost every step of the way, doesn't pass the laugh test,' he says. 'Their court papers are dressed up in First Amendment clothing – but [this is] not about speech. It's not about communicating ideas to anyone. It's not about the expressive value of this computer code. What this is about is an effort to make guns available to anyone anywhere in the world with a click of a mouse… without a background check, without any government oversight.'
As for the export control law, Skaggs argues that 'the ability to create untraceable firearms poses as much a threat to public safety in the US as it does overseas, [because] the risks of terrorism or assassination are present everywhere'. A downloadable gun 'poses a threat to the national security interests' if it's 'easily accessible for those intent on' harming Americans either at home or abroad.
Defense Distributed continues to disseminate its plans domestically and to sell 'ghost gunner' machines for milling metal parts that complete plastic guns.
Meanwhile, President Trump has muddied the waters, saying 3D guns don't seem to 'make much sense' and gun reformers are eager for the Undetectable Firearms Act of 1988 to be strengthened. But Skaggs remains sceptical: 'The fact that you can be prosecuted for building a plastic gun after you commit an assassination,' he says, 'isn't going to stop you from building a plastic gun in the first place.'