Brexit: Swiss case shows UK–EU equivalence not guaranteed
JONATHAN WATSON
In a dispute that has clear implications for the UK, the European Commission has allowed the EU equivalence arrangement for Swiss stock markets to expire. In the event of Brexit, the UK would need to pursue an equivalence relationship for the City of London with the EU.
The EU–Swiss dispute was a result of the failure to agree on a framework agreement by the EU's deadline. Switzerland retaliated by barring the trading of Swiss-listed companies' shares on EU platforms.
In December 2018, the European Commission told the Swiss government it had drafted a new framework agreement – an overall accord designed to replace 120 bilateral deals regulating trade relations between the two sides – which required agreement by the end of June 2019. At the time of writing, an agreement was still yet to be reached.
The punishment for the lack of agreement was the loss of 'equivalence'. This refers to the EU's power to grant market access to financial firms from non-Member States if it concludes that the country's home rules are equivalent or very close to EU rules.
'Equivalence is one of our main tools to engage with third countries in financial services,' says Valdis Dombrovskis, Vice-President for the Euro and Social Dialogue at the European Commission, in a statement setting out the Commission's equivalence policy with regard to non-EU countries. 'It's mutually beneficial because it enables us to have a robust cooperation with our partners and to open up our markets to non-EU market players and vice versa.'
The EU Markets in Financial Instruments Directive (MiFID II) and Markets in Financial Instruments Regulation (MiFIR) introduced a so-called share trading obligation, which requires EU investment firms wishing to trade in listed shares to do so only on an appropriately regulated trading venue. This means EU investment firms can trade shares on Swiss trading venues only if the European Commission recognises the equivalence of the Swiss regulatory framework.
Benjamin Leisinger, Vice-Chair of the Mergers and Acquisitions Subcommittee of the IBA Securities Law Committee and a partner at Homburger, believes that 'Equivalence has been used as a bargaining chip to pressure the Swiss Confederation into signing up to this framework agreement.' He says that 'it would provide for a mechanism to update certain bilateral treaties in the case of any change in EU laws and to implement such changes dynamically in Swiss law.'

If Brexit occurs, the City of London will want an equivalence relationship with the EU
The EU and Swiss decisions did not have a substantial impact when they came into force, at least not obviously. 'The trading volumes on the SIX Swiss Exchange went up slightly, implying that the EU trading venues and the broker dealers trading on those venues respect the ban,' says Leisinger. 'If they trade in Swiss shares, they go to the SIX Swiss Exchange. Either they are themselves direct participants or they use their banking network to trade via direct participants at the SIX.'
According to a SIX spokesperson, trading volumes on that market rose by about 20 per cent in July compared to June. Normally, trading is substantially below normal levels due to the holiday season, but July 2019 turned out to be the strongest July since 2008.
This does not mean the two sides will not deal with the situation. 'If there is equivalent legislation, as is undoubtedly the case in Switzerland, then not receiving this recognition is a bit odd,' Leisinger says. 'Equivalence seems to be a political tool, not only a technical and legal one.'
The implications of the dispute are not lost on those tracking the UK's plans to leave the EU, which will turn the UK into what the EU calls a 'third country', like Switzerland. 'It is very clear that the EU is tightening up its approach to equivalence and I expect this is with at least one eye on Brexit,' says Michelle Kirschner, a partner at Macfarlanes. 'There are many areas where the EU is doing this. Another one relates to the substance requirements for firms setting up a presence in the EU as part of their Brexit plans.'
These moves may partly be a way of warning the UK that equivalence, or anything else for that matter, is not guaranteed, says Michael Huertas, Co-Head of Dentons' Financial Institutions Regulatory Practice Group in Europe. 'However, not granting financial equivalence to the UK is likely to lead to a response similar to that of Switzerland but with worse consequences,' he says. 'EU issuers could lose direct access to Europe's second-largest exchange, and EU market participants subject to the European Market Infrastructure Regulation's clearing obligation could lose access to some of Europe's key clearing houses.'
It seems unlikely the European Commission would choose the same approach in Brexit negotiations. 'The UK stock market is approximately twice the size of Switzerland's market, and UK clearing houses are and will continue to be a core part of Europe's trading infrastructure,' says Ramona von Riedmatten, a lawyer at Swiss firm Lenz & Staehelin.
---
IBA Annual Conference 2019 – highlights from Seoul
Performers at the IBA Annual Conference opening ceremony in Seoul, September 2019
The IBA Annual Conference, the flagship event in the IBA calendar, took place in Seoul, South Korea from 22–27 September, as Global Insight went to print. The Conference brought together thousands of legal professionals and prominent speakers, participating in more than 200 working sessions and numerous social functions.
The ever-popular 'A conversation with…' lunchtime interview series continued this year, featuring key North Korean defectors on both Monday and Tuesday, and O-Gon Kwon, President of the Assembly of States Parties of the International Criminal Court and former Vice-President of the UN's International Criminal Tribunal for the former Yugoslavia, on the Wednesday.
Elsewhere, showcase sessions covered topics including: bullying and sexual harassment in the legal profession with former Australian Prime Minister Julia Gillard AC speaking; international refugee laws with contribution from Lord Alfred Dubs; the impact of modern populism in the legal profession; and the role of general counsel in a fast-moving world, among others.
The Monday and Tuesday of conference week served as 'D&I days', with a number of sessions discussing different aspects of diversity and inclusivity in the legal profession.
The Rule of Law Symposium this year covered the persecution of lawyers and judges and threats to the independence of the legal profession.
Visit the Seoul website at tinyurl.com/IBASeoul and look out for further coverage in the next edition of Global Insight.
---
IBA GEI studies on-demand economy in new report
The IBA Global Employment Institute (IBA GEI) has released a new report on the on-demand economy (ODE), defined as economic activity created by technology and digital marketplaces that fulfils consumer demand via the immediate and flexible access to goods and services.
The report provides an overview of different employment law issues relating to this new economy, surveying the judicial responses to such cases across 16 jurisdictions.
The ODE offers increased accessibility of services for consumers and flexibility for workers, but has generated significant legal uncertainty, with workers facing a lack of legal protections and insecurity regarding their rights and obligations.
o close the gap, the report recommends the creation of a third category of worker, between an employee and independent contractor, to provide certain protections such as minimum wage and holiday pay.
The report is available to download here: tinyurl.com/GEI-on-demand-economy
---
Podcast: Richard Haass on the world order
In a new podcast, President of the Council on Foreign Relations, the leading American diplomat Richard Haass, explains how growing tensions between the world's major powers present new dangers to the global order and the rule of law.
A close adviser to former Secretary of State Colin Powell, Haass has been at the forefront of US foreign affairs for more than 30 years. He served in key positions coordinating the Northern Ireland peace process and US policy in Afghanistan.
Here, Haass assesses the fault lines in international affairs and the Trump administration's approach to diplomacy, US trade policy and the threats from populism.
To listen to this podcast, please visit tinyurl.com/HaassPod
---
IBA LPRU reports examine legal expenses insurance and sextortion
The IBA Legal Policy & Research Unit (LPRU) launched two reports at the IBA Annual Conference in Seoul.
Legal Expenses Insurance and Access to Justice was led by Anna McNee, Commercial Lawyer at the LPRU, with input from the IBA Access to Justice and Legal Aid Committee. The report launched at the 'Legal expense insurance schemes and access to justice' session. It focuses on case studies from nine jurisdictions and acknowledges key barriers to the uptake of legal expenses insurance (LEI), including a lack of awareness and information, gaps in indemnity and the perception of conflicting interests. The report suggests that greater uptake of LEI by individuals could increase access to justice for the 'forgotten middle' – those without disposable income to spend on private legal services, but whose earnings or assets prohibit qualification for legal aid or pro bono assistance.
Sextortion: A crime of corruption and sexual exploitation, authored by LPRU Director Sara Carnegie, was launched during the session 'A new anti-corruption paradigm: sextortion' on Wednesday 25 September. The report raises awareness of sextortion within the framework of anti-corruption, considering the application of the law across eight jurisdictions. Sextortion is defined as a form of sexual exploitation and corruption that occurs when authority-holders demand sexual favours in exchange for something that only they can grant or withhold. The report highlights a lack of targeted legislation to address the issue.
Both reports are available to download from the LPRU webpage: www.ibanet.org/Legal_Policy_Research_Unit
---
Podcasts explore climate crisis and NDAs
Two recently published IBA podcasts explore crucial and timely issues.
The first assesses how civil society and strategic litigation are forcing governments and corporations to take long overdue action on climate breakdown, as the impact on human rights becomes increasingly evident.
IBA Global Insight's Ruth Green talks to David Boyd, the UN's Special Rapporteur on human rights and the environment, Jasper Teulings, General Counsel for Greenpeace, and Roberto Cadiz, the Commissioner on Human Rights in the Philippines, about how rapid and far-reaching change is now urgently needed to address the climate crisis.
The second podcast addresses non-disclosure agreements (NDAs) in the context of recent developments such as the Harvey Weinstein scandal and the #MeToo movement. Global Insight speaks to Maria Miller MP, Chair of the UK Parliament's Women and Equalities Select Committee, Kate Jenkins, Australia's Sex Discrimination Commissioner, and Zelda Perkins, the former assistant to the disgraced mogul Harvey Weinstein.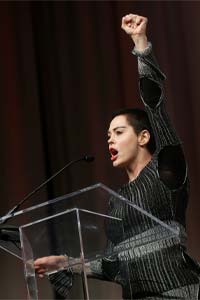 Rose McGowan, #MeToo activist
---
Hedge Funds, Leadership for Lawyers and Gun Jumping in Merger Control – new books
In conjunction with Globe Law and Business, the IBA has published the second edition of Hedge Funds: A Practical Global Handbook to the Law and Regulation. The book aims to provide up-to-date analysis and helpful, practical tools for participants in the hedge fund industry.
The IBA and Globe have also published the second edition of Leadership for Lawyers: Essential Leadership Strategies for Law Firm Success, which explores the crucial elements of law firm leadership.
The IBA Antitrust Committee Mergers Working Group has formulated a comparative guide to gun jumping across 21 major jurisdictions. Gun Jumping in Merger Control: A Jurisdictional Guide was published in early September through Concurrences, in cooperation with the IBA. The book encompasses all global regions and both established and emerging merger control systems.
Each country chapter comprises a series of questions and answers based around the relevant legislation, illuminated by recent cases and decisions. These have been contributed by distinguished practitioners from around the world, and are followed by annexes on actual and hypothetical enforcement of specific conduct.
IBA members can use discount codes at the point of sale to receive money off the above titles.
Visit tinyurl.com/HedgeFundsBook and tinyurl.com/LeadershipBk and use the code IBA19 to receive a discount for both Globe titles. Visit tinyurl.com/GunJumping for ten per cent off Gun Jumping in Merger Control.
---
Big Four tech companies increasingly on radar of European and US regulators
NEIL HODGE
The US Department of Justice (DoJ) announced on 24 July that it will conduct an antitrust review of search, social media and some retail services online – a group thought to include Amazon, Facebook and Google – to investigate whether their practices have 'reduced competition, stifled innovation or otherwise harmed consumers'.
Apple, Amazon, Facebook and Alphabet's Google – collectively known as the 'Big Four' tech companies in the West – are increasingly under regulatory scrutiny over the way they run their businesses and whether they are simply too dominant in their respective markets.
In March, US Senator Elizabeth Warren, a Democratic presidential candidate for the 2020 election, proposed 'breaking up' the major tech companies due to their size and perceived power.
Currently, regulators are more inclined to hand out ever-larger fines for anti-competitive behaviour, or even create new tech-focused watchdogs.
In February, the US Federal Trade Commission (FTC) created a task force to monitor competition in US technology markets. The FTC noted the potential for the task force to take enforcement action where necessary.
Timothy Gray, an associate at Patterson Belknap, says that until recently, US oversight of the Big Four has focused instead on data security and alleged privacy violations. 'It remains unclear to what extent existing antitrust laws will be implicated and what types of conduct, if any, may be targeted for investigation,' he says. The FTC is reportedly making direct outreach to smaller technology companies for reports of anti-competitive conduct and evidence of anti-competitive mergers.
Major tech companies have already faced significant fines for competition infringements. In December 2018, Italy's competition authority fined Facebook €10m for failing to properly tell users that their personal information could be sold on. Facebook is also facing other competition investigations across Europe.
The European Commission, meanwhile, launched an antitrust investigation into Amazon on 17 July over how the e-commerce company might be using sensitive commercial data from independent retailers on its Marketplace service to further its own dominance.

Major tech firms have been handed significant fines for anti-competitive practices
Google has received three major antitrust fines, totalling €8.25bn, in three successive years. In March, the European Commission handed Google a €1.49bn fine for blocking rival online search advertisers from getting a foothold in the market. The Commission found that between 2006 and 2016, Google imposed restrictive clauses in its contracts with third-party websites via its 'AdSense for Search' platform. This prevented competitors from placing their search adverts on the same websites. This was despite Google having a market share as high as 70 per cent for some of the period concerned.
In June 2017, the Commission fined Google €2.42bn for abusing its dominant position by promoting its own comparison shopping service in its search results – while demoting those of competitors. In July 2018, it fined the company again – for €4.34bn – for using its Android mobile operating system and mobile apps and services to further cement the dominance of its own search engine.
On 3 July, the UK Competition and Markets Authority (CMA), the UK's competition watchdog, launched a study into online platforms and the UK's digital advertising market. It warned that a new regulator may be needed to deal specifically with the market dominance of tech firms and how they use and sell customer data to maintain market share.
The CMA also hinted at blocking technology giants from sharing data between different parts of their businesses via apps as a way of boosting revenues through online advertising. This would mirror the approach taken by Germany's competition authority, the Bundeskartellamt, against Facebook in February, when it barred the social media platform from pooling data collected from its Instagram app, other subsidiaries and third-party websites.
Any remedies, says the CMA, are likely to focus on 'recommendations to government for the development of an ex ante regulatory regime', which would require new legislation. The regulator said it would also weigh proposals for a new regulatory body with powers of enforcement. This would build on the broad proposals made in March 2019 by Jason Furman, previously an adviser to former US President Barack Obama. In his report to the UK government, Furman and his expert panel concluded that the UK's digital ad market is 'dominated by two players and suffers from a lack of transparency' and that a 'digital markets unit' should be set up to regulate competition issues in the tech sector specifically.
Angelene Duke, an associate at Womble Bond Dickinson, says that it appears that regulators are 'playing catch up' when it comes to overseeing tech and social media companies. A lack of resources is apparently at the heart of the problem, she says, especially given the amount of information regulators have to sift through to build a case.
'Politics also plays a big part,' she adds. 'There will be powerful lobbies that make life difficult for the regulators.'
Duke does not believe fines have a significant enough deterrent effect. Instead, she says that negative publicity and reputational damage will need to play a bigger part in deterrence 'since these big players earn such high turnover'.