India's ambitious 'Smart Cities Mission' targets rapid urban development
SIMON FULLER, IBA MANAGING EDITOR
In June, three years after its launch, India's 'Smart Cities Mission' welcomed its 100th participating city, Shillong. The Mission, an ambitious five-year initiative, aims to transform urban development, improve quality of life and stimulate economic growth in cities across the country. It's been a flagship policy for Indian Prime Minister Narendra Modi.
The Mission reflects India's rapid urbanisation: one in three Indians now live in an urban environment. Under the initiative, the Indian government offers funding to cities that successfully apply, although no definition of 'smart city' has been provided.
This is a deliberate move, based on the view that the meaning could differ depending on the city. But the Mission guidelines list core elements, including sustainable environment, robust IT connectivity and security for citizens.
'The Mission aims at developing the entire urban ecosystem institutionally, physically, socially and economically,' says Sajai Singh, partner at J Sagar Associates and Vice-Chair of the IBA Technology Law Committee. 'It aims to apply smart solutions, which involve the use of technology, information and data.'
Smart solutions include energy-efficient buildings, the use of surveillance technology to monitor crime, and smart meters to help manage energy and water usage. How each city is going about becoming 'smart' varies markedly. The city of Jabalpur has a focus on waste management, utilising GPS-enabled trucks and installing heat sensors on landfill sites. A project in Bhubaneswar involves smart debit cards.
But the Mission has received equally varied criticism, from concerns about social exclusion and forced evictions to fears that India's regulatory environment can't support the initiative.

The ambitious five-year initiative aims to stimulate economic growth in India's cities
Shivani Chaudhry is Executive Director of Housing and Land Rights Network (HLRN), a think-tank based in New Delhi, which recently published India's Smart Cities Mission: Smart for Whom? Cities for Whom? 'Its architects, probably, did not design or envision it as a scheme to promote exclusion,' he says. 'Some of the projects, such as those aimed at improving accessibility for persons with disabilities, developing renewable energy and sustainable public transport, are noteworthy and will have positive outcomes. At the same time, given the many concerns and the potential detrimental impacts of this model of restrictive development, the Mission requires some introspection and critical evaluation.'
The HLRN report highlights that none of the selected cities have recognised housing as a human right, and expresses concerns that some proposals could cause the displacement of rural communities.
For many Indians, the problem may not be how they will be affected by the Mission, but rather that they will simply be left out. The Indian government has calculated that 99.5 million people will be covered by the Mission, which amounts to just eight per cent of India's total population and 22 per cent of its urban population. Within the chosen cities, often it's only certain areas that have been identified for urban development, rather than proposals being pan-city.
This has led to warnings that the Mission could widen India's much-reported rural-urban 'divide'. Singh expresses concern that, while the cities involved in the initiative will have their ecosystems developed, rural areas will not receive comparable treatment. Some state governments have already set up 'smart village' projects to develop rural areas with the assistance of digital technology, and these projects often mirror some of the solutions put forward by the Mission.
'Probably, in addition to the Mission – if not as a part of the Mission – the federal government may consider taking proactive steps to make the rural areas "smart", which would accelerate the growth of many rural sectors, reducing poverty, unemployment and large scale (rural to urban) migration,' he says.
However, Singh believes that 'the current regime is not equipped to deal with the new security challenges posed by Big Data with respect to personal data and privacy'. He also highlights the lack of robust information and communications technology infrastructure within India. 'The National Cyber Security Policy may need to be revamped to address cyber safety issues by enabling the data processing entities to increase their security and resilience against any attack or invasion.'
Els Reynaers Kini is a partner at MVKini, Mumbai, and Senior Vice-Chair of the IBA Environment, Health and Safety Law Committee. 'The Indian public shares the view that a smart city project must connect people with their environment and city to create more efficient and optimal relationships between available resources,' she says. 'But given that so many proposals under the Mission are still at project stage, the actual results have not been as significant yet.'
Singh adds that other factors are slowing down the implementation of the Mission, including inadequate resources and lack of streamlined financing. 'Despite these troubles, the Mission has been attracting global investment on a large scale, which is capable of helping the government to achieve the objectives,' he says.
---
IBA partners with UNIDROIT to harmonise global contract law
The IBA is collaborating with the International Institute for the Unification of Private Law (UNIDROIT) to enhance its Principles of International Commercial Contracts.
The project emerged through a long-standing relationship between the IBA's Executive Director, Mark Ellis, and experts working with UNIDROIT. 'The IBA wants to contribute to having lawyers, advocates, the judiciary, arbitrators, transactional lawyers and lawmakers increasingly apply the Principles, as part of the drive to harmonise contract law for the international trade and business community,' said Ellis.
First published in 1994, the UNIDROIT Principles have influenced contract law reform worldwide and are increasingly used as an authoritative reference in international commercial arbitration and contract practice.
An IBA working group has been set up, in consultation with relevant committees, comprising about 50 specialised lawyers, judges and academics from 30 countries, to consider how the Principles can be made more user-friendly and business-focused for legal practitioners.
The group has compiled summaries of about 300 court and arbitration cases where the Principles have been applied or have been used for the interpretation of national and international law, as an aid for practitioners. It's also prepared a series of country reports on the application of the Principles.
The aim is to produce a working document that can be finalised and submitted to the UNIDROIT Governing Council. The project will also help ensure international legal and business communities obtain a wider knowledge and understanding of the Principles.
Willem Calkoen, who is coordinating the IBA working group, said: 'The UNIDROIT Principles are very valuable for international trade and business, and the insightful summaries and practical country perspectives being provided by the IBA will give an excellent reference for practitioners.'
A case study on 'The practical use of UNIDROIT Principles for international commerce' will be taking place on 9 October during the IBA Annual Conference in Rome. For more details, click here.
---
Democracy in crisis – latest podcasts
Fundamental challenges facing democracy are assessed in the latest two IBA podcasts, the first of which scrutinises foreign interference and the power of social media companies.
Allegations of Russian meddling in the United States presidential election and the United Kingdom's referendum on European Union membership, alongside data scandals involving Facebook and Cambridge Analytica, have raised serious questions over the funding of campaigns, the influence of social media and whether electoral law is fit for purpose.
Assessing the risks to democracy in the digital era are: Trevor Potter, Commissioner of the US Federal Election Commission 1991–1995; Chair of the UK Electoral Commission, Sir John Holmes; and constitutional expert Tony Travers.
In the second podcast, William Hague, UK Foreign Secretary from 2010 to 2014, describes the fragmentation of the West as 'the most alarming single fact about world affairs at the moment'.
Offering a candid assessment of the state of the world today, Lord Hague considers business in an era of heightened risk, the impact of Brexit and the uncertain future of Europe, the challenges presented by President Putin's Russia; and other global developments – warning that the threats facing Western unity and democracy worldwide are nearing crisis point.

All IBA podcasts can be accessed at www.ibanet.org/Podcasts/Home
---
Romano Prodi to open IBA Annual Conference
Romano Prodi, the 10th President of the European Commission (EC), has been announced as the keynote speaker at the Opening Ceremony of this year's IBA Annual Conference in Rome. He will address delegates and participate in an audience Q&A on 8 October.
Prodi headed the EC from 1999 to 2004, overseeing the introduction of the euro, the enlargement of the bloc by ten countries and the treaty establishing a constitution for Europe. He also served twice as Prime Minister of Italy, and has an extensive career in business and international diplomacy.
For the latest information on this year's Annual Conference and to register, go to www.ibanet.org/Conferences/Rome2018
---
New IBA Jurist Award – nominate an unsung hero
A new Jurist Award has been created to celebrate the 'unsung heroes' of the legal profession – those lawyers who exemplify personal sacrifice and commitment, yet frequently go unrecognised.
A worldwide search is now underway in collaboration with Ashoka, a global network of leading social entrepreneurs working towards achieving social justice, to identify and honour these individuals.
Nominees can include, for example, lawyers undertaking cases pro bono in the pursuit of justice, or judges who rule appropriately on landmark cases despite systemic or societal pressures. The deadline for nominations is midnight (BST) on 31 August.
For more details and to nominate someone you believe has gone beyond the call of duty in their role as a jurist, go to tinyurl.com/iba-jurist-award-2018
---
Anti-corruption mandate issued by IBA and International Federation of Accountants
In the run-up to a recent G20 meeting of finance leaders, the IBA issued a shared commitment with the International Federation of Accountants (IFAC) to continue tackling all forms of corruption.
The anti-corruption mandate highlights the need for business and government to safeguard a fair, transparent future.
Recognising how corruption and bribery impede economic stability and development, and tarnish public trust in institutions, the cross-sector agreement underlines the role and responsibility of international professions in combating the problem.
The mandate was published ahead of the G20 Meeting of Finance Ministers and Central Bank Governors in Buenos Aires on 21–22 July.
According to the International Monetary Fund, bribery – just one aspect of corruption – costs the global economy nearly $2tn, equivalent to about two per cent of global GDP, each year. However, where governance architecture is strong, the role of professional accountants in tackling corruption is amplified, such as in G20 countries and others with anti-money laundering laws in line with international recommendations.
Research by IFAC shows there is a strong link between the percentage of professional accountants in the workforce and more favourable scores on the main global measure of corruption.
The mandate reflects how the international legal and accountancy professions continue to promote core ethical values, facilitate national and international cooperation in the fight against corruption, and advance monitoring and enforcement systems in the public interest.
---
In Memoriam – Helen Rockman
The IBA is mourning the sad loss of Helen Rockman, who passed away on 25 July, after 21 years' service.
The long-serving receptionist at the London office was regarded by many as 'the voice of the IBA'. Showing a remarkable commitment and fondness for the Association, Helen would often try to speak a few words in the caller's language. She was held in great affection by many members, as well as IBA staff.
A former civil servant, Helen had a previous career handling the administration of young offenders in England who had committed serious crimes.
She lived in London's West End for many years, and counted jazz club owner Ronnie Scott among her friends.
Helen's passing is an additional and considerable blow, the IBA having lost several other highly valued members of staff in recent years: Keith Goddard passed away in 2011 after 16 years' service; both Julian Williamson and Mandy Lee died tragically young when they passed away in 2012 and 2014, respectively; and, in August 2017, the IBA lost its IT Development Director John Shrives.
Helen Rockman, Julian Williamson, Keith Goddard, Mandy Lee, John Shrives
---
In Memoriam – Chief Idowu Sofola
Chief Idowu Sofola, the first African Secretary-General of the IBA, passed away in March 2018, aged 83. A prominent legal practitioner in Nigeria, Chief Sofola served as the IBA's Deputy Secretary-General from 1984 to 1986 and Secretary-General from 1986 to 1988.
He was also General Secretary of the Nigerian Bar Association (NBA) from 1979 to 1982. More recently, Chief Sofola chaired the Body of Benchers, Nigeria's highest legal decision-making body, from 2012 to 2013. The NBA described him as 'an erudite legal juggernaut of exemplary character'.
---
Technology and antitrust: US government bids to block AT&T and Time Warner's $80bn merger
JONATHON WATSON
The United States government is pressing ahead with its bid to block a major telecoms and entertainment industry merger, in an ongoing antitrust battle that underlines the challenges facing companies and regulators in the digital marketplace.
AT&T's proposed $80bn takeover of Time Warner is widely seen as a move by both businesses to compete with digital platforms, such as Google, Amazon and Netflix, which are increasingly dominating the entertainment industry. Time Warner owns broadcasters HBO and CNN, along with the Warner Bros film studio. AT&T supplies content to end-users over various different networks. But, on 12 July, the Department of Justice (DoJ) launched an appeal against a court ruling that approved the merger.
Many antitrust experts have been surprised by the DoJ's appeal. Vertical integration – involving a combination of companies at different points in a supply chain – are relatively uncontroversial in terms of competition rules. They are generally viewed as less harmful to competition than 'horizontal' mergers, whereby companies operating in the same industry or similar industries combine.
The DoJ risks being seen as out of step with the digital products and business models that are now commonplace in the media and entertainment market. 'Last time the DoJ challenged a vertical merger, Jimmy Carter was President,' says Nanette Heide, partner at Duane Morris and Vice-Chair of the IBA Private Equity Subcommittee. 'And the last time a vertical merger was blocked, Richard Nixon was President.'
The DoJ had originally moved to block the deal in November 2017, but the matter appeared to be settled when Judge Richard Leon cleared the deal in June 2018 and issued a decisive rejection of the government's case. The decision was highly fact-based, offering few grounds for reversal.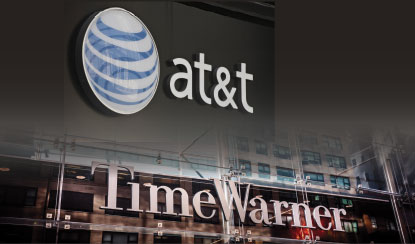 The merger is widely seen as a move to compete with digital platforms, such as Google, Amazon and Netflix
US antitrust laws have long recognised that vertical integration is commonly pro-competitive and output-enhancing, adds Justin Stewart-Teitelbaum, Counsel at Freshfields Bruckhaus Deringer. 'In the US merger control system, the burden of proof is on the agency – in this case the DoJ – and Judge Leon essentially found that on all three theories of harm posited, the DoJ had not carried their burden as a matter of evidence.'
The government had argued that permitting AT&T to acquire Time Warner was likely to harm competition in the video programming and distribution market by enabling AT&T to use Time Warner's 'must have' television content to either raise its rivals' video programming costs or drive those same rivals' customers to its subsidiary, DirecTV. The overall result, the argument went, would be higher prices for consumers.
'The DoJ didn't embrace the full breadth of how this merger in some respects was a way for AT&T and Time Warner simply to survive in the face of competition from new online video delivery platforms, such as Google, Amazon, Netflix and Hulu,' says Heide. 'Consumers are no longer dependent on one distributor. That's not how content is delivered anymore. I don't think [the DoJ's arguments] really embraced how significantly this marketplace has changed and how it's still changing every single day,' she says.
Judge Leon's verdict is a powerful argument in favour of dropping ex-ante regulation for disruptive businesses, says Simone Lahorgue Nunes, partner at Levy & Salomão Advogados and former Co-Chair of the IBA Technology Law Committee. 'No law will be able to forecast and set forth the best solution to ensure competitiveness in such dynamic environments – this is a task for the antitrust authorities.'
However, it's not an indication that antitrust policy requires a fundamental review to deal with technological developments or platforms. 'We can apply the existing antitrust laws and trust that they're flexible enough and tethered to the right guiding principles,' says Stewart-Teitelbaum. 'I think the US Federal Trade Commission and the DoJ generally feel the same way about that.'
It's been suggested that Leon's judgment will 'open the floodgates' for a host of similar vertical integration deals. US cable group Comcast, for instance, is now locked in an intensifying bidding war with media company Walt Disney to acquire some of entertainment company 21st Century Fox's most important assets.
'The fact that the DoJ brought the suit in the first place was out of the ordinary, so for parties considering vertical deals, it may have given them pause,' says Stewart-Teitelbaum.
Heide believes the DoJ's appeal is primarily motivated by its desire to clarify the position on vertical mergers. 'It's probably trying to get clarification on the analysis applicable to vertical mergers and there's speculation it would like to reverse some of Judge Leon's analysis,' she says. 'However, all of this could backfire on the DoJ with precedent set in the appeal that could limit its ability to challenge vertical mergers.'