Profile: Natalie Salunke, General Counsel, Zilch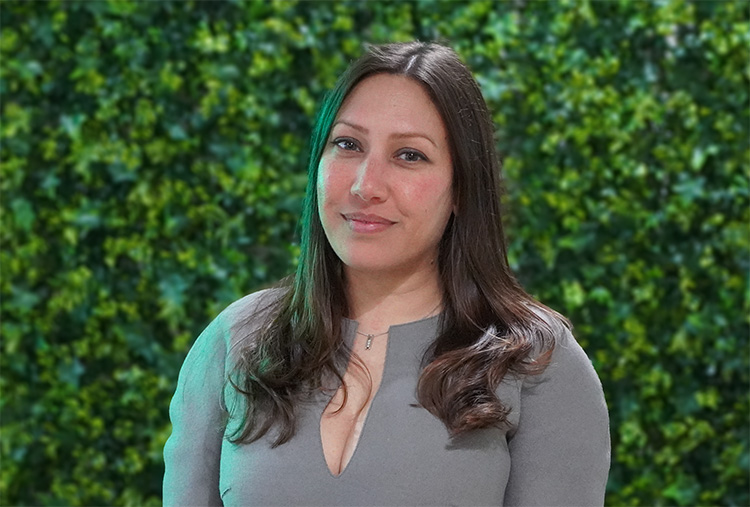 The General Counsel of UK Fintech Zilch, Natalie Salunke, tells In-House Perspective about the importance of product and of her role in a hyper-speed environment, as well as why she introduces 'fear and friction' at work.
The first object to catch your eye in Zilch's hip offices in London, SW1, is a large statue of a unicorn in the company's distinctive neon green branding. The monument is in honour of Zilch's 'unicorn status', a title given to a privately held startup with a valuation of over US$1bn but that hasn't floated – yet. Natalie Salunke, General Counsel at Zilch, points out the signatures scrawled all over it of the staff who work there. In fact, in 2021, Zilch reached 'double unicorn' status.
Just a year into her role, Salunke says working at Zilch is 'like operating at hyper-speed'. She had been on the look-out for an opportunity in the Fintech space when she was snapped up by Zilch. 'The business is constantly adapting and changing as it grows its customer base', she says – in fact, Zilch has grown to three million registered customers in the past two years – and adds 'At the moment, I am in reactive mode'.
Salunke is not one to fear hyper-speed. She was heading up a legal team at only 27, an age when most private practice lawyers are still associates. Though she is deeply attuned to the business where she works and the ecosystem in which it operates, Salunke also has a keen sense of responsibility – to her own profession, to the next generation of lawyers and to 'legal' in a broader sense. For example, she is a university lecturer at the University of Law (U Law) as well as being part of the 'O' Shaped Lawyer initiative, which aims to improve legal for lawyers, firms and clients. She's also a consultation board member for Practical Law.
It's all about the product
As a start up still in relative infancy, Zilch's legal team is in its nascent phase: there's only Salunke alongside a product lawyer based in the US. Any work that Salunke can't manage goes to her carefully selected external firms: currently Harper James, Addleshaw Goddard and DLA Piper. Zilch is a payments technology company, a leader in what its co-founder and chief executive officer, Philip Belamant, calls 'the largest change in consumer behaviour for payments' since PayPal shook up the market in 1998. Zilch's main tech product sits around your personal banking arrangements. It allows you to get rewards and discounts with retailers and it has a 'buy now, pay later' (BNPL) function if you need it, interest free. It has hit the zeitgeist with its concepts of sustainable debt and responsible lending: it aims to ensure customers stay on top of their debt, rather than letting it spiral out of control, via its links with the credit reference agencies. If you pay on time your credit rating should improve, and vice versa. It functions like a hard-nosed yet inventive older sibling lending you money: have fun, for sure, but don't overdo it or there'll be consequences.
Salunke's current workflow revolves around the commercial nuts and bolts of the business because Zilch is, right now, 'product-focused', she says. This is driven in part by the investment market. Gone are the days when a Fintech business could grow, acquire and be acquired. 'We need to demonstrate sustainability: that we are net transaction positive, that we are not just funding bad debt', explains Salunke. 'We need to make money, and this profit needs to be sustainable'.
"We need to demonstrate sustainability: that we are net transaction positive, that we are not just funding bad debt
As a result of this, Salunke says, 'a lot of braining goes into the product itself. And that is where my focus is too'. For legal, this is about the relationships – and the underlying contracts – with third party suppliers. Here, Salunke wants to ensure 'we are getting the best deal, looking at different parts of the supply chain carefully'. Or, she adds, as a regulated company, Zilch 'might need to look at the regulatory implications, where we are incurring fees, whether we can adapt the product to make it more cost-effective or efficient from a regulatory point of view'. Given this granular approach, Salunke's role is very hands-on. 'I need to be right in there, keeping up with any changes in the product or relationships so that I can give real-time advice on what the "cost" or consequences might be from a legal perspective', she says.
"I need to be right in there, keeping up with any changes in the product or relationships so that I can give real-time advice on what the 'cost' or consequences might be from a legal perspective
And then there's the macroeconomic conditions that are having an impact on the business: debt is rising, as is the cost of borrowing. The UK has seen 11 consecutive interest rate rises to reach 4.25 per cent – the highest in 15 years, effectively since the global financial crisis. February's Consumer Prices Index shows prices are 9.2 per cent higher than at the same time in 2022. Though the outlook is not quite as bleak as it was six months or so ago, with energy price rises easing off a little, credit is still badly needed. 'We want to provide interest-free credit responsibly and sustainably', Salunke says. 'That means we need to find good ways to enable people to pay. That is the right thing to do, it's better for them and better for us.'
The impact of increased demand for short-term, interest-free credit has meant that a number of companies have moved into this space. This has caught the attention of the UK's regulator, the Financial Conduct Authority (FCA), because companies that offer BNPL services have been operating under an exemption in consumer credit rules and so have been, in effect, unregulated. The FCA is about to change that. Consultation closed in April on proposed new rules aimed at bringing BNPL within the remit of the FCA, in doing so adopting existing requirements under those consumer credit laws – such as in rights of redress and appeal, the treatment of arrears and defaults – for BNLP services. Since its inception in autumn 2020, however, Zilch has been regulated by the FCA, having taken part in a regulatory sandbox for 12 months before that. This fact now puts it in a very good position in comparison with its competitors. 'There will be some tweaks we need to make to what we do now but we've done most of the heavy lifting on the regulatory side already', Salunke says.
Indeed, the company has strong views on the UK government's draft proposals, arguing that the rules should, in fact, be tighter than currently drafted. For instance, Zilch is against what is known as 'credit stacking', where customers pay off one debt with another form of debt. In a statement, Zilch commented: 'All this does is shift the debt around, often moving it to a card carrying a significantly higher interest rate than would be imposed by an interest-free BNPL agreement'. The UK government expects to roll out draft BNPL legislation later in 2023.
Meanwhile, Zilch is also busy with the challenges of opening up in a new market – it launched in the US in May 2022. It has had to change the product there to a small extent, with payments in its US model in two tranches rather than the four that Zilch has in the UK. 'You can't replicate the product in other jurisdictions and markets just like that, the US is very different, and customers there have different spending and credit habits', explains Salunke.
Suits and other misconceptions
When Salunke qualified as a solicitor at UK firm Taylor Wessing in 2009, it was in the aftermath of the global financial crisis, and newly qualified jobs were scarce. 'A lot of us didn't get jobs at the end of our training contracts', she says. 'That was really hard: you have been working towards this moment, you've managed to secure a training contract, you've got through a lot of very tough processes to get there. And, after all that, you are told that there may not be an opportunity for you.'
It was at Travelex, the currency provider, that Salunke found her first role post-qualification. She stayed there until she was asked to head up a legal team at Venda, an e-commerce software company, for their Europe, Middle East and Africa division. Just over a year later, she became Group Head of Legal, adding company secretary to her role less than six months after that.
Since then, Salunke has worked for two larger companies, Enterprise and Fleetcor, but also taken on other roles that speak to her wider interest in the legal profession as a whole. In 2021, she became a visiting lecturer at U Law. One of her ambitions is to enable students to understand what the legal profession is really like. 'Law isn't [US legal drama] Suits. It isn't glamorous,' says Salunke. 'Why is working three all-nighters in a row glamorous? Why is not seeing your family glamorous? Okay you have some money, but you have nobody to spend it on because you are always at work. That's not glamorous.'
Salunke says she also aims to empower young lawyers, including, where necessary, to call out the wrongdoing of their seniors where they witness it, and 'actually push for the change that we really need'. It's her view that 'If we let the next generation show us where we are going wrong, then, perhaps, the legal profession can become a more sustainable profession'.
"If we let the next generation show us where we are going wrong, then, perhaps, the legal profession can become a more sustainable profession
She highlights that as a profession, law has high depression and suicide rates 'because of the pressures that lawyers feel under. The good news is that people are talking about these things. You don't always need to know everything, and we all make mistakes. We need to know how to learn from our mistakes rather than avoid them,' she says.
In-house and in business
With so much experience behind her, Salunke has given significant thought to the quest for how to be a successful in-house lawyer and the holy grail of a well-run legal function. A legal function needs to leverage its resources – she says that 'how to make the best use of my time is always at the forefront of my mind'. But there's more on Salunke's list. 'When you run a function you are its owner, and you own it right from the watercooler contract to the shareholder arrangements: that ownership is really important,' she says. 'Lawyers from private practice don't always get that because they don't view themselves as a "function". They think they are providing legal advice which is different.'
Salunke points out that ownership doesn't mean 'control'. No lawyer can control every single document or every single draft, as that's neither feasible nor cost-effective. What she means is legal counsel taking full responsibility for the function. Their role, Salunke says, is to ensure that the business takes legal seriously, follows their advice, goes to them with problems early on and uses them as a sounding board. 'This means that in-house lawyers must have a visible profile in the business, they must ensure their voice counts for something', she says. How does an in-house lawyer become visible in the way Salunke imagines? 'You have to understand what pressures the business is under to start with. So you need to be listening and staying close,' she explains.
"I need to create a bit of 'fear and friction' so people know that I am going to call them out if they haven't read a document or haven't checked something they said they would
Salunke clearly speaks her mind and isn't afraid to say what needs to be said. These are skills, she says, that are vital for an in-house lawyer. 'I need to create a bit of "fear and friction" so people know that I am going to call them out if they haven't read a document or haven't checked something they said they would', she says. 'They need to know that they have to take responsibility for what they need to do before coming to see me or they will have wasted my time'. Salunke adds that people have to have a healthy respect, 'there has to be some education in the process. Why is this happening again? We owe it to each other to be respectful of each other and our time, not just being nice.'
The notion of 'fear and friction' feels very much like something that Harvey Specter, the sharp-shooting, play-to-win lawyer from the TV series Suits, might have identified with. Indeed, one of Specter's many classic one-liners has strong echoes of Salunke, when he says, 'don't raise your voice, improve your argument', an adage with which most of us would agree.