Our brave Ukraine colleagues
WALKING THE TALK
A monthly contribution by the IBA President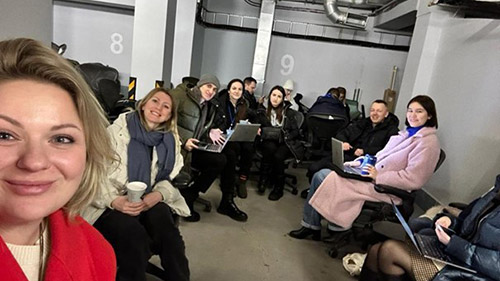 Kinstellar's Kyiv lawyers working in the shelter/office garage. Source: Kinstellar
24 February 2022 is a date which marked a flagrant attack on the law. A date we shall not forget. I have no words to further condemn Russia's illegal invasion of Ukraine, breaching the most sacred principles of international law – territorial integrity and non-aggression. I have no words to express my deep sorrow for the tragedy we are witnessing. I wish to express, with all strength and clarity, my admiration and solidarity with our Ukraine colleagues and with the entirety of Ukraine and its citizenship. I get some relief from the fact that the IBA has been striving to help Ukraine's legal profession from the first terrible day of the invasion. We are taking action to support Ukraine on all legal fronts.
Now, with this contribution I wish to highlight the courage of our Ukraine colleagues. We may only value the same having knowledge of their experience. Thus, I have invited colleagues from Ukraine to directly explain to us their experience regarding their professional activity in times of war.
First, we have Daniel Bilak, Chairman of Kinstellar's practice in Ukraine, a lawyer who is still working in Kyiv.
The testimonies of Nazar Chernyavsky, CEO of Sayenko Kharenko law firm and of Volodomyr Yakubovskyy, Partner at Nobles law firm, illustrate the experience of expatriate professionals and how they are helping their country.
The war is having a particular impact on female practitioners. We can learn about it from Galyna Zagorodniuk, partner in Kinstellar's Kyiv office and Tatyana Slipachuk, Special Advisor of Sayenko Kharenko Law Firm.
The resistance, resilience and determination of Ukraine's lawyers is an example for all of us. From the very beginning, they decided to act – despite enormous difficulties – in defence of the rule of law and human rights, maintaining activity and providing legal advice, multiplying their pro bono activity and with the conviction that justice must prevail.
I end by expressing my great admiration and respect for our brave Ukraine colleagues. I will endeavour to ensure that the IBA's focus remains on Ukraine until this brutal war reaches an end.