The IBA's response to the war in Ukraine  
Migration crisis: Attacks on Ethiopian refugees at Saudi border raise serious human rights concerns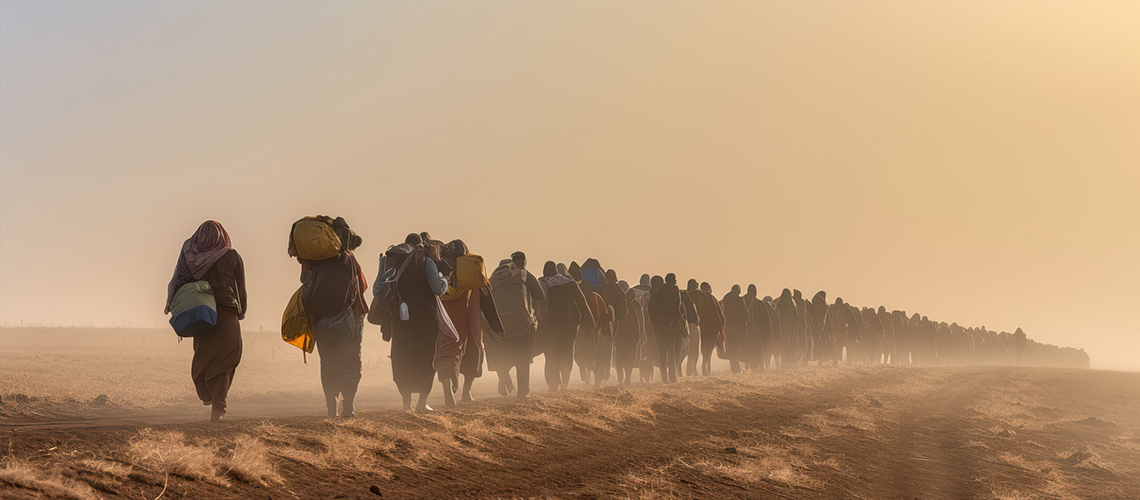 Saudi Arabia has killed hundreds of Ethiopian asylum seekers, many of whom were women and children, as they tried to cross from Yemen into the wealthy country, says a recent report from Human Rights Watch. Saudi authorities dismissed the findings as part of a nefarious campaign to target the kingdom as it seeks to modernise and reform its system.
The report shocked the world with ghastly details of the abuse. 'In some instances, Saudi border guards first asked survivors in which limb of their body they preferred to be shot, before shooting them at close range', the report said. 'Saudi border guards also fired explosive weapons at migrants who had just been released from temporary Saudi detention and were attempting to flee back to Yemen […] A 17-year-old boy said border guards forced him and others to rape two girls after the guards had executed another migrant who refused to rape another survivor.'
According to Human Rights Watch, the killings started in March 2022 and could be continuing as Ethiopian refugees flee conflict and violence by their own government and detention camps run by the Houthi rebel militias in Northern Yemen.
Initially, Saudi authorities ignored the report but the Arabic service of the official Saudi Press Agency later ran a statement quoting an unidentified senior Saudi official attempting to discredit Human Rights Watch for relying on 'noncredible' sources. 'Some organisations used false accusations against the kingdom to the point of publishing politicised and misleading reports and then promoting them within a suspect media campaign that serves dubious goals', The Saudi Press Agency quoted the Saudi official as saying.
If committed as part of a Saudi government policy to murder migrants, these killings would be a crime against humanity
Human Rights Watch

The official, however, acknowledged there were shootings targeting Ethiopian refugees at the country's long and mountainous southern borders but blamed unidentified 'armed groups who, by using force, sought to compel large crowds to cross into the kingdom through the Saudi–Yemeni borders'. The Saudis may have been referring to earlier incidents documented by international organisations, including Human Rights Watch, that Iran-backed Houthi forces – which control most of Yemen and who have been fighting a war against Saudi Arabia since 2015 and until recently, had expelled thousands of Ethiopian migrants from northern Yemen – shot at them and killed dozens in an attempt to scare the rest into Saudi Arabia.
Human Rights Watch says its particular work on the Saudi incidents is well documented. The group's staff interviewed 42 Ethiopian migrants along with friends and relatives of those who tried to cross the border and used 350 videos and photographs, along with satellite imagery that showed expanding grave sites and activities by the Saudi border patrols that set it apart from attacks by the Houthi militias in Yemen.
Saudi Arabia already hosts 750,000 Ethiopians according to international aid agencies. Half of those are believed to be in the country illegally. It is not clear when Saudi Arabia may have changed its policy to try and stop the flow of Ethiopian refugees but the UN says Yemen in recent years has increasingly become a transit point for migrants making their way toward Saudi Arabia often in groups of 200 people each.
The asylum seekers make the life-threatening journey on unseaworthy vessels and through Djibouti to Yemen, hoping to eventually reach the wealthy kingdom for jobs and for safety from the ferocious military campaign back home by Prime Minister and Nobel Peace Prize winner, Abiy Ahmed, who is trying to centralise control over all of Ethiopia, a country of 116 million people. As violence continues in the African nation, the exodus is likely to continue bringing Saudi treatment of refugees under further international scrutiny.
Ariel Orrego Villacorta of the IBA Immigration and Nationality Law Committee says that, under the non-refoulment rule of international law, countries cannot just send back refugees, particularly those 'forced to flee their country of nationality or habitual residence due to the massive violation of human rights, foreign aggression, internal conflict, occupation or foreign domination; or due to events that seriously disturb public order'. Many of those conditions do apply to Ethiopian refugees.
Like many countries around the world witnessing growing hostility towards immigrants, Saudi Arabia appears to vilify asylum seekers to justify their repatriation. The Saudi media now routinely runs stories blaming 'Ethiopian violators of border rulers' for 'drug dealings'. News of apprehension of Ethiopians for drugs and other crimes is almost a daily fixture in the Saudi press. Stories often run with pictures showing handcuffed men facing the wall with packets of drugs stacked up in front of them.
In August, the Saudi Interior Ministry said its forces were in the process of deporting thousands of people for illegal entry and drug-related crimes and that the majority were Ethiopians. The authorities appealed for tips from the public relating to similar violators. In March 2022, Saudi Arabia struck a deal with Ethiopia to repatriate more than 100,000 Ethiopians as part of the campaign.
Saudi Arabia has long attracted criticism from international rights groups over a series of issues including treatment of foreign labour, abuse against dissent and massive corruption. More recently the country was widely censured for the ruthless murder of Saudi dissident and journalist Jamal Khashoggi in 2018. And much to the shock of rights advocates, Mohammed Al-Ghamdi, a Saudi retired teacher and father of seven, was sentenced to death in August under the country's draconian counterterrorism law for reposting social media criticism of Crown Prince Mohammed bin Salman. Al-Ghamdi had only ten account followers.
Bin Salman, the country's 38-year-old de facto ruler, is, however, seeking to project a more modern image on the global stage. The country is hosting flashy and raucous concerts by top world music artists and recruiting football players with lucrative contracts to play in the local league, with a view to rivalling European leagues. In the business world, Riyadh is also working to project an image as a major start-up funder.
But despite the public relations blitz, Human Rights Watch says the killing of such a large number of immigrants is so egregious they constitute a grave international crime. 'This report shows how the pattern of abuses has changed from an apparent practice of occasional shootings and mass detentions to widespread and systematic killings', it says. 'If committed as part of a Saudi government policy to murder migrants, these killings would be a crime against humanity.'
Image credit: Djomas/AdobeStock.com