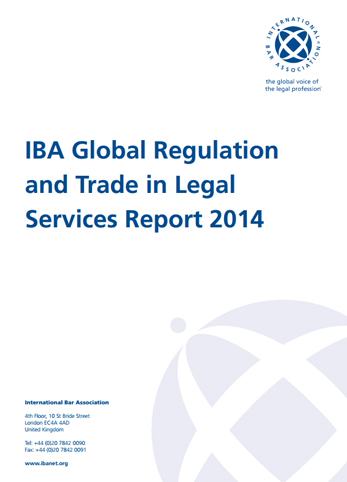 IBA Global Cross Border Legal Services Report
As economies have become more global, the demand for global cross-border legal services has grown significantly. Increasingly governments are pursuing trade agendas designed to break down barriers to cross-border trade, including in relation to the legal profession. For over 15 years the International Bar Association (IBA) Council, the global voice of the legal profession, has responded to this trend by taking a leading role in providing guidance on the responsible delivery of cross-border legal services. IBA Global Regulation and Trade in Legal Services Report 2014 is part of that initiative.
The report is the result of an ambitious task undertaken by the IBA International Trade in Legal Services Committee to compile data on regulation of domestic and cross-border legal practice in over 90 countries, or over 160 jurisdictions. The result is a rich and detailed body of information. 
Go to website
Download full report in PDF form