Climate crisis: global plastics treaty ambitious but possible by end of 2024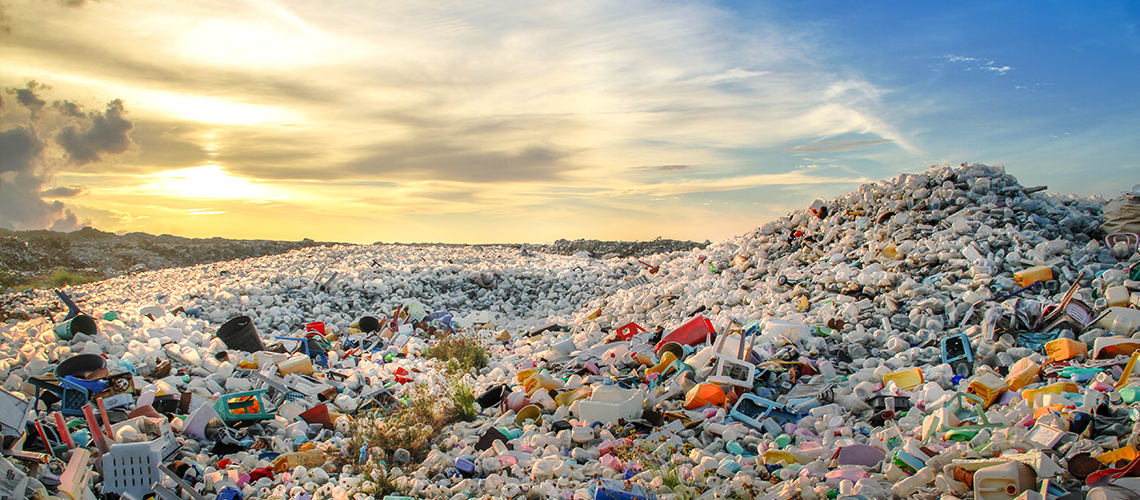 Within 18 months from now, UN negotiators aim to have signed an international treaty to tackle plastic pollution. The timeline is certainly ambitious for a global agreement, but legal professionals are optimistic that the urgency of stemming the planet's plastic waste mountain, combined with the drive at national level in many regions, will, by the end of 2024, lead to the world's first agreement to end plastic pollution.
In a business-as-usual scenario, global plastic waste could rise as high as 408 million metric tons by 2040, according to the UN, but a global shift towards reusing, recycling and diversifying away from plastics could mean a significant turning point in tackling our plastic pollution problem. On top of these policy changes, new disposal standards for non-recyclable plastic waste must be implemented in order to deal with an estimated 100 million metric tons of single-use plastics still expected to be polluting the planet by the end of the next decade.
These are some of the challenges that the Intergovernmental Negotiating Committee (INC) on Plastic Pollution under the UN's Environmental Programme (UNEP) is currently trying to convert into a global treaty. 'The world is calling for an agreement that is broad, innovative, inclusive and transparent', says Inger Andersen, Executive Director of the UNEP. It's now down to INC Chair Gustavo Meza-Cuadra Velásquez, a Peruvian diplomat, to write an initial draft ahead of the Committee's next meeting in Nairobi in November. This draft is expected to lay the foundation for a treaty to be adopted in 2025.
The way forward is to really outline the key objectives in the treaty but to leave sufficient flexibility to the member states to then adopt national law that fits within that
Els Reynaers
Sustainability Initiatives Officer, IBA Environment, Health and Safety Law Committee
There's a question, however, as to whether his committee will be able to find unity among UN members to strike an agreement encompassing close to 200 nations' interests – and within such a short period of time too.
National legislative initiatives to tackle plastic pollution vary greatly around the world. From the EU prohibiting single-use plastics in 2021 to some US states having pre-emption laws in place to stop a ban, the regional differences in the commitment to fighting plastic pollution make finding common ground for a global treaty very difficult. 'These domestic experiences will influence the final shape of this framework agreement, but I do think there will be a certain readiness', says Els Reynaers, Sustainability Initiatives Officer on the IBA Environment, Health and Safety Law Committee and Head of the Environmental Department at Mumbai-based M V Kini Law Firm. 'The way forward is to really outline the key objectives but to leave sufficient flexibility to the member states to then adopt national law that fits within that.'
Growing public awareness of the dangers of plastic pollution has also increased pressure on national governments to act on the matter at a global level. Sea animals tangled in plastic netting, the discovery of microplastics in the human bloodstream and images of soiled beachfronts have led to citizens holding political leadership increasingly accountable to environmental protection. 'Homogeneity in a global legal framework will help ensure that developing nations with possibly less stringent laws pertaining to plastic waste management are not made hubs of manufacturing or distribution of plastic products. In simple terms, it should help cover the entire life cycle of plastics in a more coordinated and uniform manner', says Rajat Jariwal, a New Delhi-based partner at Trilegal.
Previous global agreements on environmental regulation, such as the Stockholm Convention on Persistent Organic Pollutants or the Basel Convention on the Control of Transboundary Movements of Hazardous Wastes and Their Disposal, have shown that international treaties can be ratified within short timeframes and that details are fine-tuned over time. Within the UN frameworks, annual Conferences of the Parties (COPs) regularly check in on progress to deliver on the actions agreed and to discuss and tweak technical issues to address specific requirements put forward by member states. 'International treaties can take time but getting either an initial framework or a framework for further consultations by 2025 makes sense and is consistent with what has been attempted regarding carbon emissions,' says J Michael Showalter, Programme Officer on the IBA Environment, Health and Safety Law Committee and a partner at ArentFox Schiff, based in Chicago.
Urgency to act on plastic pollution has also spread into the corporate world. Even if some governments take longer to translate commitments under a global agreement into national legislation, companies have the ability, and often the willingness, to act more ambitiously than domestic rules dictate. 'The UN plastics treaty could allow companies more space to work together to proactively tackle plastic pollution even where their host governments are slow to implement it. It is all the more important, therefore, to ensure that the final version of the treaty text contains specific obligations and is not unduly watered down through the negotiation process', says Julie Vaughan, Counsel at Reed Smith in London, who specialises in environmental and health and safety regulation.
If negotiators manage to hammer out a global plastic pollution treaty by the end of next year, less than three years after the agreement's endorsement, its ratification will be one of the fastest in UN legislative history. As plastic pollution worsens by the day, immediate action is imperative. A five-year delay in intervening could lead to an additional increase of 80 million metric tonnes of plastic by 2040, according to the UN. 'For sure, if the political will is there, targets follow', says Günther Bachmann, a sustainability consultant and the former Secretary General of the German Council for Sustainable Development. In his view, delivery so far in respect of the UN Sustainable Development Goals has been 'far too slow and too vague'. He adds that, politically, member states desperately need to show at least some progress somewhere.
Image credit: aryfahmed/AdobeStock.com