Ending Putin's war

With the death toll in Ukraine continuing to rise, dissenting voices within Russia all but silenced and propaganda prevailing, Global Insight assesses what, if anything, can be done to stop Putin.
Some things are worth the wait. A judgment from the European Court of Human Rights (ECtHR) finally arrived on 14 June, stating in no uncertain terms that Russia's foreign agents law violates the rights of civil society. Yet the claim, challenging the 2012 law and lodged just a year later by more than 70 non-governmental organisations (NGOs), had been left languishing at the Court for close to a decade.
In that time, the legislation, which initially targeted NGOs and rights groups, had been steadily expanded to silence journalists, media outlets, activists and government critics. As Russia continues to wage war in Ukraine, the squeeze on civil society at home has been palpable, with further tightening of the foreign agents law, growing numbers of political opponents arrested on spurious grounds and a spate of new laws designed to crack down on free speech and eviscerate dissent.
After years of fraught relations with Russia, on 16 March the Council of Europe announced it was expelling the country in light of its actions in Ukraine. Russia was given a six-month grace period during which it would still be obliged to comply with any rulings delivered by the ECtHR.
A lesson has to be learned by the Court and the international community, which was extremely cautious with the Russian authorities when they whipped up repressions in the country
Galina Arapova
Director, Mass Media Defence Centre
The decision by Europe's leading human rights watchdog delivered a devastating blow to Russian civil society, which, after 16 September, would no longer be protected by the European Convention on Human Rights or have the right to appeal to the Strasbourg court over alleged human rights violations taking place in Russia.
The prospect of Russia enforcing any future ECtHR rulings already seemed distinctly remote, but a week before the ruling on the foreign agents case things went from bad to worse. The State Duma, Russia's lower house of parliament, put forward a bill to end the jurisdiction of the ECtHR in Russia with immediate effect and revise the cut-off date to implement the Court's rulings back to 15 March.
It also proposed expanding the foreign agents law further by designating any person who receives financial assistance from abroad as a 'foreign agent', making it even easier for the State to stamp out domestic critics. These bills have since progressed through the Duma but must still pass through the upper chamber before being signed into law by President Vladimir Putin.
Galina Arapova, Director of the Mass Media Defence Centre in Voronezh, laments the timing of the ruling, but believes it provides some hope for both civil society inside and outside of Russia. 'Regardless of our frustration, this judgment is very important for Russian civil society and for all other European countries where authorities try to pass similar regulation', she says. 'For Russian NGOs and human rights defenders, getting relevant legal assessment of violations and such regulation is extremely important. Even though in the nearest future this judgment won't be executed by Russia neither in terms of paying compensations, nor in applying general measures, we hope in some better future.'
Arapova, who has been designated twice herself as a 'foreign agent', hopes the Court's failure to prioritise the case earlier will act as a cautionary tale to the world of letting civil society repression go unchecked.
'[This judgment comes] when there's already crackdown and war, when the foreign agent hunt has become a weekly routine for the authorities, when it's not just NGOs, which were designated as foreign agents, but now individually independent journalists, scientists, political and civil society activists, and even lawyers and members of the bar association', she says. 'A lesson has to be learned by the Court and the international community, which was extremely cautious with the Russian authorities when they whipped up repressions in the country.'
Nils Muižnieks, Regional Director for Europe at Amnesty International, served as the Council of Europe's Commissioner for Human Rights from 2012 to 2018. He agrees the judgment could have international ramifications but comes too little too late for Russian society. 'A lot of people see it as having global significance, as in sending a signal to other countries around the world that here are the human rights standards', he says. 'You could make the same case using [United Nations] standards as you can using Council of Europe standards. So I think it is important but, unfortunately, it comes way too late to help anybody in Russia.'
Inertia and missed opportunity
Since the invasion, there has been virtually no media pluralism in Russia. Propaganda and disinformation continue to be rife. As the war continues, the ECtHR´s ruling and pushback from Moscow raise renewed questions about the ability for international courts, the Council of Europe or other outside forces to effect change in Russia from afar.
Muižnieks says Russia's recent efforts to expand the foreign agent law and legislate in defiance of the Court's rulings are extremely telling. 'It was clear that cooperation was not going to be forthcoming from Russia going forward, but I think that this really kind of slammed the door in the face of the Council of Europe and the other member states', he says.
The Council's decision to oust Russia after 26 years of membership wasn't taken lightly. The relationship had been in peril since 2014 when the Council's Parliamentary Assembly banned the Russian delegation from participating in meetings following the country's annexation of Crimea. By 2017, Russia stopping paying its annual contributions to the Council in protest over losing its voting rights.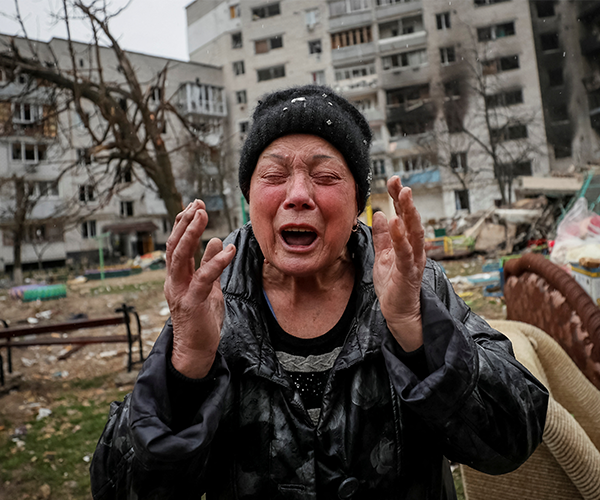 Mariya, 77, whose daughter and son-in-law died under the rubble of a building destroyed by Russian shelling, cries, amid the Russian invasion in Borodyanka, Kyiv region, Ukraine, 8 April 2022. REUTERS/Gleb Garanic
Muižnieks was Commissioner during this period. He told Global Insight then that the very real prospect of Russia leaving the Council would have been 'disastrous' for the trajectory of human rights in the country. Looking back, he says it was clear that Russia had lost all interest in engaging with the Council's objectives: 'They refused to cooperate with me after my mission to Crimea so I could do no work there. I was not even permitted to go to the country and told I was not welcome after 2014 in such circumstances.'
Since 2014, Muižnieks says the writing has been on the wall for the country's future as a member of the human rights watchdog. 'The argument that I made at the time when I was Commissioner for Human Rights was not, is it better to have a country in or out and I was talking not only about Russia but other countries such as Azerbaijan and Turkey', he says. 'The right questions to ask are: Do the citizens of the country derive any benefit from membership in this organisation? Does it give the CPT [European Committee for the Prevention of Torture and Inhuman or Degrading Treatment or Punishment] unfettered access? Does it cooperate with the Commissioner? Does it cooperate with the Council's various mechanisms? Because if it doesn't cooperate, then the Council of Europe has zero influence. If citizens cannot derive any benefit from membership, then there's no point to a country staying in. It just hollows out the organisation and shows it has no standards.'
Russia's invasion of Ukraine has prompted many international organisations to review their engagement with Russia. Within days of the invasion, the Organisation for Economic Co-operation and Development (OECD) formally terminated Russia's accession process, which had been on hold since 2014 following the country's annexation of Crimea.
Nicola Bonucci formerly served as Director for Legal Affairs at the OECD, which represents the majority of the world's advanced economies, and coordinated Russia's accession negotiations between 2007 and 2014. He says the war in Ukraine has caused many multilaterals to reflect whether enough was done in recent decades to engage with Russia constructively to stop it going down the wrong path. 'Things were going slowly, but they were moving and the government at the time was much more nuanced than what it is today', he says. 'I have the sense that maybe we missed an opportunity and maybe we should have been brave in the 1990s, as we seem to be brave now with Ukraine on the European Union [in terms of] opening the accession discussion of Ukraine.' (See box: Ukraine progresses on road to reform)
External scrutiny
Global outrage over the war has prompted governments worldwide to impose economic sanctions against Russia on an unparalleled scale. As global powers grapple with how to defund Putin's military machine, a significant development in June was the Financial Action Task Force's (FATF) announcement that it would 'severely limit the Russian Federation's role and influence' within the organisation following its actions in Ukraine.
The announcement was made with little fanfare on the website of the global money laundering and terrorist financing watchdog, but it was an unprecedented step, marking the first time FATF had taken such actions against a member country. Ukraine is not a member of FATF, but it is a member of the Council of Europe's anti-money laundering body, Moneyval, which upholds FATF's standards across Europe, and which ousted Russia from its membership in March.
In a statement, Ukraine's Ministry of Finance welcomed FATF's decision: 'The FATF June Plenary decision once again demonstrates that Russia has turned itself into a pariah state on the international arena by launching its brutal unprovoked attack on Ukraine.' It added that restricting Russia's activities at FATF was 'yet another risk for all international businesses to consider when assessing the viability of doing business in or with Russia'.
Ukraine progresses on road to reform
The decision on 23 June to grant Ukraine EU candidate status has been broadly welcomed as the country continues to defend itself against Russian troops. In practice, the accession process could take at least a decade.
Vadim Medvedev, a partner in Avellum's tax and litigation practices in Kyiv, says the EU's foresight to put faith in Ukraine is encouraging. 'Ukraine has committed a lot and specifically Ukrainians have done a lot to prove that we share European values and that we are a member of the European family', he says. 'There are a lot of things we must further do. It is not the end of the road, it is just the first step on that path, but it is extremely important for us that we are on the path that we are going, and that's the right way for Ukraine to go.'
We missed the opportunity to give a political signal primed to anchor Russia to the Western world in the mid-nineties
Nicola Bonucci
Former Director for Legal Affairs, OECD
Nicola Bonucci is a litigation partner at Paul Hastings in Paris and previously served as Director for Legal Affairs at the OECD. He says the EU's interest in engaging with Ukraine and getting the country on the road to accession is significant. 'Ukraine clearly is not up to the standards today, but the political signal is important', he says. 'We missed the opportunity to give a political signal primed to anchor Russia to the Western world in the mid-nineties. Maybe this opportunity will happen, but it will take a lot of time before it's considered again.'
Just three days before the announcement on Ukraine's EU candidate status, the Ukrainian parliament ratified the Istanbul Convention. The move was another sign of Ukraine's commitment to reform as it became the 36th country to ratify the Convention, which sets out minimum standards for governments across Europe to prevent, protect, combat and prosecute violence against women and domestic violence.
Turkey withdrew from the international accord in June 2021 and Poland, which only ratified it in 2015, has tried to push through legislation to withdraw from the Convention. Russia, which decriminalised domestic violence in 2017, has notably never ratified the Convention.
Steen Nørlov, who leads the Council of Europe Office in Ukraine, said in a statement: 'Ukraine writes its history daily, and approving the Istanbul Convention is one of the most important pages. The Istanbul Convention is the farthest-reaching international legal text on violence against women and is used as a basis for concrete actions to be taken by countries in and outside of Europe.'
Vadim Medvedev, a partner in Avellum's tax and litigation practices in Kyiv, is also encouraged by FATF's position. 'I would say it is a very strong message saying that other FATF members are very serious about Russia not being eligible and not being compliant with membership standards anymore', he says. 'It will definitely affect both financial institutions dealing with transactions related to Russia and will also affect businesses who still have any connections with Russia because their money might […] attract significantly more scrutiny from the international financial system, which will in the end cause more trouble for foreign businesses if they continue to have links with Russia, dealings with Russia, trade with Russia or are in any other way involved in Russian related matters.'
Bruno Cova, a partner at Delfino e Associati Willkie Farr & Gallagher in Milan and a Member of the IBA Anti-Corruption Committee Advisory Board, believes FATF's cautious approach is the right one to take. 'As in many such situations involving Russia, multilateral bodies should be careful not to push Russia to withdraw behind a curtain (perhaps this time not an iron one) where illegality can thrive and be exported, and international norms can be disregarded', he says.
Bonucci, who is also a Member of the IBA Anti-Corruption Committee Advisory Board, agrees that FATF's approach towards Russia is in line with most other multilateral organisations. However, he warns more action may be needed: 'FATF sought to balance the need to react to Russia's behaviour with the fact that it does not appear to be possible nor desirable to expel Russia. It remains to be seen if this balance will stand the test of time.'
The timing of FATF's announcement is also significant, notes Medvedev, as concerns abound that many Russian state-owned entities and individuals connected to the Kremlin are continuing to find ways to circumvent Western sanctions. By the end of June, the rouble had swelled to become the world's best performing currency so far in 2022, hitting a seven-year high. Although the outlook for the economy is less promising, it remains a sad indictment of the global sanctions regime.
Mark Stephens CBE, a partner at Howard Kennedy and Co-Chair of the IBA's Human Rights Institute, says sanctions are a 'blunt instrument' that fail to take in the practicalities of our interconnected world. 'There have been quite a lot of countries coming out against or abstaining on Ukraine, and that's because they are mainly Russian proxy states', he says. 'If you think about those Russian proxy states, of course, they support Russia and they're going to continue to trade with Russia. That's another coach and horses through the sanctions regime.'
Two girls walk through the destroyed city. www.stock.adobe.com/Meysam Azarneshin
Stephens voices concern that Western leaders are still woefully unprepared for what's to come. 'There is a real question in my mind as to whether the West is prepared for the cost of these sanctions', he says. 'The reality is if you're assessing the position, you've got to look at the geopolitical game that will be played. When you get into a boxing ring with a pugilist like Putin you are going to take some punches and you'd better work out where they're coming from. I think the one that's coming onto the chin, which is going to floor you if you haven't seen it yet, is Putin deciding to turn the power off to the West.'
Russian myth and rewriting history
As speculation mounts over Putin's endgame in Ukraine, the impotence of diplomatic measures and limits on Western understanding of how to stop the war in Ukraine have become painfully clear. Prospects for a ceasefire seem increasingly bleak. The stark reality that this is unlikely to be over quickly is starting to sink in.
Elizabeth Wood, a professor of Russian and Soviet History at the Massachusetts Institute of Technology, has studied Putin for years and says his claims of fighting neo-Nazism in Ukraine just don't add up. But, she says, delving back further in history may provide some of the answers behind the intensity of the Kremlin's siege mentality. 'What I've become very interested in is the ways in which the war propaganda in Russia today dovetails with very old Russian myths', says Wood. 'The myth is that Russia has suffered more than anyone else from a series of invasions, but the flipside is just as true. They have a very insecure sense of where their borders are. Russia is the largest country in the world. Their fear – and Putin has said this several times – is that Ukraine is going to take a piece of Russia. It would have been suicidal for Ukraine to attack Russia. They didn't attack Russia all of the eight years from 2014 to 2022. They tried to fight in Donetsk and Lugansk, but they didn't take the war to Russia. The US also won't take the war to Russia, but that's the Russian myth.'
Sir Tony Brenton, who served as UK Ambassador to Moscow from 2004–2008, believes the ongoing conflict in Ukraine should give the West the opportunity to rethink European security arrangements and provide Russia with some reassurance. 'The Russians have behaved appallingly in the context of this war, but their fears for their own security are genuine', he says. 'They're sitting next door to a NATO alliance which is much, much bigger and more powerful than they are. If we could find a security arrangement that reassures them that NATO is not going to sweep in and take over large swathes of Russia and therefore calms them down and brings them closer to being a constructive European state, I believe that would be an unadulterated positive coming out of this war. There's no guarantee at all that we will get that. But it seems to me that, as we approach a peace process, this is one of the things we should be looking for.'
Russia had huge protests in 2011–12, but now they need something that will bring them together to outweigh the fear… It could be a combination of military and popular, but it would have to be huge
Elizabeth Wood
Professor of Russian and Soviet History, Massachusetts Institute of Technology
Wood says Russia's tendency to rewrite history is all too clear in the way that it commemorates 22 June every year. This date – the anniversary of Operation Barbarossa in June 1941 when Allied powers invaded the Soviet Union – is what most Russians consider the start of the Second World War. Wood says subscribing to this version of history is deeply problematic. 'If you begin the war on [22 June] 1941, you're saying that's when the war and suffering begin. You're saying that it doesn't matter that Russia invaded Poland in cahoots with the Nazis in September 1939.'
Although 22 June is also memorialised in Belarus and Ukraine, which also lost millions of soldiers during the Second World War, this year there was a certain poignancy to commemorations in Ukraine as it entered its 119th day of war with Russia. More than 4,600 Ukrainians have died since the invasion on 24 February, but this fact failed to get even the vaguest of mentions in any of the Russian commemorations. This is mainly because the myth of Russia's 'special military operation' in Ukraine persists in the country. The prevalence of government propaganda means that many Russians remain completely oblivious of the extent of the deaths and casualties in Ukraine, let alone the mounting Russian death toll.
The State continues to silence leading opposition figures. Putin's most vehement critic, Alexei Navalny, remains in a high security prison outside of Moscow serving a nine-year prison sentence for embezzlement and contempt of court. Another, Vladimir Kara-Murza, was imprisoned in late April after labelling the government a 'regime of murderers' and was charged with discrediting the armed forces. Both men deny all charges and say they are politically motivated. 'They have strong networks and they're continuing to video and tweet', says Wood. 'This is amazing, but I think what has to change is the ordinary mindset inside Russia as it seems that people in St Petersburg and Moscow are just as brainwashed.'
However, Wood says there is little impetus for those still left in Russia to change their views. Even for those who are aware of coverage of the war in Ukraine via virtual private networks or other means, she says many are still too scared to challenge the regime. 'All the elites who have gained all of their wealth from Putin from 1999', she says. 'Why should they overthrow him even if they are horrified by this war? They have a fear that a change in regime will lead to internal trials or just internal seizure of property. In Russia, also, everybody is afraid of the Gulag. It even goes back to Ivan the Terrible. It's this deep trauma amongst them in the whole nation in a way that we just don't have in the US and they're terrified.'
I think it's our duty to help Russian journalists, human rights defenders and others in exile. They're the ones who hold the potential of rebuilding a Russia based on human rights and the rule of law
Nils Muižnieks
Regional Director for Europe, Amnesty International and Council of Europe Commissioner for Human Rights (2012–2018)
In the weeks following the invasion, thousands of Russians took to the streets in mass anti-war protests. Such demonstrations were quickly repressed as the government ushered in legislation criminalising participation in anti-war protests and banned outlets or individuals from reporting on or disseminating information on the war.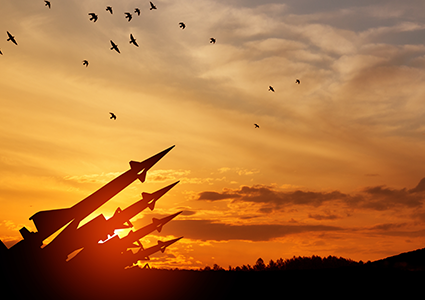 Missiles are aimed at sunset. www.stock.adobe.com/hamara
Given the level of repression in the country and the widespread fear across society, Wood believes much more needs to be done if Russia stands a chance of overthrowing the current regime. 'Russia had huge protests in 2011–12, but now they need something that will bring them together to outweigh the fear', she says. 'The fear is enormous. People are being denounced. It could be a combination of military and popular, but it would have to be huge. And Putin has a very strong control over the secret services, which are very loyal to him and are very happy to be in power. They're full of people who've been repressing people for a hundred years.'
Muižnieks says the tipping point could come as the war escalates. 'We have not seen any signs of significant kinds of unrest in Russia, but then again, the people who are being sent to fight in Ukraine are not from the middle classes in Moscow and St Petersburg', he says. 'If the war continues and the need for soldiers spreads, that could have broader social and political repercussions in Russia.'
Many key opposition political figures, businessmen, human rights defenders, journalists and activists have already fled the country. Muižnieks believes it is now incumbent on the international community to engage with, not ostracise the Russian diaspora in order to lay the foundations for the country's recovery once this terrible conflict reaches a conclusion.
'Since the West has little impact on what's going on within Russia, I think it's our duty to help Russian journalists, human rights defenders and others in exile', he says. 'We have to support them regardless of where they are in Armenia, Georgia, Turkey, the Baltic States, Czech Republic or wherever they are. They're the ones who know how to reach the target audience in Russia best. They're the ones who hold the potential of rebuilding a Russia based on human rights and the rule of law.'
Ruth Green is the IBA Multimedia Journalist and can be contacted at ruth.green@int-bar.org
Image credit: HJBC/AdobeStock.com