Europe's renewable energy islands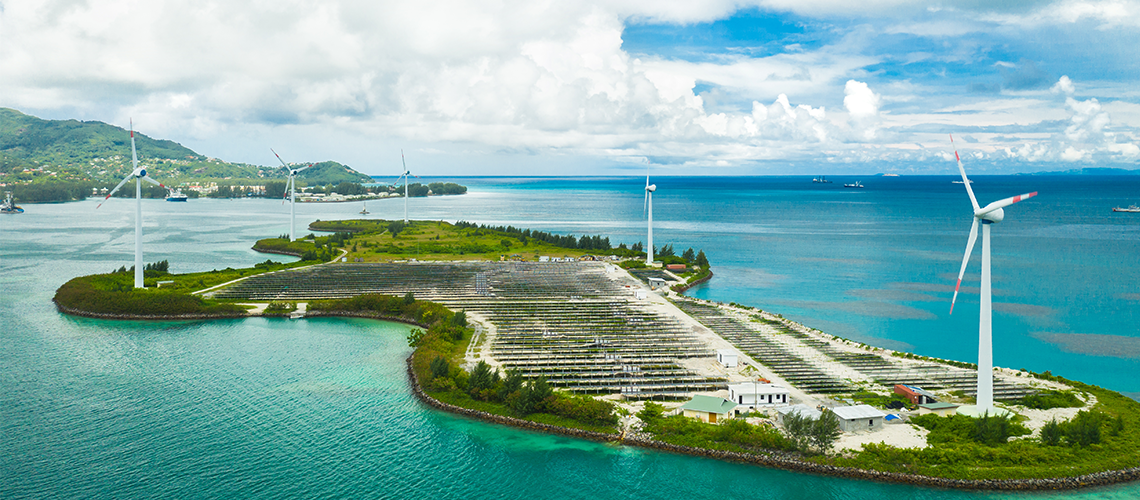 The concept of renewable energy islands and offshore networks is becoming closer to reality. Global Insight investigates the implications for the clean energy transition.
European economies – struggling to enhance energy security, cut fossil fuel gas bills and meet climate policy commitments under the Paris Agreement – are looking to drastically increase offshore wind power capacity. One way to meet this need is through the creation of artificial and extended natural renewable energy islands. These would leverage much greater amounts of energy from vast, untapped resources, including at more remote sites, by providing grid connections. In the process, it's likely they'll accelerate the creation of a more comprehensive, shared European grid. Along the way, however, will be a number of legal and other challenges.
Second wind
The EU, with its proposed target of 40–45 per cent of energy being provided by renewable sources by 2030, has the ambitious aim of boosting its offshore wind capacity from 12GW in 2023 to 300GW by 2050. Its energy targets have been given further impetus by Russia's invasion of Ukraine and the weaponisation of gas supplies, which has led to crippling price escalation. Simultaneously, the EU now faces strong competition for renewable investments as a result of the US Inflation Reduction Act, signed into law by President Joe Biden in summer 2022.
Energy islands have the potential for transmitting large-scale renewable energy generation
Cosimo Tansini
Policy Officer for Renewable Energy, European Environmental Bureau
Energy islands, operated as hubs integrated into an emerging 'European super grid' to help reduce intermittency, could open the door for much larger power and storage capacity than is available onshore, with higher wind speeds and potentially fewer obstacles. An energy island would primarily be used to connect large numbers of wind generation arrays, with the island, either natural or artificial, receiving power from this network for onward distribution to an onshore grid connection. Two major projects are at the planning stage in Denmark, and a further island could yet be developed in the waters of the UK – which itself has a 50GW wind target for 2050.
Belgium has also entered the race, with work beginning in early 2024 on transmission system operator Elia's more modest-sized yet pioneering 3.5GW Princess Elisabeth Island project, placing it in pole position to become the world's first offshore hub. This energy island will cover five hectares and will be situated 24 nautical miles from shore, with high voltage infrastructure first serving Belgium, before interconnectors to the UK and Denmark are later added.
Cosimo Tansini, Policy Officer for Renewable Energy at the European Environmental Bureau, an umbrella pan-European environmental non-governmental organisation, sees a clear advantage in the energy island concept in terms of its 'potential for transmitting large-scale renewable energy generation'. He adds that 'the possibility of building co-located storage systems and electrolysers for hydrogen production is also promising in terms of avoiding renewables curtailment at times of excess production while at the same time minimising the need to create additional hydrogen infrastructure'.
Given the energy islands and infrastructure being planned for the North Sea by Belgium, Denmark, the Netherlands and the UK, Tansini says there's potential for driving a pan-European grid for future renewable transmission and distribution needs. The UK's National Grid systems operator – which is currently in discussions over the possible development of a similar project in UK waters – sees all future cable connections with neighbouring states as being smarter hybrid interconnectors, not only handling bilateral flows but connecting networks of offshore wind arrays as well.
Birds and sea cables
Tansini believes that 'with offshore wind power generation capacity expected to play a crucial role in Europe's transition to a 100 per cent renewables-based system, energy islands do represent a highly interesting and potentially problematic development entailing multiple technical and legal challenges'. He explains that the European power grid is expected to undergo a massive transformation – from a centralised system built on a few fossil-based power generation facilities to a decentralised system relying on a vast number of power sources and largely intermittent generation dependent on weather conditions. This, he says, 'will surely require both technical and regulatory updates that must consider all related infrastructural challenges, including with respect to the legal definition of new types of infrastructure such as energy islands and to the strategies to reduce any environmental risk arising from the construction and operation of such facilities'.
One needs to think if energy islands are the best option not only in terms of producing energy but also in terms of the energy and resources needed to produce them and keep them working
Antonia Leroy
Head of Ocean Policy, WWF European Policy Office
Matthias Lang is Vice-Chair of the IBA Energy, Environment, Natural Resources and Infrastructure Law Section and a partner at Bird & Bird in Dusseldorf. Lang has a regulatory background and specialises in infrastructure and energy, including Danish energy island projects. He highlights that, although in July 2022 the Danish Energy Agency postponed further preliminary work on the country's energy island for another year, a great deal of investment has already gone into it – and further time will be needed to prepare a tendering for mid-2023 for what Lang explains is a complex infrastructure project. 'It really is a bit of a daunting project', he says, with wind being 'the easy part'. But, he asks, what else can you do with energy islands to increase viability? Green hydrogen has yet to be deployed at scale anywhere – and may not necessarily be best tried offshore first – while data centres could be sea-cooled, but there's a question as to whether they should be built offshore in a challenging environment.
More than 20 consultants are still looking at the best solutions – and, likely, pricing – at a time when there are 'enormous changes to the whole energy system', says Lang. He considers that 'pushing forward may commercially be a good thing', as one learns more about energy island projects, but at the same time there's a desire to avoid 'first-mover disadvantage'.
The need to manage environmental risks can be particularly acute when determining energy islands' location and scale. Here, nature preservation and restoration should be the key guiding principle, with mitigation measures such as new habitats for underwater flora and fauna being introduced, says Tansini. These aspects should be captured by appropriate legislative frameworks and permit-granting procedures and assessments. Strategic environmental assessments and project-specific environmental impact assessments will be crucial tools, as will 'the full application of the EU's Nature and Marine Spatial Planning Directives', he adds.
There are efforts, not least through the revision of the EU's Renewable Energy Directive under the REPowerEU plan, to streamline permitting procedures for renewable energy plants and infrastructure in Europe. But new rules could have a negative effect on the application of the EU's Habitats Directive, its Water Framework Directive and its Birds Directive. Tansini says this can be a risk and that protected sites, particularly those pertaining to the Natura 2000 network – which consists of core breeding and resting sites for rare and threatened species – should be avoided.
Antonia Leroy, Head of Ocean Policy at the World Wide Fund for Nature (WWF) European Policy Office in Brussels, is cautious about the proposals. 'Before deploying energy islands, one needs to think if it's the best option not only in terms of producing energy but also in terms of the energy and resources needed to produce them and keep them working', she says. 'Some efficient and good technologies exist that might bring more added value in terms of meeting climate targets if we take a more holistic approach.'
She highlights that, at sea, there's a process called maritime spatial planning (MSP), which requires stakeholders, including industry, to be consulted on sea space uses. 'So, we would think that a good environmental impact assessment needs to be done, considering the social issues in artificialising the sea on such a big scale', says Leroy. 'The second step will be to engage in the MSP process, then the project will need to be considered [as either] sustainable or not. But all this requires a bit more science in a holistic way, looking at the supply chain of such construction.'
Lang says that the challenges posed by the environmental impact of energy islands and by the potential maritime navigation hazards are not novel, since similar technical and legal issues are faced frequently in regards to offshore wind developments in maritime exclusive economic zones (EEZ), which extend up to 200 nautical miles seaward. Instead, it's about scale and how the various, otherwise familiar, elements are brought together in a new way in this project. The greatest challenge, he believes, would be the associated offshore wind park and this will have the greatest environmental impact. A North Sea energy island (NSEA) west of Denmark (See: A challenging concept takes shape) would have 'all the challenges of a wind farm plus a little more', says Lang.
As with offshore wind, there are also sub-sea cables and the impact where these make landfall to consider. The dredging and dumping of construction materials on the seabed, again similar to current offshore wind parks but on a larger scale, would likely cause a substantial impact. How the infrastructure is used would determine what other effects the island would have on the environment. For example, chemical hazards and pollution would need to be considered if renewable hydrogen or ammonia derived from electrolysis were to be used as energy storage on the island.
Navigating legal definitions
Defining an energy island is challenging. Tansini highlights that in international law, Article 60 of the UN Convention on Law of the Sea (UNCLOS) makes reference to and includes provisions on objects such as 'artificial islands', 'installations' and 'structures', but he adds that there's no precise legal definition of these. Current proposals for artificial islands involve plans for both territorial waters and further offshore. 'In terms of legal [aspects], this could be challenging', says the WWF's Leroy. 'With UNCLOS, ships have a free passage right, so again a good MSP process is key to tackling the legal issues from both the ocean and climate side [that are associated] with grid connections.'
The question is what status will such islands have? Artificial islands are not directly defined in UN Convention on Law of the Sea
Johannes Grove Nielsen
Former Co-Chair, IBA Maritime and Transport Law Committee
Johannes Grove Nielsen is a former Co-Chair of the IBA Maritime and Transport Law Committee and Head of the Shipping and Litigation Department at Bech-Bruun law firm in Denmark. He says that while 'there are of course lots of maritime contracts to be negotiated for all the material to be transported, that is not particularly different' for energy islands, despite the vast scale. He considers that the issues are related more to the Law of the Sea Convention than to maritime law. 'The question is, then, what status will such islands have? Artificial islands are not directly defined in UNCLOS. On the contrary, an island is a natural island – not man-made – and only natural islands give rise to delimitation zones and maritime zones' and so should not have an impact on fishing and navigation per se, explains Nielsen. 'But we are in a bit of a mixed zone with artificial islands.'
Navigation rights and exclusion zone rights rank as among the most important legal challenges. Under UNCLOS Article 2(1), coastal states have complete sovereignty up to 12 nautical miles out but must still allow 'unhindered innocent passage' of foreign vessels, except where there are issues with 'peace, good order, or security of the coastal State' or if the vessel were to infringe upon regulations relating to navigational safety and the prevention of pollution (Article 21).
Renewable power and associated infrastructure now often extend further offshore into EEZs – up to 200 nautical miles from shore in some cases. As with oil and gas platforms, the coastal state has sovereign rights over natural resource prospecting, management, exploitation and other economic activities, including the development of renewable installations such as wind, tidal and wave power generation. Foreign vessels have free right of passage so long as they're not involved in or affecting commercial exploitation, the dumping of non-operational waste or the scuppering of vessels requiring authorisation from the coastal state.
The conservation of living resources is primarily the responsibility of the coastal state, which also has the right to regulate both research and pollution in its EEZ. The coastal state can also enforce its legislation on pollution from seabed activities. The 1972 London Convention further calls for restrictions on the offshore dumping of wastes, other materials or man-made structures. Yet while high standards are likely to prevail in the North Sea, these duties are based largely on weak provisions in UNCLOS, which in general co-opts existing international agreements covering these concerns through its Article 212, the so-called 'rule of reference'.
A challenging concept takes shape
The energy island projects under discussion in Denmark are huge civil engineering undertakings, the largest in the country's history. Following Russia's invasion of Ukraine, Denmark has been trying to speed up its plans – still in their early stages – to build the world's first two renewable energy islands by the early 2030s. One would be located in the North Sea and generate 3GW from abundant offshore wind. Later, this site would generate as much as 10GW – one and a half times Denmark's population needs, with plenty for export. A second site would be an initial 2GW project to be built on the island of Bornholm in the Baltic Sea.
Belgium's more modest energy island project may yet pip Denmark to the post due to delays to the latter, but Denmark's plans were approved in principle by the country's Parliament in 2021 and are overseen by the Danish Energy Agency and Energinet, the national electricity and gas transmission operator. A cooperation agreement has been signed with transmission system operators for Belgium and Germany. In May 2022, Belgium, Denmark, Germany and the Netherlands signed a wider cooperation agreement, including a commitment to increase offshore wind capacity by at least 65GW by 2030, and at least tenfold to 150GW by 2050.
The design of Denmark's artificial NSEA has yet to be finalised, but the site will cover an area equal to 18 football pitches and will serve up to 600 wind turbines. The aim is to exploit surplus wind power generation to meet a growing range of needs, including electricity storage, an electrolysis plant for green hydrogen for hard-to-decarbonise industrial sectors and synthetic electrofuels for aviation and shipping. The design will look to minimise environmental damage while enhancing nature.
It has long been clear that a lack of coordination of sub-sea cables has led to unnecessarily high costs of transmission. Optimum configuration and sharing with a wider variety of uses can provide greater synergy and cost reduction, linking together various renewable sources and connecting them to land in more than one country through 'hybrid interconnectors'. In 2016, Dutch grid operator TenneT went further, proposing an integrated European electricity network in the North Sea, based on 'hub and spoke' architecture. This led to an agreement and the creation of the North Sea Wind Power Hub consortium between TenneT Germany, Energinet in Denmark and Gasunie, which operates in both countries.
This could ultimately allow connection and trading between Belgium, Denmark, Germany, the Netherlands, Norway and the UK. The UK's National Grid confirmed in 2021 that it was in tripartite talks over a link to Denmark's NSEA, while the UK Department for Business, Energy and Industrial Strategy (now the Department for Energy Security and Net Zero) has said that it's looking to connect northwestern Europe to these much larger North Sea offshore wind resources.
The International Maritime Organization has responsibility for marine navigation around artificial islands, installations and structures. Navigation guidelines including notices to shipping and 500-metre exclusion zones for oil and gas structures have long since been established, but further proposals for guidelines on safety zones around artificial islands were rejected by the Maritime Safety Committee in 2010. Guidelines for artificial reef material, structure and siting were, however, issued by the London Convention and Protocol and the UN Environmental Programme in 2009. As with installations and other structures, a coastal state has the right to establish artificial islands and associated safety zones within its EEZ, but these must not cause interference with recognised international sea lanes. Unlike natural islands, artificial islands also don't influence the delimitation of territorial seas or of the EEZ.
Many of these issues have already been encountered by oil and gas projects in EEZs. But in heavily used international shipping lanes, such as those in the English Channel and in the western Baltic Sea, friction with shipping and other uses could increase with the density of artificial island developments. Security concerns relating to hostile states may also be enhanced, especially in light of the attack on the Nord Stream gas pipeline network near Bornholm in September 2022.
'Vast and multidisciplinary'
The investment required for an energy island project is huge, with Denmark's NSEA needing both public and private participants. The Danish government committed to a majority stake of at least 50.1 per cent in the £25bn project in 2021, with profit shared based on stake.
In such a wide-ranging project, careful contract drafting can manage risks and uncertainties. Lang says there are potential benefits in proceeding slowly, learning, saving more and limiting first mover commercial disadvantage, but there are also policy risks from further delay.
The emerging energy islands plan is therefore a challenging engineering and financial concept, on a much bigger scale than previous developments, but not exactly a novel one. 'The most interesting challenge is the novel way in which these constituent aspects all fit together', says Lang, since the concept combines various existing technologies relating to offshore wind, electricity storage and smarter associated transmission infrastructure with artificial offshore islands, and potentially with hydrogen production and data centres too.
For lawyers, such projects represent 'a vast multidisciplinary exercise', which need 'a great group of people with varied expertise to get this all right', explains Lang. The legal team, together, could cover areas such as: infrastructure; information technology; telecoms; ports and shipping; offshore wind; chemical risks; construction; procurement; state aid; and litigation. On top of this is the need to manage the risks from legal challenge under international laws on navigation, both from energy island operators against errant shipping, and by the shipping industry against increasing restrictions on passage as build-out proceeds. The security of vulnerable offshore infrastructure must also be considered, given the greater tensions following Russia's invasion of Ukraine. But these challenges will need to be tackled now, given that the renewable energy island concept is fast becoming a central feature in Europe's decarbonisation plans to 2050.
Paul Hatchwell is a writer, researcher and consultant on policy and practice in energy and climate, sustainability and green finance issues. He can be contacted at paul@hatchwell.net
Image credit: View of solar farm on Romainville Island, Seychelles. www.stock.adobe.com