The IBA's response to the war in Ukraine  
From atrocities to accountability

As horrendous acts are perpetrated daily in Ukraine, Global Insight examines the ways of holding those responsible to account, the limits of existing mechanisms and where there's potential for new ways of achieving justice.
Nine weeks into the war, already more than 3,000 Ukrainian citizens are reported to have been killed. Russia's actions in Ukraine have upended the world order, unleashing unprecedented global economic, energy and national security concerns.
Governments have imposed a series of increasingly punitive economic sanctions in an attempt to halt Russia's war machine. Already, moves have been made by international and state prosecutors to launch war crime investigations, seeking accountability and redress for the victims.
Sanctions have forced many companies to sever links with Russia, with countless more rescinding contracts with Russian entities of their own volition. Like foreign governments, private actors – including law firms – have been forced to confront the uncomfortable reality that they too have a role to play in holding Putin's regime to account (see box: Spotlight on the legal profession).
Nearly 1,000 companies have exited Russia since the invasion, according to research compiled by the Yale Law School of Management. Many international businesses have completely withdrawn, while others still maintain clients, business links and even some operations in the country. Lana Sinichkina, a partner at Arzinger in Kyiv, believes the conflict has already tested and exposed the bounds of corporate conscience. 'Any business which continues its active operations or investments in Russia today in fact feeds the criminal regime and the war, which is killing and harming millions of peaceful people', she says.
Winding down operations in a market that is subject to international sanctions is a complex process. Even more so in one that is at war with another sovereign state. It raises myriad financial, human resources, human rights and security challenges.
This was exemplified in May when Siemens announced that it was closing its Russian operations after almost 170 years in the country. After initially putting 'new business and international deliveries to Russia and Belarus on hold' in the immediate aftermath of the invasion, on 12 May the company said it was withdrawing completely and had 'started proceedings to wind down its industrial operations and all industrial business activities'.
In a conference call with journalists, the company's President and Chief Executive Officer, Dr Roland Busch, said the decision had not been taken lightly: 'Despite our clear stance on the war, this was not an easy decision for us to make. After all, we've been active in Russia for 170 years. We have close customer relationships there. We also have a responsibility to our 3,000 people in the country. And – I'd like to make this clear – we'll continue to support these colleagues to the best of our ability even after this decision.'
Before the war, Siemens' operations in Russia accounted for around one per cent of the company's total global revenue. Nonetheless, its profits during the second quarter took a not insignificant €600m hit due to impairments and other charges 'subsequent to sanctions imposed on Russia'.
Spotlight on the legal profession
Within two weeks in March, 26 international law firms had announced that they were closing their doors in Russia in the wake of the country's aggression in Ukraine. Many had already downsized their operations after Russia annexed Crimea in 2014. However, as the conflict escalated, law firms were left with no choice but to leave the country where some had enjoyed a foothold for the best part of 30 years.
Jeroen Ouwehand, senior partner at Clifford Chance, told Global Insight that the war and ensuing media scrutiny on corporate accountability have been a rude awakening for many firms. This was just three weeks after the magic circle firm announced the 'orderly wind down of' its Moscow operations. 'For me – I'm sure I'm not speaking only for myself when I say – it starts with our own values', he says. 'So, it's intrinsic. Reputation, external pressures, social media and press come second. But I think the spotlight now is so intense and I think that is probably a new experience for most firms. Anyone who thought that didn't exist has woken up.'
Robin Storey, general counsel and company secretary at UK natural gas producer IOG, worked at one of the first international law firms to open its doors in Moscow in the late 1990s. 'Looking back, I was incredibly fortunate', he says. 'It was a time and a place, starting with Yeltsin's Russia, when there was genuine optimism, there was plural politics, a free press and there was a start-up culture in business. It makes me very sad to see the gradual whittling away of those freedoms under Putin and then the total obliteration of those freedoms.'
The fallout from Ukraine has galvanised political will to step up anti-corruption efforts worldwide. 'The war in the Ukraine and the sanctions regime has opened many eyes to the substantial assets held in Western countries by members of the Putin regime', says Bruno Cova, a partner at Delfino e Associati Willkie Farr & Gallagher in Milan and a member of the IBA Anti-Corruption Committee Advisory Board. 'Part of the wealth derives from questionable business practices or is incompatible with the salaries of senior civil servants.'
Cova says law firms must be part of the movement for change: 'The time has come to introduce measures to ensure clarity as to the beneficial ownership and the origin of unexplained wealth. Transparency measures should be welcome by the legal profession and would facilitate compliance with the already-existing anti-money laundering obligations of the legal and other professions.'
Siemens Healthineers – in which Siemens retains a majority stake – will remain in Russia, however. The company told Global Insight it would 'continue to support healthcare providers and their patients in Russia with products and services' and stressed that existing sanctions 'do not directly target the healthcare sector, as access to healthcare is a fundamental human right'.
Even companies without in-country operations have been forced to review their contracts with state-owned Russian entities. UK natural gas producer IOG signed a gas sales agreement with Gazprom Marketing & Trading in July 2021 after a competitive tender process for equity production from its Elgood and Southwark fields in the North Sea.
On 1 March, IOG's CEO, Andrew Hockey, said in a statement that the company had served notice with 'immediate effect' regarding the contract after Russia's 'shocking, unprovoked invasion of Ukraine'. On 11 March, after a further competitive process, IOG announced it had brokered a new agreement with BP Gas Marketing, which already had a reciprocal gas sale agreement for one of its other North Sea fields.
Robin Storey, IOG's General Counsel and Company Secretary, spent the early part of his career in Russia, initially at one of the first international law firms to open its doors in Moscow. He later joined BP, assisting the oil major in protecting its shareholding in RUSIA Petroleum, a joint stock company operating in eastern Siberia.
After working so extensively in Russia, Storey told Global Insight he had personally been following developments in Ukraine for some time. Although it was just ten days before IOG's projected first gas, he says the company was in no doubt about the only course of action. 'We'd kept it under review and obviously saw the situation in Ukraine and the governmental response to that and very quickly served notice on Gazprom', he says. 'It was untenable to do business in this situation. Possibly the advantage of a small company is that you can corral the Board pretty quickly and take a decision.'
Transparency and human rights
As the war progresses, public scrutiny on corporate responses to the invasion has only intensified. Numerous well-known retailers, food outlets and other brands were forced to pull out of Russia in the weeks following the invasion after consumers threatened to boycott their businesses.
Sinichkina is concerned that some businesses are still not being completely transparent about their business dealings in Russia. 'I accept that there are activities and businesses which cannot be stopped in just one day because it may cause another humanitarian catastrophe for both the Russian population and outside', she says. 'At the same time, a lot of foreign businesses who continue their full operations in Russia in fact hide their real business interests behind loud statements about "social significance".'
Oleksandra Matviichuk, Chair of the Board of the Center for Civil Liberties in Kyiv, tells Global Insight that withdrawing from Russia was one of the single most important things that companies could do. 'It's a very symbolic gesture not only for Ukraine, but for Russian people themselves.'
Recent polling by the independent Levada Center found Putin's approval rating had risen from 71 per cent before the invasion in February to 82 per cent by April. A separate poll found that 81 per cent of respondents specifically 'support the actions of the Russian armed forces in Ukraine'.
As media pluralism ceases to exist in Russia, with censorship and propaganda dominating domestic television, radio and online news coverage of the conflict, Matviichuk says corporate action may be the only way to get through to the wider Russian population the severity of what's happening on the ground in Ukraine. 'They have to see that impact on their own lives', she says. 'They have to be pushed to reflect their behaviours, that it's not okay to invade other countries, even if you want to restore the Russian empire.'
The war has also raised pertinent questions about how businesses should approach their human rights responsibilities in the face of ongoing conflict. 'The invasion has underscored that stakeholders increasingly expect companies to match words with actions and to be accountable for their responses to human rights issues', says Alexander Coward, a Senior Adviser at Pillar Two, a boutique advisory firm that helps businesses respect human rights, based in Canberra.
According to him, many businesses have been left reeling from the shock of the invasion and knee-jerk market exits have allowed some little room to develop 'nuanced responses' to a wide range of issues. For those companies that have remained, including essential services, they must be 'able to justify doing so in a human rights context and in a way that is clear for stakeholders', he says. 'This is particularly relevant for companies in sectors such as pharmaceuticals and food and drink.'
The corporate fallout has also exposed the extent to which businesses need to revisit their core values and commitment to the UN Guiding Principles on Business and Human Rights (UNGPs), says Amandeep Sandhu, counsel at Zargar Lawyers in Vancouver. 'Under the UNGPs, businesses should help remediate any negative impacts that they cause or to which they contribute', he says. 'Businesses may be seen as complicit in negative human rights impacts where they are, or are perceived to be, contributing to adverse human rights impacts caused by other parties. This may occur where a business is seen as benefiting from human rights abuses committed by another party, including states and governments.'
More specifically, Sandhu says the conflict has compelled businesses to more rigorously review how they conduct human rights due diligence. 'In practice, this may mean doing a deep dive into a company's supply chains to gain knowledge on exposure to Russian businesses that are facilitating or supporting Russia's aggression in Ukraine', he says.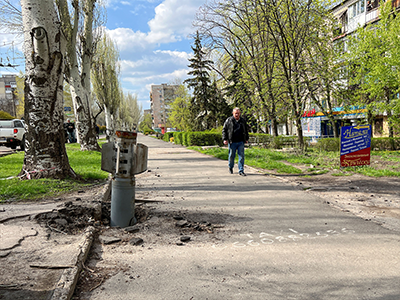 A man walks past a missile that stuck in the ground, amid Russia's invasion of Ukraine, in Rubizhne, Luhansk region, Ukraine, April 21, 2022. REUTERS/Hamuda Hassan
Investors must also be alive to these issues, says Coward. 'In line with the UN Guiding Principles, we know investors can be involved in human rights harm through the actions of their investees', he says. 'This means that as part of their responsibility to respect human rights, investors need to continue engaging with their investees on this issue. This can include ensuring investees are taking steps to understand their exposure to relevant human rights issues, as well as emphasising the importance of responsible exit.'
Financial institutions – with either direct or indirect exposure to the Russian market – can also influence corporate thinking, says Sandhu. 'As gatekeepers to capital markets, financial institutions play an important role in corporate accountability', he adds.
He believes the proactive approach taken by the Financial Stability Board (FSB) to tackle the climate crisis could provide inspiration for the industry to tackle the threat posed by Russian aggression in Ukraine. 'In response to the current climate crisis, the FSB established the Task Force on Climate-Related Financial Disclosures (TCFD) in 2015', he says. 'Today, the TCFD recommendations are considered the best-practice disclosure standard for financial institutions when it comes to climate-related financial risks. We believe financial institutions should consider further collective action that speaks with definitive voice on business and human rights issues, just as the TCFD recommendations do for climate risk disclosure.'
Energy stalemate
The thorny issue of corporate accountability has been particularly acute in the oil and gas sectors, which have had long-standing investments and assets in Russia. Oil majors like BP and Shell have announced market exits and taken a substantial financial hit. Within days of the invasion, BP had offloaded its $14bn stake in state-owned oil company Rosneft, resulting in charges of up to $25bn.
Some industry players have been blasted for not divesting their assets quickly enough – or in some cases at all – while the industry at large has been sharply criticised for passing the buck of surging energy prices onto consumers, while reporting huge quarterly profits.
These developments have also driven home how much the global energy sector is wrapped up in geopolitics, with the controversial Nord Stream 2 pipeline – which Germany finally cancelled at the end of February in response to Russia's actions in Ukraine – being a prime example.
Gas supplies across Europe have faced disruption since early May as Moscow cut off supplies to several countries after they refused to pay for their gas in roubles. On 11 May, the Russian government issued sanctions against 31 companies in retaliation for Western sanctions imposed after the invasion. These include the European subsidiaries of Russia's state-owned Gazprom energy giant and EuRoPol Gaz, the owner of the Polish part of the Yamal-Europe pipeline – jointly owned by Gazprom – that carries Russian gas to Europe.
Ending Europe's dependence on Russian energy
In April, Oleg Ustenko, an economic adviser to Ukrainian President Volodymyr Zelensky, pointed out that, despite the sanctions imposed on individuals and companies, Russia continued to earn $1bn a day from oil exports – money used to fund its invasion. In early May, European Commission President Ursula von der Leyen proposed a ban on all EU countries importing Russian oil after the end of 2022.
Germany: One of the most vocal advocates for a Europe-wide oil embargo. Before the invasion, Russian crude oil made up 35 per cent of Germany's total oil imports. This figure has already fallen to 12 per cent and the country has vowed to stop importing Russian oil completely by the end of 2022, even if EU members fail to reach a consensus on a bloc-wide ban. Reducing German dependence on Russian gas will be much more challenging. In 2021, the country relied on Russia for 55 per cent of its total gas imports and expects to remain largely reliant on Moscow for gas until mid-2024. The Nord Stream 2 pipeline was designed to double the flow of Russian gas to Germany, but German lawmakers cancelled the project at the end of February.
Hungary: The country, which relies almost exclusively on Russian oil, has been the major obstacle to the EU reaching unanimity on a bloc-wide embargo. The Hungarian government claims it could cost as much as €18bn to modernise the country's energy infrastructure in the event of an outright ban on Russian pipeline deliveries. The EU has offered both Hungary and Slovakia until the end of 2024 to phase out Russian imports in a bid to reach a consensus on the matter.
Poland: The Polish government, which has positioned itself as a key ally of Ukraine, has come in for criticism for its overreliance on Russian energy. The country imports more than 40 per cent of its gas and more than 60 per cent of crude oil from Russia and spent more than any other EU nation on Russian coal, oil and gas imports in 2021. Poland was reducing its reliance on Russian energy even before the invasion and has vowed to end all imports by December. However, this will require identifying alternative suppliers and a marked increase in domestic gas storage facilities.
The Baltics: Estonia, Latvia and Lithuania have been three of the strongest advocates for an oil embargo. Together they rely on Russia for 90 per cent of their oil and almost 100 per cent of their gas imports, though they have already said they will stop importing natural gas from Russia. This seems, in part, feasible on account of Lithuania's own liquefied natural gas terminal, which has been operating since 2014, and has enabled the country to steadily reduce its reliance on Russian gas.
France: Weaning itself off Russian energy should be an even easier task for France, which relies on Russia for only 17 per cent of gas imports and just seven per cent of oil imports. The French government says it's already searching for other alternative suppliers.
UK: Russian oil accounts for eight per cent of UK oil, while Russian gas accounts for just three per cent of the UK's gas market, making it one of the countries least reliant on Russian energy. However, as gas, diesel and petrol prices soar, the UK government is under pressure to either source alternative supplies quickly or invest dramatically in renewable and nuclear energy to fill the shortfall in supply.
Russia suspended electricity deliveries to Finland in mid-May citing 'problems' with payments. But despite this claim the move was widely interpreted as a response to the country's decision, alongside Sweden, to join NATO in the wake of Russia's invasion, marking a seismic policy shift for the two Nordic countries.
Progress on ending global dependency on Russian oil and gas has been slow, but there are some encouraging signs. In early April, Lithuania became the first EU country to stop using Russian gas. Harry Nedelcu, Director of Policy and Business Development at Rasmussen Global, says there's no time for countries to deliberate further on this issue. 'We have to stop arguing in terms of how much potential economic pain this could put on us', he says. 'The sooner they'll have an effect, the less the effect will be on us.' But of course, it's a question of moving quickly. 'If we do so while we are still in spring, we have about a half-year to put pressure on Putin, while our demand for gas would be low – meaning maximum impact on Moscow with minimum impact on us.'
Despite sanctions and company boycotts, in May the International Energy Agency reported that Russian oil sales revenues had risen to $20bn a month in 2022. An outright embargo on Russian oil is on the cards and G7 countries have already pledged to phase out their dependency on Russian oil by the end of 2022. According to Nedelcu, this commitment sends a 'strong signal' to other states to follow suit. 'Albeit the details remain to be ironed out', he says, 'including on the EU front with mainly Hungary holding up sanctions'.
Weaning Europe off its dependency on Russian oil and gas will be crucial to deescalating and ultimately putting an end to the war, says Sinichkina. 'Europe pays to Russia dozens of billions of euros for energy imports these days – everybody understands this is exactly the source of war funding', she says. 'We really appreciate those countries who have enough dignity and values to stop it and diversify their energy dependence. But there are so many people who prefer to retain the status quo and make others believe that this "Ukrainian conflict" should not cause any major changes in the ordinary business activities and routes.'
Accountability and justice
Nevertheless, accountability mechanisms have already been set in motion. In May, a 21-year-old Russian tank commander, accused of killing an unarmed civilian in the Sumy region, became the first person convicted of war crimes since the invasion. He pled guilty (though he maintained he was acting on orders) and was sentenced to life in prison on 23 May. It was a watershed moment for Ukraine's Prosecutor General's Office, which has been doggedly investigating more than 11,000 crimes of aggression and war crimes registered in the country since the invasion.
Following the preliminary hearing, Prosecutor General Iryna Venediktova commented: 'With this first trial, we are sending a clear signal that every perpetrator, every person who ordered or assisted in the commission of crimes in Ukraine shall not avoid responsibility.' In a recent press conference, she confirmed that her team is already preparing cases against dozens of Russian soldiers accused of rape, torture, murder and other suspected war crimes.
The full scale of the destruction in Ukraine is difficult for those outside the country to fully comprehend but rolling international news coverage gives a clear sense of the indiscriminate destruction and atrocities taking place.
To date, more than 220 children have been killed and a further 420 injured. 140 educational establishments and over 100 hospitals have been destroyed after just ten weeks of conflict.
In early April, reports emerged that at least 300 civilians had been killed in Bucha on the outskirts of Kyiv. The Russian authorities denied any involvement, but satellite images appeared to show bodies piled high in mass graves throughout the city. The UN has already documented the unlawful killing of at least 50 civilians and the number is expected to rise.
People stand amid newly-made graves at a cemetery in the course of Ukraine-Russia conflict in the settlement of Staryi Krym outside Mariupol, Ukraine May 22, 2022. REUTERS/Alexander Ermochenko TPX IMAGES OF THE DAY
With this first trial, we are sending a clear signal that every perpetrator, every person who ordered or assisted in the commission of crimes in Ukraine shall not avoid responsibility
Iryna Venediktova
Prosecutor General, Ukraine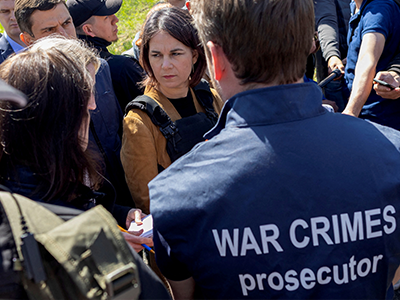 German Foreign Minister Annalena Baerbock visits a church where a mass grave was found after Russian forces retreated from Bucha, as Russia's attack on Ukraine continues, in Bucha, Ukraine May 10, 2022. Reuters/Carlos Barria REFILE - CORRECTING CITY
Wendy Betts is the Director of eyeWitness to Atrocities, which seeks to bring accountability for atrocity crimes through receiving verifiable footage. She says the images coming out of Bucha were not only shocking, but also underscored the challenges associated with collecting verifiable evidence. 'What's interesting about Bucha is there's the suspicion that it's just the tip of the iceberg of what's been going on in other places and what's still going on', she says. 'It also highlights the need to gather reliable evidence because we've already seen the lengths to which the denials are going to go and the pushback against what's being reported.'
Betts says this is particularly difficult in an ongoing conflict zone where the press has been actively welcomed in to cover the evolving situation. 'Just because we've seen it doesn't mean it's evidence – it's information', she says. 'Despite the fact that there's such an enormous body of evidence being collected, to turn that into a successful prosecution of war crimes, it's a whole different task. You can't just rely on this footage on its face value in legal proceedings.'
As groups of investigators continue to document war crimes across the country, Matviichuk says they are already coming up against one immense challenge. 'Now there are a lot of journalists and a lot of volunteers here', she says. 'They observe from the ground the destruction of evidence. People try to return who left this area and try to return to a normal life and clean everything. This is a clear example of when the interest of publicity and the interest of society to know what's happened can be in conflict with the interests of justice.'
Matviichuk says Ukrainians need international experts to support their efforts on the ground as the extent of the devastation is too much for one state alone to handle. 'It's a matter of capacity and it's very weak', she says. 'Even well-functioning state bodies couldn't tackle all these problems. But now we speak about Ukrainian state bodies. We are a nation in transit. We have never had the luxury to live with well-functioning law enforcement bodies and judicial systems.'
A united front
There has been a remarkable amount of international interest in bringing accountability to Ukraine. In May, the UN Human Rights Council ordered the Independent International Commission of Inquiry to investigate potential war crimes in Ukraine after hearing that UN investigators had recovered 1,000 bodies from areas around Kyiv that were previously occupied by Russian troops. 'The scale of unlawful killings, including indications of summary executions in areas to the north of Kyiv, is shocking', Michele Bachelet, UN High Commissioner for Human Rights, said before the session.
The International Criminal Court (ICC) opened an investigation at the end of February into alleged war crimes and crimes against humanity in Ukraine, and there are continued calls to create a special tribunal focused on the crime of aggression. At the national level, 12 countries in Europe have launched their own investigations into the atrocities. The Royal Canadian Mounted Police is also collecting evidence of alleged war crimes from people fleeing to Canada following the invasion.
We have never seen such robust cooperation, coordination, and transparency among the various accountability actors
Danya Chaikel
Co-Vice Chair, IBA War Crimes Committee
'We have never seen such robust cooperation, coordination, and transparency among the various accountability actors', says Danya Chaikel, Co-Vice Chair of the IBA War Crimes Committee, who also currently consults with the International Federation for Human Rights (FIDH). 'Potentially hundreds of cases involving international crimes will arise, and the majority of prosecutions will take place in domestic jurisdictions, in Ukraine and elsewhere, within the limits of each one's jurisdiction.'
Chaikel adds that civil society is playing a significant role in securing accountability for Ukraine by 'carrying out critical documentation and universal jurisdiction case-building work'. 'Without their efforts, a vast amount of evidence would simply not be identified, collected, and preserved for future cases in Ukraine, at the ICC, and in domestic trials around the world.'
Use of the eyeWitness app has risen dramatically throughout the conflict. Since 24 February, more footage from Ukraine was submitted to the app than it normally receives globally in a year. All information is reviewed by lawyers, who verify and process the footage to meet the requirements of investigators. Betts says her team will pass footage on to the ICC, the UN and national courts that are investigating potential war crimes in Ukraine.
Coordinating so much evidence and so many cases across multiple jurisdictions simultaneously is an unenviable challenge for Ukraine's Prosecutor General. For this reason, in April, the Ukrainian government announced the formation of a Legal Task Force on Accountability for Crimes Committed in Ukraine – a grouping of international justice experts to help the country deliver justice for victims of any international crimes committed by Russia in Ukraine, including providing pro bono legal advice on securing accountability and reparations in national jurisdictions.
The Task Force includes Baroness Helena Kennedy QC, Director of the International Bar Association's Human Rights Institute (IBAHRI), Lord David Neuberger of Abbotsbury, the Chair of the High Level Panel of Legal Experts on Media Freedom and Amal Clooney, Special Advisor to the Chair of the High Level Panel.
I hope that we will see trials that are as systematic as the crimes being committed. So that perpetrators at all levels are held to account
Amal Clooney
Legal Task Force on Accountability for Crimes Committed in Ukraine
Commenting on the Task Force, Clooney told Global Insight: 'It is a privilege to be working with the government of Ukraine as they forge a path towards accountability for the atrocities being committed in their country. If we ignore crimes against humanity, they are destined to be repeated. I hope that we will see trials that are as systematic as the crimes being committed. So that perpetrators at all levels are held to account – and survivors are able to access the funds they will need to rebuild their lives.'
After prosecution, asset recovery stands to be one of the biggest challenges facing Ukraine. 'This problem of issues recovery has been, and I assume will remain, one of the hottest topics', says Kateryna Gupalo, Head of White-Collar Crime and Tax and Customs litigation practices at Arzinger in Kyiv. 'Namely, the damages to infrastructure, businesses, and individuals caused by the Russian invasion already make up billions of dollars. Therefore, the mechanism of recovery is of the essence.'
Both Canada and the US have already proposed legislative changes to ensure all Russian assets seized and sanctioned by their governments are used to compensate victims of the war in Ukraine. Gupalo says such bills could prove to be 'very helpful tools for recovery purposes.'
Matviichuk welcomes all international moves to help Ukraine hold Russia to account but says they must support Ukraine's long-term recovery. 'When the war finishes, people will have a huge need not only to restore broken infrastructure, a broken life and broken families, but to restore the belief that the law exists', she says. 'And this approach, when it strengthens national investigation, national justice and international mechanisms, they will make the general system of rule of law in Ukraine stronger.'
Ruth Green is the IBA Multimedia Journalist and can be contacted at ruth.green@int-bar.org
Image credit: A boy rides a bicycle near a destroyed residential building in Mariupol. 11 May 2022. REUTERS/Alexander Ermochenko