The IBA's response to the war in Ukraine  
How Russia's aggression is revitalising international criminal justice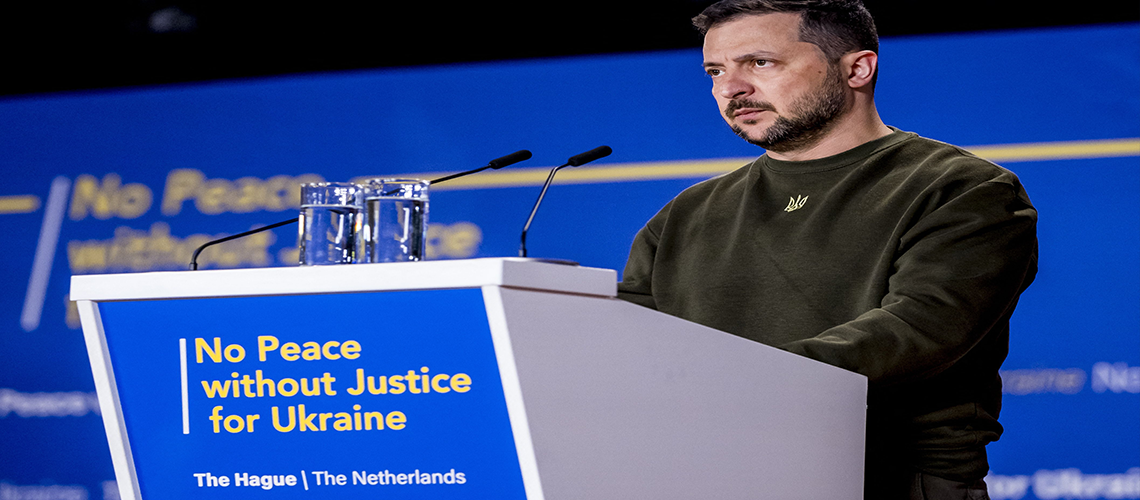 As the invasion of Ukraine moves into its second year, Global Insight assesses how Putin's blatant violation of international norms is refocusing global attention on ways of achieving justice and accountability for the worst crimes.
It's now been over a year since Russia's full-scale invasion of Ukraine. President Putin has been indicted for war crimes at the International Criminal Court (ICC), Russia has been evicted from the Council of Europe, the UN General Assembly has strongly condemned the war and, not least important, after the imposing of a wide range of sanctions and as reparations are being explored, efforts are underway to prosecute Russia for the crime of aggression.
'Russia's blatantly illegal war provoked a response from around the globe that may end up strengthening the very laws that Russia has violated', says Oona Hathaway, Gerard C and Bernice Latrobe Smith Professor of International Law at Yale Law School.
Russia's blatantly illegal war provoked a response from around the globe that may end up strengthening the very laws that Russia has violated
Oona Hathaway
Professor of International Law, Yale Law School
Despite being a nuclear power and a big player in the global economy, Russia has become an outcast. There has never been such a strong call for accountability in the face of war.
'There has never been in my lifetime greater attention and focus on accountability for atrocity crimes than now. That is the direct result of Russia's invasion of Ukraine. Impunity is no longer an acceptable option; the international community rightfully wants justice. The key to success is political will', says Mark Ellis, Executive Director of the International Bar Association.
No such level of condemnation has ever been voiced over conflicts in places such as Afghanistan, Myanmar, Syria or Yemen. 'For years Syria and Yemen have languished with little or no attention from the outside world, and whilst sanctions regimes exist for both countries […] the conflicts have not prompted large scale accountability or sanctions measures', says Sara Elizabeth Dill, Treasurer of the IBA War Crimes Committee and a partner at Anethum Global in London.
'Even comparing the Afghanistan situation, following the Taliban takeover just months before war broke out in Ukraine, Afghans were abandoned, faced extensive hurdles fleeing life threatening situations, and whilst an investigation has been pending at the ICC for years, there has not been one arrest warrant issued', says Dill.
This 'unprecedented' response, as it is often described, came at a time when looking away was no longer an option given the blatant violations of international law and the complete disregard for human rights with which Putin's forces set about – as he put it as he tried, and failed, to justify the invasion – aiding the 'demilitarisation and denazification' of the Ukrainian government and to save the population of the Donbas region from 'genocide'.
In 2014, when Russia first invaded Ukraine and annexed Crimea, there was no such loud condemnation. Speaking at the Nuremberg Academy, Claus Kreß, a Professor of International and Criminal Law at the University of Cologne said: 'Most governments, apart from Ukraine kept silent about the crime of aggression throughout the lead-up to 24 February 2022 as well as for months thereafter.'
'In 2014, in Crimea, the Russian Federation began to violate, at a minimum, the prohibition of the use of force to the detriment of Ukraine. On 24 February 2022, Russia escalated its course of action into a full-scale war of aggression', says Kreß.
The crime of aggression
The appetite for international criminal justice, specifically accountability for war crimes, 'undoubtedly' increased following Russia's invasion, according to Richard Goldstone, who was a prosecutor at the International Criminal Tribunal for the former Yugoslavia and Rwanda. In particular, the crime of aggression has been given new 'vitality', he says.
The use of force, unless sanctioned by the United Nations Security Council or as an act of self-defence, is a direct violation of the UN Charter. Following the Second World War, German and Japanese leaders were tried in international tribunals, the Nuremberg Trials and the International Military Tribunal for the Far East, for this crime. It was not included in the charters of the later tribunals for Cambodia, Lebanon, Rwanda, Sierra Leone, or the former Yugoslavia.
'Powerful governments did not wish to risk their sovereignty being invaded and wished to avoid a precedent being established. However, there is now a growing number of states who are in favour of a Special Tribunal on Aggression by Russia', says Goldstone.
But sovereignty concerns remain. Only in late March 2023 did the US join calls to try Russia for the crime of aggression. US Ambassador-at-Large for Global Criminal Justice, Beth Van Schaack, said she was 'pleased to announce that the United States supports the development of an internationalized tribunal dedicated to prosecuting the crime of aggression against Ukraine'. An internationalised tribunal – unlike an international one – would sit within Ukraine's legal system.
Such a tribunal would send the wrong message, according to Kreß: 'The institutional design would not clearly convey the international character of the crime of aggression and would emphasize Ukraine's national interest as the immediate victim rather than that of the international community as a whole.'
For years Syria and Yemen have languished with little or no attention […] the conflicts have not prompted large scale accountability or sanctions measures
Sara Elizabeth Dill
Treasurer, IBA War Crimes Committee
He points to a number of conflicts where the prohibition on the use of force was violated, and investigations into the crime of aggression should have been conducted, namely Iraq's invasion of Kuwait in 1990, Uganda's use of force against the Democratic Republic of Congo from September 1998, the UK and US' roles in the invasion of Iraq in 2003 and Turkey's use of force in Syria in 2019.
Currently, the crime of aggression cannot be tried at the ICC in The Hague unless both countries – invader and invaded – have accepted the Court's jurisdiction for this particular crime. In the case of the war in Ukraine, both parties have not. A Security Council referral, which would give the ICC jurisdiction, is unlikely due to Russia's veto powers in the body.
There are calls to change the Charter, so that perpetrators of the crime of aggression can be prosecuted as long as the state where the crime has been committed has accepted the court's jurisdiction, in the same way they can for the other three crimes under the courts' jurisdiction (war crimes, crimes against humanity and genocide). This would be a lengthy and time-consuming process that could serve the system of international justice beyond the conflict in Ukraine, but wouldn't serve the immediate need for justice in Ukraine.
'If Ukraine manages to persuade countries to support the prosecution of Russia's aggression in a separate tribunal […] but, in parallel, leads the conversation that the Rome Statute has to be amended and the jurisdiction of the crime of aggression should be equal to all three other crimes [in the Rome Statute], this would be a practical proof to say that we are demanding justice not just for Ukrainians, but for atrocity victims globally', says Kateryna Busol, a Ukrainian lawyer and Senior Lecturer at the National University of Kyiv-Mohyla Academy in Ukraine.
Instead of just creating a standalone tribunal to prosecute Belarusian and Russian leaders for the crime of aggression – as happened after the Second World War and has garnered support again now – this would mean a structural change in accountability for the crime. The question remains whether such a proposal could count on the same level of support from some countries, considering the issue of sovereignty.
In a statement, a group of 13 states declared their commitment to 'harmonize the jurisdiction of the Rome Statute over its four core crimes', seeing it as being of 'crucial importance for the future of the international legal order'.
'The same commitment by the G7 is conspicuously missing', says Kreß.
Universal jurisdiction
Sovereignty is less of an issue when international crimes are prosecuted in domestic courts, through universal jurisdiction, which complements any investigations undertaken by the Court.
Speaking on the future of international criminal justice in domestic courts, Prosecutor of the ICC, Karim Khan KC, said: 'The Rome Statute is built upon a premise of complementarity, that states have primary responsibility […] the ICC is a court of last resort.'
Since the start of the Ukraine conflict, there has been an uptick in the number of international criminal cases pursued in national courts, according to the Universal Jurisdiction Annual Review, compiled by Trial International, a non-governmental organisation fighting impunity for international crimes.
Ukraine's President Volodymyr Zelenskiy and Britain's new Prime Minister Rishi Sunak visit the Memory Wall of Fallen Defenders of Ukraine, amid Russia's attack on Ukraine, in Kyiv, Ukraine November 19, 2022. Ukrainian Presidential Press Service/Handout via REUTERS
'The reliance on universal jurisdiction under the criminal codes of countries has proven to be a game changer in the enforcement of international criminal law. Nations can make the sovereign decision to exercise universal jurisdiction in their domestic criminal courts for, in particular, atrocity crimes which are international crimes of the highest order', says David Scheffer, Senior Fellow, Council on Foreign Relations and former US Ambassador-at-Large for War Crimes Issues (1997–2001).
Investigations into international crimes committed in Ukraine have been started in various EU Member States, including Germany, Poland and Sweden. Some of these do not target specific persons, but are taking place for the purpose of collecting evidence for future trials.
'What is key […] is that this momentum for Ukraine needs to be extended also to crimes committed elsewhere and that, when additional resources have been granted to the fight against impunity, these resources stay beyond the Ukraine crisis and are used also for other situations', says Giulia Soldan, Program Manager of International Investigations and Litigation at TRIAL International.
Double standards
On 2 April 2021, President Biden lifted the sanctions and visa restrictions his predecessor had placed on various ICC officials – a retribution for the ICC's investigation into the conduct by US forces in Afghanistan. In a statement announcing the decision, Secretary of State Antony Blinken said that the US continues 'to disagree strongly with the ICC's actions relating to the Afghanistan and Palestinian situations. We maintain our longstanding objection to the Court's efforts to assert jurisdiction over personnel of non-States Parties such as the United States and Israel.'
Meanwhile, Russia had already started its full-scale invasion of Ukraine and it was only about a year later that Biden welcomed the accountability for Putin for war crimes, though stopping short of endorsing the ICC's arrest warrant.
Allegations of 'double standards' when it comes to accountability for international crimes have been made, also in light of the UK- and US-led coalition that invaded Iraq in 2003 for its alleged – and later found to be inaccurate – possession of weapons of mass destruction, without the explicit authorisation from the Security Council. There has been no accountability for the use of force and the deaths, conflict and atrocity crimes that followed it, says Scheffer.
'Both governments still need to address the Iraq precedent more directly and honestly in order to move beyond it and demonstrate sufficient credibility to press hard on accountability and justice in more recent conflicts, including Russia's aggression and other atrocity crimes in Ukraine', says Scheffer. It would be 'incredulous', however, he says, for them not to speak out about the aggression perpetrated against Ukraine and the crimes committed in the war.
In November 2022, the UN Working Group on Arbitrary Detention released a report on UK and US actions in relation to Guantanamo in which it 'expresses grave concern about the pattern that all these cases follow and recalls that, under certain circumstances, widespread or systematic imprisonment or other severe deprivation of liberty in violation of fundamental rules of international law may constitute crimes against humanity'. An ICC investigation into the use of torture at 'black sites' was deprioritised by the ICC Prosecutor in September 2021, a decision that was welcomed by the US.
'For international law to truly have legitimacy, it must be applied equally to all, and if nations will be so forceful in their calls for accountability of other states, they must also be willing to face justice for their wrongful actions', says Dill.
The support for a tribunal within Ukraine's legal system to try the crime of aggression fits the US policy of 'American exceptionalism', says Ellis. 'The US will want Putin to be held accountable for this crime [of aggression], but only through a mechanism aligned with its self-preservation.'
The power of veto
Despite being a big global financial player and a nuclear power, Russia has become an outcast, not least due to its expulsion from the Council of Europe – where it was a big funder. During its membership, for years and years Russia ignored binding judgments of the European Court of Human Rights (ECtHR), second only to Azerbaijan in its bad record of implementing ECtHR rulings. Seven of those ignored rulings were in favour of Alexei Navalny, a prominent Putin critic who nearly died after being poisoned in 2020 – he received compensation payments but persecution persisted.
'I think it's an important stance from the international community to say no country is perfect, but there is a limit to what you can do in terms of perpetrating massive abuses and then saying, I paid the fees, therefore, I occupy my seat', says Busol.
With the Security Council paralysed by the Russian veto, the General Assembly has stepped in to fill that gap, at least partially. Resolutions condemning Russia's actions in Ukraine following the triggering of the 'Uniting for Peace' resolution – which allows the General Assembly to vote on matters concerning the maintenance of international peace and security if the UN Security Council fails to exercise this responsibility – have been voted for by over 140 of its members. Resolutions of the General Assembly are not binding.
'The General Assembly's many votes condemning the war have played an important role in making clear the illegitimacy of the war and the importance of helping Ukraine respond to the illegal invasion', says Hathaway.
A General Assembly resolution that would ask the UN Secretary-General to negotiate the creation of a Special Tribunal with Ukraine – as suggested by Ukrainian President Zelensky – could be a way around a Security Council referral to the same effect. But despite the broad support resolutions concerning Russia's aggression have received, Goldstone says it's hard to predict how African states would vote on a tribunal on aggression.
'Certainly, a substantial number would abstain or vote against it. It is perceived by some as a partial Western/Global North initiative where there has been no effort to mount serious opposition to situations of aggression in the Global South. I refer too to the high number of abstentions from African states to previous GA resolutions condemning Russian aggression', says Goldstone.
Also the political and economic cost of voting for a resolution objected to by China and Russia, which both have considerable influence in Africa and Asia, as well as the lack of support for accountability for international crimes in regional conflicts, is likely to influence the decisions of certain states.
'There are a number of countries where alleged war crimes and crimes against humanity are occurring in Asia. These contexts have failed to get sustained regional condemnation or support for accountability – like Myanmar and Xinjiang. While relationships with Russia might be a significant reason why countries in Asia may not condemn Russia's actions, the role of China in the region, and the pressure it puts on countries in Asia and the Pacific would also be a key factor', says Daniela Gavshon, Australia Director at Human Rights Watch and Asia Pacific Regional Forum Liaison Officer of the IBA War Crimes Committee.
'More strategic engagement from the Ukrainian government with Global South nations, to share experiences of war and a traumatic colonial history, would be important to start a collaboration to discuss Security Council reform', says Busol.
The future of the post-Second World War international settlement
In the wake of the destruction and suffering caused by the Second World War, the United Nations and the North Atlantic Treaty Organization (NATO) were created. The fall of the Berlin Wall was another moment in which an opportunity for international cooperation arose, leading to the creation of the ICC.
'When the Berlin Wall came down, that spell between 1989 and 2000, was the one era since the Second World War when we actually had an opening in order to get agreement on things, and that's when the ICC came into existence. If that had waited another even two or three years, there was 9/11, and it would never have happened', says Charles Garraway, a former legal officer in the British Army Legal Services and part of the delegation to the negotiations on the establishment of an international criminal court.
The current stalemate in the Security Council and the changes that might be needed to make it suitable to the current world order could only be achieved by consensus in the Security Council, something that is hard amid high tensions, according to Garraway.
'Unfortunately, if I was a pessimist, I would be saying we may be beginning to start to see the breakdown of the post-World War II international settlement. That worries me, because there's nothing to replace it', says Garraway.
Yet, unity among states in the condemnation of Russia and their attempts to keep Putin accountable, could be an opportune moment to strengthen the international legal framework.
'To me, Russia's aggression now is the catalyst to the wider debate on the chosen blind spots, the impotence within our security and human rights framework globally. And I don't know that if we don't grasp this as a moment of change now, perhaps we will not be able to do that later, because now there's so much willingness from civil society, from the state in Ukraine, and from the partners', says Busol.
Yola Verbruggen is a freelance journalist and can be contacted at yolav@protonmail.com
Image credit: Ukrainian President Volodymyr Zelensky is visiting The Hague on May 4, 2023 and will meet with the leadership of the International Criminal Court, which has issued an arrest warrant for Russia's Vladimir Putin. (Photo by Remko de Waal / ANP / AFP) / Netherlands OUT (Photo by REMKO DE WAAL/ANP/AFP via Getty Images)