The IBA's response to the war in Ukraine  
IBAHRI calls for universal abolition on World Day against the Death Penalty
To mark the 19th World Day against the Death Penalty on Sunday 10 October 2021, the International Bar Association's Human Rights Institute (IBAHRI) calls for the universal abolition of legalised killing, ratification of the Second Optional Protocol to the International Covenant on Civil and Political Rights, and an end to disproportionate and discriminatory realities faced by women sentenced to death.
Presently, more than two thirds of countries have abolished the death penalty in law or in practice. However, in several countries executions continue unabated. The IBAHRI is particularly concerned about the recent increase in killings in Iran; a state considered to have one of the highest records of executing its citizens in the world.
​​​​​​​To date in 2021, 217 people, including nine women, have reportedly been executed in Iran. At least 81 of these individuals were executed on drug-related charges – a significant increase from 2020, which saw 25 equivalent executions. The use of capital punishment in this way directly contravenes Article 6(2) of the International Covenant on Civil and Political Rights (ICCPR), to which Iran is a State party. The Article provides that the death penalty may only be imposed for 'the most serious crimes'. In 2019 the UN Human Rights Committee held that this must be read restrictively and cannot include, inter alia, drug offences.
​​​​​​​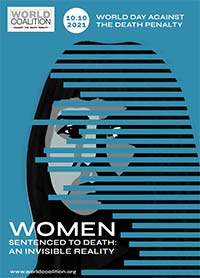 IBAHRI Co-Chair and former Justice of the High Court of Australia (1996-2006), the Hon Michael Kirby AC CMG said: 'The international community must seize the World Day Against the Death Penalty, and indeed every day, to advocate for abolition of the death penalty worldwide. With an increasing number of States choosing to eliminate the euphemistically termed capital punishment of beheading, electrocuting, hanging, lethally injecting or shooting their citizens, it is clear that the death penalty cannot continue to exist in any just and human rights-respecting society. We therefore call on States that have not yet abolished the death penalty to issue a moratorium on its use, ratify the Second Optional Protocol to the International Covenant on Civil and Political Rights and abolish the death penalty without delay.'
Mr Kirby added: 'Particularly disappointing is the recent decision of the courts in Malawi first to invalidate the death penalty on constitutional grounds; and then, soon after, to restore it. We urge restoration of the initial decision which gave leadership to Africa.'
With social norms based on sex and gender, coupled with other intersectional identities such as sexual orientation, disability, religion, age and race often playing a significant role in sentencing at criminal trials, the focus of this year's World Day against the Death Penalty is on women sentenced to death: an invisible reality. The Day is being dedicated to women who are at risk of being sentenced to death, have received a death sentence, been executed, or have had their death sentences commuted, exonerated, or pardoned.
According to figures for 2020, an estimated minimum of 800 women were under threat of a death sentence, with confirmed death sentences against women in at least seven countries, including Ghana, Japan, the Maldives, Taiwan, Thailand, the United States and Zambia. Out of 483 individuals executed in 2020, 16 were women in Egypt, Iran, Oman and Saudi Arabia.
IBAHRI Co-Chair and immediate past Secretary-General of the Swedish Bar Association, Anne Ramberg Dr jur hc, commented: 'Gender and criminal justice systems are intricately intertwined, making this year's World Day Against the Death Penalty focus on women hugely important. In many cases, women within the criminal justice system face intersectional discrimination and are punished not only for the crimes they commit, but for deviating from socially constructed roles ascribed to them. Punishments can be harsher. Therefore, the IBAHRI echoes the conclusion of the United Nations Human Rights Council's 2019 high-level panel on the question of the death penalty that it is "nearly impossible to apply the death penalty without discrimination and so, to avoid irreversible miscarriages of justice and arbitrary killing, it should not be applied".'
ENDS