The IBA's response to the war in Ukraine  
'Lawfare against justice'

The war in Ukraine has brought an awareness of the extremely dire consequences of corruption. Global Insight examines the dangers of leaving legal systems open to abuse by the rich and powerful.
Russia's invasion of Ukraine has dramatically illustrated the worst consequences of allowing oligarchs to use and abuse international financial and legal systems to launder assets and prevent scrutiny of their illicit wealth for decades.
Since 24 February, Canada, the EU, UK, US and other global powers have imposed increasingly aggressive sanctions on numerous oligarchs connected with the Kremlin. Sanctions aim to cripple the Russian economy, but even if they do go some way to achieving this, they're no panacea for the deeply embedded corruption that has allowed Vladimir Putin's regime to be propped up for so long.
The war in Ukraine has shown the critical importance of closing long-standing legal loopholes that have enabled too many to launder huge amounts of money over the years. In the UK, which has become one of the primary hubs for illicit finance from Russia and elsewhere, the government says its new Economic Crime Act will tackle this issue by clamping down on 'Putin's cronies' and 'drive out dirty money from the UK'.
SLAPP
However, it fails to address other nefarious tactics used to exploit legal systems. The vexing issue of Strategic Lawsuits Against Public Participation (SLAPPs) – an intimidation tool frequently used by oligarchs to silence journalists, activists, critics and other public watchdogs – is another example of how legal systems are open to abuse by the rich and powerful.
A series of recent high-profile cases brought by oligarchs against investigative journalists have raised awareness of the extent of the problem in the UK. Take the example of Catherine Belton, a former Financial Times journalist, who was sued by Russian billionaire and former Chelsea Football Club owner, Roman Abramovich, over allegations that her book Putin's People: How the KGB Took Back Russia and Then Took on the West contained a 'number of false and defamatory claims'.
In June 2021, Abramovich filed another lawsuit on similar grounds in Australia. In December, HarperCollins, Belton's publisher, reached a settlement with Abramovich and agreed to pay an undisclosed sum to a charity and make minor amendments to several passages in the book.
Belton and HarperCollins faced three other separate claims – one lodged by Russian oil giant Rosneft and the rest by other oligarchs. These were all either settled or dismissed without the need to award costs or damages to the claimants. However, the barrage of claims highlights the deliberately prohibitive costs of such vexatious lawsuits, designed to cow journalists and other public watchdogs into submission.
Gill Phillips, Director of Editorial Legal Services at The Guardian, tells Global Insight, 'The costs of fighting the battle can be more prohibitive than the outcome and the damages awarded'.
'That's a problem that is tied in with all of this. Once litigation is started against you, it's quite hard to get out of it and the costs just keep rolling and rolling and rolling and can become very, very intimidating of themselves', she says.
This was certainly true in Belton's case. Even before the Abramovich settlement, HarperCollins had already spent a total of £1.5m handling the five separate claims. If the libel trial had gone ahead, the legal bill was expected to have exceeded £5m.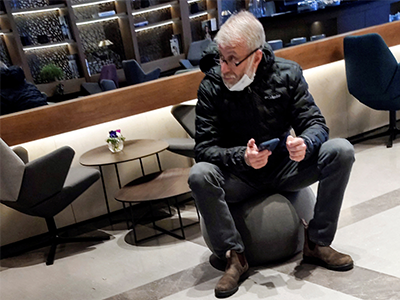 Russian oligarch Roman Abramovich is seen in a VIP lounge at Ben Gurion international airport in Israel. 14 March 2022. REUTERS/Stringer
As the journalist herself told the House of Commons' Foreign Affairs Committee in March 2022: 'The system is stacked in favour of deep-pocketed litigants from the outset.' Essentially, without the financial backing of a well-resourced publishing house or media outlet – as is so often the case with independent journalists – she'd have stood no chance.
It's no surprise to learn that the UK has become the 'the most frequent country of origin' for foreign legal threats against investigative journalists, according to recent research by the Foreign Policy Centre and freedom of expression organisation ARTICLE 19.
Intimidation tactics
Susan Coughtrie, Project Director at the Foreign Policy Centre, says her team's research highlighted the UK's 'dual role' in either 'wittingly or unwittingly facilitating' corruption. 'We realised it was a hub for the dirty money and concierge services around that, but it was also home to legal services and law firms that were helping to shut down and suppress information about that dirty money', she says.
London has long sought to be the location of choice for resolving international disputes. Yet these lawsuits indicate just how easily the legal system has allowed itself to be exploited by wealthy and powerful individuals who have the resources to instruct solicitors to write intimidating letters on their behalf and bring often spurious claims to prevent details of their corrupt activities getting out.
The impact of such intimidation tactics has been so severe that, in January, it prompted David Davis MP to describe the use of SLAPPs as 'lawfare against British freedom of speech, lawfare against the freedom of the press, and lawfare against justice for our citizens'. Davis is right to say these lawsuits go beyond defamation or even media freedom. They threaten the very tenets of societies governed by rule of law and democracy.
They also demonstrate why the conduct of law firms should be subject to greater scrutiny, says Coughtrie. 'It shows the level to which there was a lack of oversight and lack of spotlight on some of this behaviour and the degree [to which] law firms have facilitated these legal threats', she says.
It shows the level to which there was a lack of oversight and lack of spotlight on some of this behaviour and the degree [to which] law firms have facilitated these legal threats
Susan Coughtrie
Project Director, Foreign Policy Centre
The UK government has pledged reform to discourage these types of strategic lawsuits. In March, the Solicitors Regulation Authority issued a stern note warning the profession about the dangers of 'making allegations without merit where the sole purpose is to stifle valid public discourse' and to ensure that 'duties to a client do not override wider public interest obligations and duties to the court'.
The government claims the Economic Crime Act will make it easier to sanction oligarchs. It's worth noting that since the invasion, Rosneft, Abramovich and the other oligarchs that brought the claims against Belton and HarperCollins have all been added to both UK and international sanctions lists.
Designated persons are not prohibited from accessing legal services in England and Wales, but they do need to be issued with a licence from the UK's Office of Financial Sanctions Implementation (OFSI) – which is overseen by the UK Treasury – to pay 'reasonable fees for the provision of legal advice'.
It does little to help Belton now, but stronger sanctions on such individuals may help shift the balance of power and deter oligarchs – and their legal counsel – from using such lawsuits in future to silence critics.
Of course, these issues go much further than freedom of speech, Russia or even kleptocracy. The war in Ukraine has demonstrated the serious consequences of allowing unethical activity in many forms to continue unabated for decades. It's also created both a necessity and an opportunity for the UK and other governments to clean up their act. Sanctions alone won't help Ukraine.
As forces in Ukraine continue to fight valiantly for freedom and democracy, they can only win the war if global powers are also genuinely committed to addressing the fight against corruption in our own backyards. Now is the time to equip judicial and legal systems, institutions and professions with the necessary safeguards to tackle this type of 'lawfare' once and for all.
Ruth Green is the IBA Multimedia Journalist and can be contacted at ruth.green@int-bar.org
Image credit: HJBC/AdobeStock.com