Argentina: Maria Fernanda Mierez receives 2023 IBA Pro Bono Award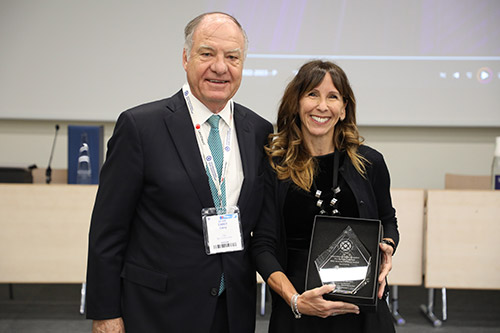 María Fernanda Mierez (right) with IBA Vice President, Jaime Carey
The recipient of the International Bar Association (IBA) Pro Bono Award for 2023 has been announced as María Fernanda Mierez, Partner at Argentinian law firm Beccar Varela. She is honoured for her 20-year dedication to pro bono legal work, including the co-founding of a pro bono programme within Beccar Varela and the establishment of structures such as the Young Lawyers Pro Bono Network in Argentina, which aims to encourage a new generation of practitioners to get involved with legal aid.
When notified about the award, Ms Mierez remarked: 'I am very grateful for this recognition. Pro bono work connects us with our career purpose; it is the responsibility of every lawyer to facilitate people's access to their individual rights, especially the most vulnerable. This award also represents all the pro bono work that the firm has been carrying out for many years, reflecting the values we hold.'
Sponsored by LexisNexis, the annual IBA Pro Bono Award seeks to honour those who have shown outstanding commitment to pro bono work over the course of their career.
Nigel Roberts, VP Global Associations LexisNexis, VP LexisNexis Rule of Law Foundation, commented: 'Having an accessible legal remedy is an essential element of the rule of law. Providing pro bono legal assistance to the most vulnerable, is key to ensuring access to justice for so many. María Fernanda Mierez is an inspiration to all lawyers in the field of pro bono and to promoting the rule of law. We are proud to support this award and I offer my sincere congratulations on behalf of LexisNexis.'
Maria Fernanda Mierez joined Beccar Varela a year after earning her law degree in 1996, and after becoming a partner, she co-launched the firm's pro bono programme in 2001. Beccar Varela received numerous awards in the subsequent years, including in 2021, the Enrique Shaw Award 'towards business with a human face' from Argentina's Association for Christian Business Leaders (Asociacion Cristiana de Dirigentes de Empresa or ACDE) and Latin Lawyer's regional Pro Bono Law Firm of the Year (2022). Last year, the firm invested a total of 5461 pro bono hours, an average of 34 hours per lawyer.
Ms Mierez is passionate about helping marginalised communities, and directly engages in causes such as access to microcredit, the prevention of domestic violence and the prevention of violence against children and adolescents.
On her long-standing passion for pro bono work, Ms Mierez said: 'Pro bono brought enormous meaning to my career. One of the most important elements it taught me is the strength and capacity of teamwork and the scope of collaborative networks to ensure that the law reaches those most in need and that by working together and helping in public–private articulation we can contribute to improve the lives of the most vulnerable. Our pro bono clients eternally express their gratitude, but I am the grateful one. Through two decades of pro bono work, I have come to know the organisations we assist and the positive impact they have on individuals, contributing to a fairer and more beautiful society.'
For the past four years, Ms Mierez has been President of the Buenos Aires City Bar Association's (Colegio de Abogados de la Ciudad de Buenos Aires or CACBA) Pro Bono Committee – the first female president in the committee's history. Under her leadership the committee has launched a number of pro bono initiatives, including the Federal Network for Pro Bono Practice; the Young Lawyers Pro Bono Network; the Argentine Network of Community Lawyers; the In-House Lawyer Pro Bono Committee; and the Universities Pro Bono Committee. Ms Mierez also helped to design the Federal Pro Bono Challenge, a contest where law students propose a legal solution for a community problem. During the COVID-19 pandemic and in the midst of a national lockdown, she played an instrumental role in the creation of a hotline where over 200 lawyers across Argentina provided free legal advice on matters such as visit schedules for divorced parents and applications for governmental subsidies.
Roberto H Crouzel, Co-Founder of Beccar Varela's pro bono programme, who nominated Ms Mierez for the award, commented: 'With her desire to strengthen civil society and defend the rights of the vulnerable and particularly women, Fernanda actively contributed to the launch of our formal pro bono practice in 2001. A born leader, she ensures this is a firm-wide effort, actively promoting the participation of young lawyers, including in the elaboration of public policy regulations. It is a privilege to work with Fernanda on our shared pro bono values, and I firmly believe she is most deserving of this award.'
In a joint statement, the judging panel outlined their reasons for selecting Ms Mierez as the IBA Pro Bono Award winner for 2023: 'The choice of Maria Fernanda Mierez by the selection committee as the winner of the LexisNexis sponsored 2023 IBA Pro Bono Award was informed by her outstanding commitment to pro bono over a period of more than twenty years. In addition to co-leading her firm's company law and ESG [environmental, social, governance] departments, Ms Mierez played an active role in founding a pro bono practice within the firm and continues to deliver pro bono legal services to assist with issues affecting the marginalised. Congratulations to Maria and continued success for pro bono initiatives that strengthen pro bono culture within Argentina and improve the lives of the most vulnerable.'
The award was presented by Myra Garrett, Vice Chair of the IBA's Section on Public and Professional Interest (SPPI), and Odette Geldenhuys, Co-Chair of the IBA Pro Bono Committee, during the IBA Annual Conference 2023 in Paris at the SPPI breakfast on Thursday 2 November.
ENDS
Notes to the Editor 
Information about the IBA Pro Bono Award is available at: www.ibanet.org/Committees/Divisions/Legal_Practice/Pro-Bono-Award.aspx

The International Bar Association (IBA), the global voice of the legal profession, is the foremost organisation for international legal practitioners, bar associations and law societies. Established in 1947, shortly after the creation of the United Nations, it was born out of the conviction that an organisation made up of the world's bar associations could contribute to global stability and peace through the administration of justice.

The IBA acts as a connector, enabler, and influencer, for the administration of justice, fair practice, and accountability worldwide. The IBA has collaborated on a broad range of ground-breaking, international projects with the United Nations, the European Parliament, the Council of Europe, The Commonwealth, the Organisation for Economic Co-operation and Development (OECD), the World Trade Organization, the International Monetary Fund and the World Bank, among others.

Find the IBA (@IBAnews) on social media here:
The International Bar Association's Human Rights Institute (IBAHRI), established in 1995 under Founding Honorary President Nelson Mandela, is an autonomous and financially independent entity, working to promote, protect and enforce human rights under a just rule of law, and to preserve the independence of the judiciary and the legal profession worldwide.
Find the IBAHRI (@IBAHRI) on social media here:
For further information, please contact: the International Bar Association at IBApressoffice@int-bar.org