Migration crisis: EU agrees shared approach as death toll continues to rise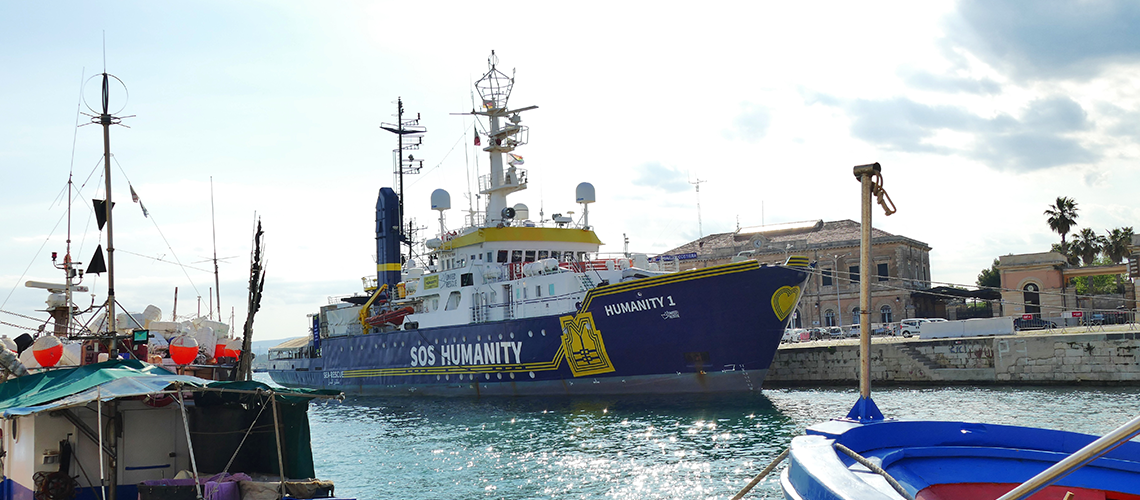 After years of negotiating, European Union member states have reached an agreement on a common procedure for managing migration within the block. The deal, which will now be discussed with the European Parliament, puts in place stricter asylum procedures at the EU borders to stop people from traveling further inland and allows each member state to decide on safe countries for return.
However, it's unlikely the deal will deter people from seeking asylum in the block, which means that deaths at sea will continue to happen. Almost 2,500 people died in the Mediterranean in 2022 trying to find safety in Europe. Less than a week after European leaders hailed the 'historic' agreement, more than 500 asylum seekers are believed to have drowned when their trawler sank just 47 miles off the Greek coast.
European President von der Leyen, Dutch Prime Minister Mark Rutte and Italian Prime Minister Giorgia Meloni had only just returned from Tunisia, where they discussed a payment of €100m for border management and to stop people smuggling. Similar deals with Turkey and Libya to stop migrants from reaching Europe remain in place.
Despite the millions spent by Europe on border fences and management, people have not stopped arriving, as the push factors remain. European border control agency Frontex reported 330,000 irregular border crossings in 2022, the highest since 2016.
Nearly three years ago, von der Leyen announced a new Pact on Migration and Asylum. But, since then, the EU had failed to reach consensus. The main disagreement being between frontline countries, looking for more support to handle the influx of refugees, and the countries inland that wanted people stopped at the region's external borders.
The absence of a consensus on unified EU regulations for determining "safe third countries" coupled with the delegation of this responsibility to individual member states, creates an opportunity for misuse and undermines the principle of non-refoulement
Marial Lewis
Refugee Officer, IBA Immigration and Nationality Law Committee
Nearly one million asylum applications were received by EU countries in 2022, according to the European Union Agency for Asylum (EUAA), not including about 4 million Ukrainians – they do not go through the regular procedure but benefit from a temporary blanket protection measure.
Maeve Patterson is a spokesperson for the United Nations High Commissioner for Refugees (UNHCR) in Brussels. 'While the humanitarian spirit and solidarity shown by EU countries towards refugees from Ukraine clearly demonstrate Europe's capacity to welcome and protect forcibly displaced people in an organized and effective way,' she says, 'an urgent, long-term overhaul of the EU's overall approach to migration and asylum is needed to ensure a common asylum system that works for states and better protects refugees no matter where they are from.'
The deal came just weeks before the end of the Swedish leadership of the Council, now held by Spain for the remainder of the year. European elections are set for 2024. Poland and Hungary voted against the deal, while Bulgaria, the Czech Republic, Malta, Lithuania and Slovakia abstained. 'The so-called solidarity mechanism for immigration will work in practice only if it is accepted by Poland and the other countries,' says Karolina Schiffter, Website Officer of the IBA Immigration and Nationality Law Committee. 'Objection of the deal by Poland is at least in part caused by upcoming elections in Poland this year. The deal on immigration is being used in internal political debate.'
The newly reached agreement lays out an accelerated border procedure for asylum seekers from countries with a less than 20 percent approval rate and those who enter via irregular routes or have been rescued at sea.
'The new deal,' says Marial Lewis, Refugee Officer on the IBA's Immigration and Nationality Law Committee, 'is alarming, having a set of rules and a percentage as the benchmark rather than by opening it to consider individual circumstances of those involved and what their claims are.'
Rights groups have voiced concern over the increased use of detention centers at the borders that this could have as a result. Human Rights Watch has said that the new agreement 'will entrench rights violations, including expedited procedures without sufficient safeguards, increased use of detention, and unsafe return.'
The rule will replace the Dublin Regulation but it maintains its premise that asylum applications have to be processed in the first country of entry. The exception to this rule for unaccompanied minors - whose claims can be processed in the first country of application rather than first entry under the Dublin Regulation – no longer applies under the new deal. Some states, including Germany and Ireland, have indicated they will continue to advocate for minors to be exempt.
'It is crucial that procedures include dedicated screening space to identify people with vulnerabilities or specific needs, including victims of trafficking, and unaccompanied or separated children, with timely support and assistance provided, followed by a holistic assessment by competent personnel,' says Patterson
To break the deadlock over the mandatory distribution of asylum seekers across the EU, the new pact sets out rules for mandatory solidarity that will give countries the choice of relocating asylum seekers within their own borders, providing operational support, or – for countries who do not wish to take in asylum seekers – the payment of a sum of €20,000 per person which will be put in a joint fund.
The strict border procedure is accompanied with the freedom for EU member states to decide what constitutes a safe country for return – or deportation - though a 'connection' must exist between the rejected asylum seeker and the country. 'The absence of a consensus on unified EU regulations for determining "safe third countries" coupled with the delegation of this responsibility to individual member states, creates an opportunity for misuse and undermines the principle of non-refoulement,' says Lewis.
Image credit: Sea rescue boat moored at migrant crisis zone, Syracuse, Italy, May, 2023. antomar/AdobeStock.com