The IBA's response to the war in Ukraine  
New IBA report provides insight into growing importance of ESG considerations in capital market transactions

A new report from the International Bar Association (IBA)'s Capital Markets Forum and Securities Law Committee provides valuable insights into the growing importance of environmental, social and governance (ESG) considerations in capital market transactions across the world. With input from more than 30 jurisdictions, the IBA Capital Markets Forum and Securities Law Committee ESG survey 2022 (ESG Survey 2022) provides an overview of how different countries regulate ESG disclosures and whether, and to what extent, these disclosures are now mandatory due to prevailing regulatory trends and institutional investors' demands.
David Flechner, Vice Chair of the IBA Mergers and Acquisitions Subcommittee of the IBA Securities Law Committee, and Partner at Allen & Overy, New York, United States, remarked: 'This survey is a fantastic example of how the convening power of the IBA can facilitate the production of a cutting-edge analysis across the globe, covering a broad and diversified sample set of leading practitioners ready to share their expertise and insights about the present and future developments in ESG disclosure regulation in global financial markets. It was a delight to work alongside such esteemed peers on the preparation and execution of this valuable initiative and resource.'
ESG disclosures were mandatorily required to be made in the vast majority of jurisdictions reviewed in the ESG Survey 2022, indicating a growing global trend towards greater transparency in ESG reporting. Listed companies and large corporations were reported in the survey as the main addressees of ESG reporting duties, highlighting the importance of this activity for companies which have a significant impact on the environment and society. Another noteworthy finding of the survey was the lack of globally accepted standards for ESG reporting, something which could create challenges for companies operating in multiple jurisdictions and for investors seeking to compare ESG performance across companies.
Rabel Z Akhund, Membership Officer of the IBA Capital Markets Forum, and Founder of Akhund Forbes, Pakistan and Bangladesh, commented: 'The findings of this survey highlight the growing importance of ESG disclosures in capital market transactions and the need for greater transparency and consistency in ESG reporting. It was a pleasure to work with our colleagues from the IBA Securities Law Committee and the Capital Markets Forum in producing this survey which showcases the depth and breadth of the IBA's global reach and expertise.'
Other key takeaways from the survey regarding ESG disclosures in capital market transactions include: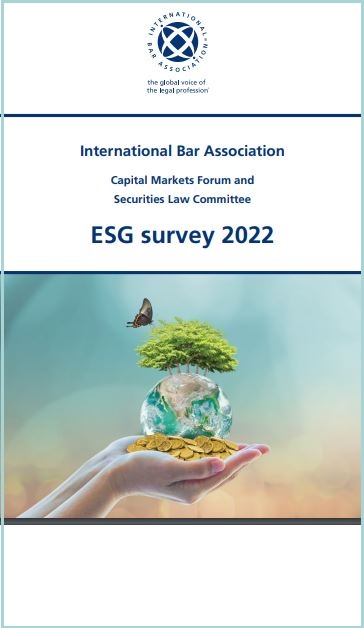 A number of corporations are already making voluntary public disclosures, even when this is not mandatory;
Monetary sanctions are the most commonly used penalties imposed for false or misleading ESG disclosures, but criminal sanctions are also prevalent in some countries, including Colombia, Egypt, Finland, France, the Grand Duchy of Luxembourg, Ireland, Japan, Poland, Singapore and Turkey;
Most countries surveyed required some type of quantitative, or qualitative, climate change disclosures as part of the ESG disclosure regime;
The majority of survey respondents said that ESG disclosures were not standardised; and
A small majority of respondents said that it was unclear whether ESG disclosure regulations in their respective jurisdictions aided investor value creation or resulted in a greater compliance burden.
Factors relating to ESG are becoming increasingly important to investors, and companies that fail to provide transparent and accurate ESG disclosures risk losing investor confidence and facing reputational damage. Left unaddressed, the lack of clear regulations and guidance around ESG disclosures could lead to inconsistent and inadequate reporting, making it difficult for investors to make informed decisions. This could ultimately result in a lack of trust in the capital markets and, in turn, negatively impact the legal profession and society as a whole.
Patrick Schleiffer, Website Officer of the IBA Securities Law Committee, and Partner at Lenz & Staehelin, Zurich, said: 'Failure to address environmental, social, and governance issue disclosures could result in increased regulatory scrutiny and legal liability for companies that do not comply with regulations. Overall, the importance of addressing ESG issues lies in ensuring transparency and accuracy in ESG reporting, which is critical for sustainable and responsible investing and a healthy capital market ecosystem. We are very grateful to all our colleagues for their incredibly valuable contributions. I urge companies across the globe to take note of the results of this survey and adopt a more comprehensive, standardised approach to ESG disclosures in order to future-proof their businesses and build trust in investors and other stakeholders.'
ENDS
Notes to the Editor
Click here for a direct link to download a PDF of ESG survey 2022.
Related material:
The ESG and sustainability landscape

The International Bar Association (IBA), the global voice of the legal profession, is the foremost organisation for international legal practitioners, bar associations and law societies. Established in 1947, shortly after the creation of the United Nations, with the aim of protecting and advancing the rule of law globally, it was born out of the conviction that an organisation made up of the world's bar associations could contribute to global stability and peace through the administration of justice.

The IBA acts as a connector, enabler, and influencer, for fair practice and accountability worldwide. The IBA has collaborated on a broad range of ground-breaking, international projects with the United Nations, the European Parliament, the Council of Europe, The Commonwealth, the Organisation for Economic Co-operation and Development (OECD), the World Trade Organization, the International Monetary Fund and the World Bank, among others.

The IBA Capital Markets Forum is a private sector initiative set up to monitor and assist in the orderly development of capital markets, while recognising the importance of the legal role in providing a framework in which market forces can work most efficiently, and in settling the parameters of fair behaviour.

The IBA Securities Law Committee focuses on the intersection of national capital markets with each other in a world of cross-border transactions. Key areas, as reflected in the subcommittee structure, are developments in underwriting and distribution of all types of capital markets products, the securities laws as they impact cross-border mergers & acquisitions, the regulation of market players such as investment banks, brokers and exchanges, securities laws as they impact public companies, and a close watch on cross-border and international regulatory developments.

Find the IBA on social media here:
IBA (@IBAnews)
twitter.com/IBAnews
twitter.com/IBAevents
www.facebook.com/internationalbarassociation
www.linkedin.com/company/international-bar-association