North Korea: IBA report calls for investigation of Supreme Leader Kim Jong-un and other high-level officials for crimes against humanity

Launch event includes clips from a first-ever documentary on crimes against humanity in North Korean detention centres
A new report from the International Bar Association's (IBA) War Crimes Committee and the Committee for Human Rights in North Korea (HRNK) has found there is reasonable basis to conclude that Supreme Leader of North Korea, Kim Jong-un, and other North Korean officials, should be investigated for crimes against humanity committed in the country's detention centres.
The report is the culmination of a multi-year Inquiry on Crimes Against Humanity in North Korean Detention Centers. Its findings will be discussed at a hybrid in-person/online launch event on Monday 27 June 2022, 0930 – 1100 EDT at the National Press Club in Washington, DC United States.
Clips from a first-ever documentary on crimes against humanity in North Korean detention centres also will be screened at the event. To attend the event in-person or view the livestream, please contact ashna.basnet@int-bar.org or raymond.ha@hrnk.org
The report follows a Hearing on 4 March 2022 during which four renowned international judges – Navanethem 'Navi' Pillay (South Africa), Dame Silvia Cartwright (New Zealand), Silvia Fernandez (Argentina), and Wolfgang Schomburg (Germany) – heard in-person testimony from North Korean escapees and experts about crimes that include the relentless persecution and murder of Christians, summary executions, rape, forced abortions and infanticide. A sworn affidavit from Tae Yong-ho, former Deputy Ambassador of North Korea to the United Kingdom and one of the country's highest-ranking defectors, informed the report alongside that of 25 North Korean escapees and numerous experts.
Those potentially liable for crimes against humanity, as referenced in the report, include Kim Jong-un at the apex of the North Korean regime as well as high-level officials and lower-level guards . The full list of crimes under the Rome Statute of the International Criminal Court (ICC) that the judges concluded were likely committed in the country's detention centres are: murder; extermination; enslavement; forcible transfer; imprisonment or severe deprivation of physical liberty; torture; sexual violence; persecution; enforced disappearance; and other inhumane acts. In the report, the judges call for urgent action, including the launching of an investigation by the ICC or a special international tribunal; the exercise of universal jurisdiction by national courts; and targeted sanctions against North Korean officials by the United Nations Security Council.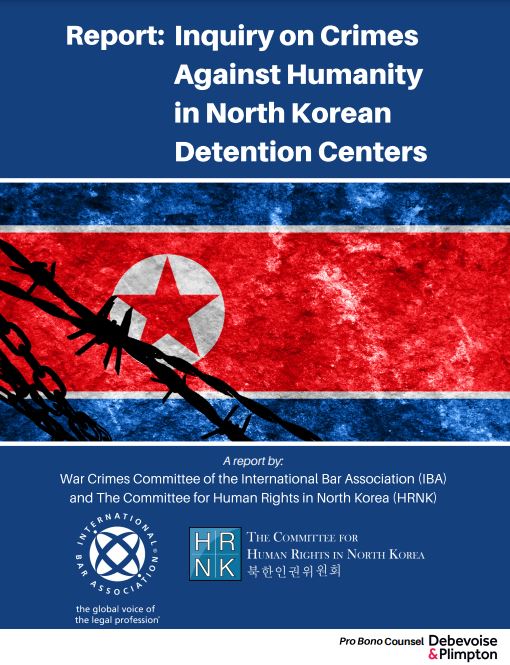 Crimes chronicled during the Inquiry and in the report include:
An expert testified that in cases when induced abortions resulted in a live birth, prison guards would cover the infant's face with a torn plastic bag, after which the infant would be wrapped tightly in a cloth blanket to cause suffocation and death. Bodies of dead infants were stored in a closet that was used for chlorine and maintenance tools before being buried. Mothers were subjected to forcible abortions without any medicine or anaesthesia, and were forced to resume manual labour the following day without rest.
Ben Rogers, an expert on the persecution of Christians in North Korea, testified that Christians in North Korea are consistently subjected to more severe and protracted torture than non-Christians. Rogers testified about 'documented incidents…includ[ing] being hung on a cross over a fire, crushed under a steamroller, herded off bridges and trampled underfoot.'
Sexual slavery in detention centres is reported as common, with one witness testifying to having been brutally beaten and raped by the general manager of the detention facility, who threatened to send the witness to a longer-term prison if she resisted. Separately, a witness reported that a correctional officer who sexually assaulted her said that 'this did not constitute a sexual assault because you are dead here and a dead person cannot say she is assaulted.'
A witness estimated that he had personally buried over 200 detainees who died from starvation following a reduction in food rations due to failure to meet daily work quotas. In another case, a witness described seeing two detainees beaten to death while carrying out forced labor because they had not reached their work target. One witness stated that a fellow detainee 'was so driven by hunger that he [cut off and] ate his ears.'
A witness described a mass grave containing over 5,000 bodies and having 'to dig holes for the dead that were so small and shallow that the bodies had to be bent to fit. On some occasions the deceased person's knees stuck out of the ground.'
Judges Navi Pillay, Silvia Fernandez and Wolfgang Schomburg will speak at the report launch event in Washington, DC on 27 June alongside Greg Kehoe, former Co-Chair of the IBA War Crimes Committee; David Tolbert, former Deputy Chief Prosecutor at the International Criminal Tribunal for the former Yugoslavia (1993-2017); Roberta Cohen, Co-Chair Emeritus, HRNK; and Nawi Ukabiala, Pro Bono Counsel from Debevoise & Plimpton. To register, contact ashna.basnet@int-bar.org or raymond.ha@hrnk.org.
ENDS
Notes to the Editor
The International Bar Association (IBA), the global voice of the legal profession, is the foremost organisation for international legal practitioners, bar associations and law societies. Established in 1947, shortly after the creation of the United Nations, it was born out of the conviction that an organisation made up of the world's bar associations could contribute to global stability and peace through the administration of justice. The IBA acts as a connector, enabler, and influencer, for fair practice and accountability worldwide. The IBA has collaborated on a broad range of ground-breaking, international projects with the United Nations, the European Parliament, the Council of Europe, The Commonwealth, the Organisation for Economic Co-operation and Development (OECD), the World Trade Organization, the International Monetary Fund and the World Bank, among others.
The International Bar Association's Human Rights Institute (IBAHRI), established in 1995 under Founding Honorary President Nelson Mandela, is an autonomous and financially independent entity, working to promote, protect and enforce human rights under a just rule of law, and to preserve the independence of the judiciary and the legal profession worldwide.

Find the IBA and IBAHRI on social media here: