Ukraine: due process essential as international community turns attention to country's recovery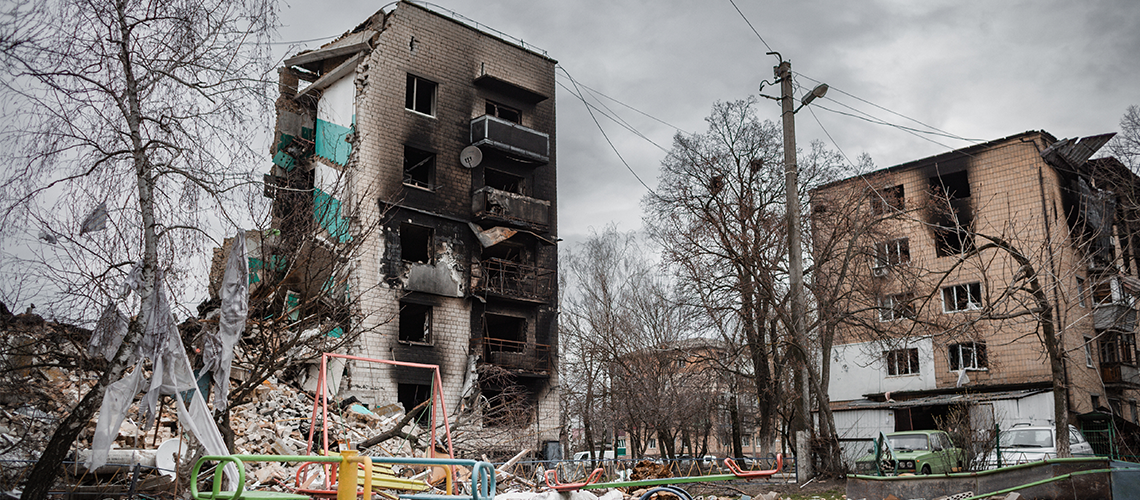 In June, the UK and Ukraine co-hosted the Ukraine Recovery Conference (URC), which explored two crucial issues for Ukraine – accountability for those who have committed atrocities and compensation for damage from the Russian invasion.
By bringing together a coalition of thousands of representatives from civil society, the business world and governments from 59 countries, the URC put together a pool of resources amounting to $60bn. 'The ability of the international community to financially assist Ukraine in rebuilding is going to be crucial', says Mark Ellis, Executive Director of the IBA.
As the participants stated, the URC's goal was to support Ukraine's recovery as a modern and sustainable economy. However, help from other countries shouldn't replace the compensation owed by Russia. 'Seeking compensation from the aggressor is also very important', says Ellis. In the short term, a significant role will be played by 'the volunteer contributions from the international community and then, supplementing that, but in a more long-term approach, there will be an international kind of compensation or claims commission directed at Russia', he adds.
Ellis leads the IBA's response to Russia's war against Ukraine and maintains relationships with high-level government officials in respect of assistance programmes. He says the international community will demand that Russia ultimately pays in some way towards rebuilding Ukraine. At the same time, he highlights that this must follow due process. For instance, not all assets belonging to Russian individuals are necessarily connected to Russian President Vladimir Putin's regime. 'That's where the due process comes into play. It will be required for any type of compensation mechanism or claims condition. That's why I think going after private assets is much more difficult because there must be some type of nexus between those assets and Russia. Although it is so difficult to go after state assets, that's a much more doable way. With individual private assets, you would have to determine if there is a connection with the state of Russia.'
We cannot simply go after the private assets of an individual actor because he or she is Russian
Mark Ellis
Executive Director, International Bar Association
He said a connection is likely to exist because significant wealth in Russia is usually found in the hands of the relatively small number of people who are very close to the state – these will be the assets the compensation process will pursue. However, due process is fundamental, and we cannot, says Ellis, 'simply go after the private assets of an individual actor because he or she is Russian'.
Under new legislation introduced by the UK's Foreign Secretary James Cleverly in mid-June – the Russia (Sanctions) (EU Exit) (Amendment) (No 3) Regulations 2023 – the UK government will be able to maintain sanctions against Russia until compensation is paid to Ukraine. The UK is also introducing a route whereby frozen Russian assets can be donated towards Ukraine's reconstruction. Announcing the approval of the legislation, the Foreign Secretary linked sanctions and reparations. 'Through our new measures today, we're strengthening the UK's sanctions approach, affirming that the UK is prepared to use sanctions to ensure Russia pays to repair the country it has so recklessly attacked', he said.
The way sanctions are regulated is also relevant to the legal profession, and many law firms have concerns about the UK's aforementioned new regulations. The regulations prohibit the provision by individuals subject to UK jurisdiction – including lawyers based in the UK or lawyers of British nationality based elsewhere – of legal advice on non-UK export controls, economic sanctions, anti-corruption, anti-money laundering or any other non-UK legal compliance advice involving a transaction that would be prohibited under the UK–Russia sanctions if the transaction was itself subject to UK jurisdiction.
The regulation came into effect immediately, with no comment period for lawyers. David Lorello, Vice Chair of the International Trade Controls Practice Group at Covington in London, explains that, 'As the government has acknowledged in statements to Parliament, the broad scope of the new legal advisory services prohibition has had the unintended effect of capturing, in certain circumstances, advice that UK-based lawyers provide to clients concerning compliance with US and EU sanctions, among other types of compliance advice'.
The UK government has committed, over the short term, to issuing a general licence that would allow for types of legal advice to be provided that the government didn't intend to prohibit. 'Even a general licence is not a solution in our view, given that general licensing requires lawyers to register with the government to use the general licence, and raises significant questions concerning the application of legal privileges to advice provided under a general licence', says Lorello. 'The government seems – to its credit – to have acknowledged these sensitivities and has stated that it is willing to consider amendments to the legal advisory services prohibition.'
'It is a consensus view among the law firms I have consulted with that amendments are necessary, and – crucially – that amendments can easily be crafted in a manner that does not in any way detract from the core sanctions policy objectives of the UK legal services prohibition', he adds.
Actions announced during the URC bring the total cost of the UK's non-military assistance to Ukraine to over £4.7bn. Funding will support the country's immediate recovery needs and enable private sector investment. Another commitment from the EU, if adopted by the European Parliament and Council of the EU, will mobilise up to €50bn over four years. Further, $1.3bn will be provided by the US to modernise Ukraine's energy system.
Ensuring transparency in international money flows will be critical. 'It is a priority for the international community to ensure that financial support is consistent with international standards and oversight', says Ellis. 'Ukraine understands that for its own credibility and long-term position in the international community, it has to ensure that funds are spent wisely, and there is no corruption.'
Ellis admits this is not an easy task. 'It's not a secret that Ukraine struggled with the issue of corruption in the past', he says. 'The difference here is that President Zelensky and [Ukraine's] Prosecutor General Andriy Kostin have taken a very strong position against any person who is found to be corrupt. And I think the international community sees that this is very positive.'
Image credit: Александр Микрюков/AdobeStock.com