Legal regulators dragging their heels on NDA response

On 4 March, the UK government vowed to grant workers greater legal protections against the misuse of non-disclosure agreements (NDAs). The legal profession has come under heavy scrutiny for its role in facilitating gagging orders. Questions are now being raised as to whether legal regulators are doing enough to ensure lawyers act ethically.
The government's proposals follow the House of Commons Women and Equalities Committee's report in July 2018, which called on Parliament to legislate in order to clean up the use of NDAs following several high-profile scandals.
Employers must now guarantee employees access to independent legal advice before entering into any NDA. If the employee elects to sign an NDA, they will not be prohibited from reporting workplace harassment or discrimination to the police.
The Solicitors Regulation Authority (SRA), which regulates solicitors in England and Wales, issued a warning notice in March 2018 highlighting the risks posed by NDAs. In September, Dr Vanessa Davies, Director General of the Bar Standards Board (BSB) - which regulates barristers in England and Wales – gave assurances that the regulator intended to issue similar guidance 'by the end of October'. However, the BSB is yet to do so.
Lawyers brought in to draft settlements or termination of employment agreements have rarely had training in complaints of a sexual nature and have no idea about the long-term issues which arise
Baroness Helena Kennedy QC
Director, IBA Human Rights Institute
A spokesperson for the BSB said: '[The BSB's] Board has considered this matter carefully and concluded that formal regulatory Guidance to barristers in this area was neither necessary nor appropriate, given that in this, as in any other area of practice, the conduct of barristers is governed by the BSB Handbook and Code of Conduct.' The spokesperson says the Board's position remains unchanged following the government's latest proposals. 'Until we know more about what any potential legislation actually contains, we have nothing to add.' The Bar Council, which represents barristers in England and Wales, says the BSB Handbook 'should provide a framework for any barrister on their ethical duties with respect to any potential misuse of NDAs.'
However, Baroness Helena Kennedy QC, Director of the IBA Human Rights Institute, who gave oral evidence to the Women and Equalities Committee's inquiry on NDAs, says the BSB's Handbook isn't an adequate substitute for proper guidance and training. 'The core professional duties they set out in the Handbook are all well and good, but lawyers brought in to draft settlements or termination of employment agreements have rarely had training in complaints of a sexual nature and have no idea about the long-term issues which arise for those who have been abused,' says Kennedy. '"Not good enough" will be on their annual scorecard when this arises at the annual conference of the Bar.'
The SRA's initial warning notice 12 months ago has already elicited a strong reaction in the legal profession. 43 reports of sexual harassment or misconduct within law firms were filed with the regulator between 1 November 2017 and 31 October 2018 – more than the previous four years put together. Eight of these involve NDAs being used to conceal sexual harassment. In a statement, the SRA's Chief Executive Paul Philip said the marked increase showed 'firms are taking these reports seriously.'
Global Insight contacted the equivalent regulators in Scotland – the Law Society of Scotland and the Faculty of Advocates – and Northern Ireland – the Law Society of Northern Ireland and the Bar Council of Northern Ireland. None have issued any guidance specifically on NDAs to date.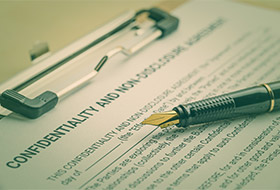 Sarah Hutchinson, Chair of the IBA's Section on Public and Professional Interest, welcomes any guidance from professional bodies about how lawyers should be advising clients in relation to NDAs. 'The IBA has been very concerned about the inappropriate use of NDAs and it's a difficult and challenging area for specialist practitioners,' says Hutchinson, who also co-chairs the IBA's Diversity & Inclusion Council. 'It's important to say that there's nothing wrong in principle with NDAs. It's the misuse of NDAs that's the issue and it's right at the fringes of most lawyers' expertise. In those areas it's sensible for bar associations to think about offering guidance to their practitioners.'
In November, the SRA published another statement on its website, outlining the responsibilities and risks facing solicitors involved in drafting NDAs in relation to harassment allegations. In January, the Law Society of England and Wales also issued a practice note on its website looking at NDAs in an employment law context.
Professor Richard Moorhead is Chair of Law and Professional Ethics at University College, London and recently gave evidence to the Women and Equalities Committee's inquiry. He argues that barristers should also be fully cognisant of the risks posed by NDAs. 'What [the BSB] might say is that barristers aren't as involved in this and solicitors are generally on the frontline as regards to NDAs,' he says. 'That's true up to a point, but barristers are involved reasonably often around negotiations at the doors of the courts or the tribunal.'
The role of NDAs in covering up sexual misdemeanours first came to light following the Harvey Weinstein allegations in October 2017. Since then, other prominent figures have also been revealed to have used NDAs to silence sexual harassment claimants.
Zelda Perkins, Weinstein's former assistant, has been a strong advocate for change in the law and the legal profession to ensure NDAs are not being misused. She tells Global Insight that the BSB's reaction risked making the regulator look out of step. 'I'd have thought the BSB would have provided some guidance in line with the Law Society and the SRA,' she says. 'Anyone that does not respond at this moment is foolhardy. There have been a lot of willingness to act on these issues and I think you have to take action, whether you're a large corporation or a small organisation.'