Profile - Katherine Meighan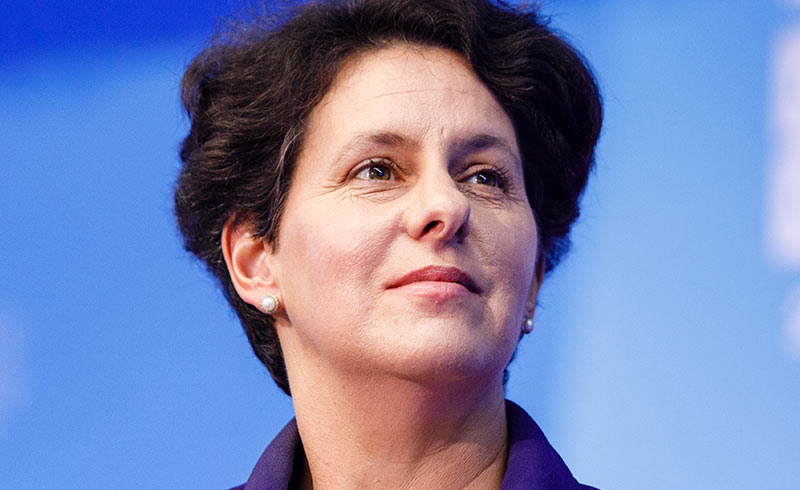 Katherine Meighan's expertise in international development law and economics made her the ideal choice to lead the legal team at the International Fund for Agricultural Development (IFAD). She speaks to In-House Perspective about her drive to help IFAD eradicate global hunger and empower rural communities, helping to prevent the Covid-19 pandemic from becoming a global food crisis.
A self-confessed 'child of international development law', one could say that Katherine Meighan was always destined to help others on a global scale. She quickly gained an appetite for travel when her father, a lawyer with the United States Agency for International Development, was posted to Kenya and she moved there at just six weeks old. Growing up in Kenya, as well as in Barbados, Morocco, Nicaragua and the US, she quickly gained language skills and a keen interest in the welfare of rural communities.
'As I grew up living abroad, from a very young age I had a sense of the impact and importance of international development in emerging economies from the different places we lived,' says Meighan. 'This experience was always very compelling to me because I had seen in practice the need to focus on rural development and poverty alleviation.'
Meighan went on to do an undergraduate double major in economics and French, which included a year studying in France, before later attending law school in the US. She joined legacy Rogers & Wells, which later merged with Clifford Chance. Based first out of Washington, DC and subsequently in Paris, her work from the outset had a discernibly international flavour, focusing on international finance and regulatory work and cross-border transactions.
Fuelled by her interest in international development economics, she joined the International Finance Corporation (IFC) in 1999. Meighan spent just over 17 years there before joining the International Fund for Agricultural Development (IFAD) as General Counsel (GC) in late 2017 – one of the few female GCs in the United Nations system. While at IFC, Meighan lived and worked in Buenos Aires, Istanbul and Washington, focusing on development finance in emerging economies, as well as loan restructuring and workouts, through the heady days of the Argentine financial crisis in the early 2000s, the 2008 global financial crisis and beyond.
As the IFC continued to grow and decentralise its legal function, Meighan was tasked with helping the legal team work more effectively across its offices worldwide. She says this involved changing the view traditionally held by most organisations that in-house legal teams were there to stifle innovation rather than to promote it. 'When you have lawyers' outposts in different regions, it's even more important to ensure that they're really speaking to each other, exchanging information and really working as a kind of a 21st century small law firm within the institution,' she says. 'Of course it's still about focusing on policy, precedent and procedure, while also being nimble and supportive of the clients. It's also about being able to highlight and mitigate risks, supporting consistency in legal advice across the global organisation.'
Eradicating hunger
This experience would stand her in good stead for later roles. After rising through the IFC ranks to manager and assistant general counsel responsible for the IFC's global legal treasury and financial institutions work, in late 2017 Meighan decided a new challenge awaited her at IFAD. The Rome-headquartered UN specialised agency and international financial institution works with 176 member states to alleviate poverty and hunger in the world's most rural communities – a huge undertaking which Meighan was keen to support. 'I was really drawn to IFAD's mission and the focus directly on the sustainable development goals, particularly [UN Sustainable Development Goal] SDG 2 – Zero Hunger,' she says.
IFAD's emphasis on small-scale producers and cooperatives in the agricultural sector across the developing world has enabled it to carve out a niche as the only multilateral development institution (MDI) solely dedicated to eradicating hunger and building rural resilience at the lower end of the value chain. Since 1977, the organisation has facilitated over $22.4bn in grants and low-interest loans to projects benefiting an estimated 512 million people. 'The vision is really to create inclusive and sustainable rural economies, working both on-farm and off-farm so that people can live a life they value, free from poverty and hunger,' Meighan says.
For Meighan as General Counsel, IFAD's concerted efforts to help women – who in rural communities are often the most disproportionately affected by climate shocks and poverty – is one of its unique selling points. 'Since IFAD's inception, we've always focused on women, farmers and producers and actually about 50 per cent of our funding goes to women with a gender focus across all of our projects,' she says. 'It's not just a flavour of the month, it's something that's been in our DNA since we started and something I'm very proud of personally. Each year our investments increase the production of about 15 million small-scale producers and raise the income of 20 million rural women and men by at least 20 per cent. These are staggering statistics because a lot of these rural people are making two dollars or less a day in household income. If you can increase their income by 20 per cent, that's really amazing and has such an important impact.'
Such figures are all the more remarkable when you consider that a United Nations report published in July 2019 revealed that an estimated 820 million people worldwide – or one in nine people – still do not have enough to eat. This marked the fourth consecutive year that this number had increased – a clear rallying cry that major commitment is needed to achieve the SDG 2 target by 2030. Meighan notes with concern that 'of all the SDGs, I think [Zero Hunger] is the one that's actually worse off now than in 2015 when the SDGs were created'.
The UN State of Food Security and Nutrition in the World 2019 report said that nearly 149 million children under the age of five were still affected by stunting due to hunger. Meighan says statistics like these highlight the importance of her team's and IFAD's work. 'It's not just that terrible hunger suffered today, it also limits the potential for achievement of the whole next generation,' she says. 'As a mother myself, that's something that I find shocking and something we need to tackle aggressively. These are some of the reasons why I am really personally committed to this important and urgent work; I want to use my skills with the team to try to double our impact on SDG 2, which is what we're trying to do now under the visionary leadership of IFAD President Gilbert Houngbo.'
Doubling and deepening impact on SDG 2
It has been a challenge for the legal team to keep pace with the organisation's ambitious goal, but Meighan believes it is right that as General Counsel she should be at the heart of the discussions. 'It's very fascinating and challenging, but also exciting to be on the senior management team working with these professionals at the top of their game to tackle these global issues,' she says. 'That kind of strategic insight is very interesting and important on a corporate level for a GC to help design solutions while mitigating risk – which is particularly important in the context of agri-finance. Given that law is so integrated really across every aspect of what an institution does, it's highly valuable for the General Counsel to be involved in those discussions, as a "cradle to grave" partner of the business, if you will.'
'It means we can try to help design pragmatic, impactful solutions while also mitigating risk at the early point in structuring these solutions,' adds Meighan.
IFAD's membership comprises low, middle and high-income countries worldwide. Meighan runs a lean team of around 14 lawyers, including a new legal finance and impact investment group, which was launched in May 2019. While this may appear somewhat meagre given the immense challenge of eradicating global poverty, she says it has encouraged her to hone the team's skills and scope to work effectively for both its internal clients and its external clients, the rural poor. 'Even at the IFC, agriculture was considered a very challenging area to work in because you're so subject to climate shocks and one-time incidents that can wipe out whole crops,' she says. 'People in this area can be so easily thrown into a poverty trap from which they can't escape because already the income that they're making is very low. At IFAD we are looking to find ways to de-risk and crowd public and private investment in to rural, small-scale producers. We are working to build a legal team that is able to adapt in an agile and also creative manner to help us solve these complex problems to support the rural poor.'
Around 35 per cent of IFAD's overall staff are based across its field offices. Although Meighan and her lawyers primarily work out of IFAD's headquarters in Rome, they regularly travel on missions to client countries as and when required.
Initially, almost all IFAD's financing came from member state contributions. However, as IFAD's shareholders and management realised engagement with the private sector was increasingly vital to achieving SDG 2, Meighan was tasked with recalibrating IFAD's charter to enable the organisation to work more directly with the private sector. She says that increasingly, her team is trying to harnessing the best aspects of the private sector's approach with one key difference: 'Instead of driving for profit, we're driving for impact for the poorest people in the world. We want to work as a partner within the IFAD to raise and mitigate risk, while at the same time, help find pragmatic solutions so that we really can drive for that impact for the rural poor. This has been a bit of a culture change within the legal department and how we work as lawyers within the IFAD. It's been exciting and shown good results; we've encouraged a lot more cross-functional, impact-driven teamwork.'
Covid-19 response to help prevent global famine
Meighan explains that the Covid-19 pandemic has challenged the IFAD legal team to nimbly solve complex new problems, many not imagined previously. With an economic recession looming, the outlook for global poverty and hunger is bleak. She cites World Bank estimates that this year alone Covid-19 will push 49 million people into extreme poverty. This could potentially lead to a famine of epic proportions in some countries. Development progress could be set back by decades, with South Asia and sub-Saharan Africa the hardest hit.

Legal departments of MDIs across the globe are grappling with the pandemic's impact on their staff safety, business continuity and the need for dramatically increased support for their target populations. This is particularly the case for IFAD. Headquartered in Rome, IFAD was one of the first such institutions outside of Asia to move overnight to full self-isolation for staff in their homes due to the rapidly spreading crisis in Italy. The IFAD legal department worked closely with the IFAD crisis management team to support staff safety globally and IFAD business continuity, not only in Rome but also in the almost 100 countries where IFAD works.

Meighan notes that IFAD moved nimbly to full telework and virtual meetings. IFAD's first-ever virtual EB approved USD $40m seed funding to the new IFAD Rural Poor Stimulus Facility to support rural small farmers through the impact of Covid-19. 'IFAD have also moved quickly to adapt our internal procedures to streamline operational processes, allow for virtual committee meetings, electronic signatures and exchange of clearances and approvals.'

The IFAD legal team played a significant role in structuring and securing the approval for the $40m in facility seed funding while developing new fast-track processes. Meighan states that this is crucial to get the much-needed funding immediately to support vulnerable small-scale farmers and rural communities. Many such farmers are being forced to use short-term 'coping' mechanisms to deal with urgent cash flow (eg, being left with no money to buy key inputs like seeds or fertiliser that they will soon need for the planting season) or to dump healthy food because of lack of access to storage or transport.
With the already challenging rural landscape now coloured by the pandemic, Meighan highlights a key challenge for her team and IFAD in general 'to embrace the increasing opportunities offered by the private sector to help rural communities have a sustainable future'. 'We strive to support rural agri-entrepreneurs so by 2030 they don't need IFAD anymore because they are thriving,' she says. 'The pandemic makes achieving this by 2030 even more challenging, requiring redoubled and deepened effort on SDG2. Yet, if we can help create inclusive, sustainable rural economies so that IFAD's important work crowding-in finance and support to rural agriculture is not needed anymore, that, to me, is success.'