Australian detention centres: ill-treatment 'could be considered torture' says UN rapporteur
RUTH GREEN
Recent footage of aboriginal boys being mistreated at an Australian juvenile detention centre provoked worldwide condemnation and prompted calls both within and outside the country for a full investigation into the misconduct.
The graphic images showed six aboriginal boys at the Don Dale detention centre in the Northern Territory being physically restrained, assaulted and teargassed by guards in a style akin to the notorious methods used in the Abu Ghraib prison in Iraq.
All six individuals have filed claims against the Northern Territory government, which has reportedly launched its own lawsuit against two of the boys, alleging they provoked riots. It is understood the Northern Territory government is due to withdraw its countersuit. Australia's Prime Minister Malcolm Turnbull has announced a Royal Commission to investigate the footage.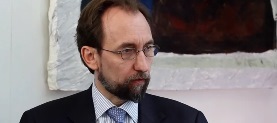 Prince Zeid Ra'ad Al Hussein
The UN's High Commissioner for Human Rights, Prince Zeid Ra'ad Al Hussein, has issued a statement saying the practices 'amount to a violation of the Convention on the Rights of the Child and the Convention Against Torture and Other Cruel, Inhuman and Degrading Treatment, to which Australia is a party.' He is calling on Australia to ratify the Optional Protocol to the Convention against Torture, which would create a National Preventative Mechanism that carries out regular visits to detention centres across the country. 'Events at Don Dale clearly show the immediate need to establish such a system of regular visits to ensure that what happened at Don Dale never happens again in Australia,' he says.
Juan Méndez, the United Nations' Special Rapporteur on Torture and other Cruel, Inhuman or Degrading Treatment or Punishment, says the actions caught on camera certainly raise alarm bells. 'I am engaging the government of Australia formally through the process of the rapporteurship to make an inquiry and ask for more details, so I'm not ready to pass judgement yet, but obviously the video raises many concerns,' he says. 'I also think these concerns are ratified by the fact that the government itself has decided to initiate a commission of inquiry.'
''

Being held in solitary confinement, tied up and blindfolded would by itself constitute cruelty, humiliation and inhumane treatment and, depending on the severity, it could even be considered torture

Juan Méndez, the United Nations' Special Rapporteur on Torture
Méndez says the ill-treatment could be regarded as torture. 'In the meantime it's very troubling, especially because these are juveniles, children essentially, and because they are members of the aboriginal minority. Both of those are aggravating circumstances, but obviously even if they were not minors and not indigenous, being held in solitary confinement, tied up and blindfolded would by itself constitute cruelty, humiliation and inhumane treatment and, depending on the severity, it could even be considered torture.'
This is not the first time that Méndez has criticised Australia's treatment of detainees. In 2015, he authored a UN report, which lambasted conditions at an immigration detention centre in Manus Island, Papua New Guinea. The centre was built in 2001 as part of the then government's controversial 'Pacific Solution' in a bid to curb the number of asylum seekers trying to enter Australia.
Méndez's report warned that Australia could be found guilty of violating the international convention against torture. In April 2016, Papua New Guinea's Supreme Court ruled that the detention of asylum seekers and refugees on Manus Island was unlawful as it breached their fundamental right to liberty. The Court subsequently ordered both the Papua New Guinea and Australian governments to present a resettlement plan for the 900 asylum seekers and refugees that are currently detained on the island indefinitely.
Juan Méndez
Former Justice of the High Court of Australia Michael Kirby, who is also Vice-Chair of the IBA's Human Rights Institute, says he welcomes the Australian government's response to the Don Dale footage. 'The Australian government acted with commendable speed and determination in establishing a Royal Commission of Inquiry to investigate and report on the alleged cases of violence against children and young people being detained at Don Dale,' he says. 'All forms of violence and discrimination against children and young people are intolerable, especially where they occur because of the legal regulations of a country bound by international human rights law.'
Kirby believes the government would do well to extend the scope of its inquiry to address ongoing concerns over Australia's detention centres and offshore detention centres. 'I have seen suggestions that the terms of reference for the Royal Commission should be broadened so as to include the investigation and report on the treatment of children who are detained in other places in direct consequence of Australian law and policy,' he says. 'This could include the detention of children in offshore centres such as in Nauru, where the children have been brought into the Australian migration zone without a visa, by their parents seeking refugee status in Australia. Effectively, such centres are funded by the Australian Government. Under Australian law, a Royal Commission has unique powers to investigate and get at the truth of conduct which is of concern to the community. I would support such a move. Human rights belong to all people, not just citizens.'
The Don Dale case also highlights the disproportionate number of indigenous Australians in the country's prison system. Despite comprising just three per cent of the overall population, they make up 27 per cent of inmates. In the Northern Territory, where Don Dale is located, some 94 per cent of juvenile detainees are indigenous Australians.
Australia-listed Broadspectrum provides numerous services at the detention centres on Manus Island and Nauru, including catering, cleaning, security, regional processing centre welfare, transport services and logistics. Spanish company Ferrovial bought a majority stake in Broadspectrum in May 2016. In July, a report by rights advocacy groups urged Ferrovial to put an end to its subsidiary's involvement in both ODCs with immediate effect. It also called on shareholders and investors in Ferrovial to withdraw their support if the company did not follow suit. The contracts for both centres were set to expire in February 2017.
José Luis Cobas, head of media relations at Ferrovial, confirmed to Global Insight that Broadspectrum would 'not take part in the retendering process,' but that the contracts had been extended by the Australian Department of Immigration and Border Protection until October 2017. Cobas said neither Ferrovial nor Broadspectrum had ever provided any services to the Don Dale juvenile detention centre.