The IBA's response to the war in Ukraine  
Bangladesh: Humanitarian lawyer Ishrat Hasan wins the 2020 IBA Pro Bono Award

The recipient of the International Bar Association (IBA) Pro Bono Award for 2020 has been named as humanitarian lawyer Ishrat Hasan for her dedication to removing barriers of access to justice, specifically for the poor, disadvantaged and marginalized communities in Bangladesh, as well as her legal battles in relation to the rights of women and children.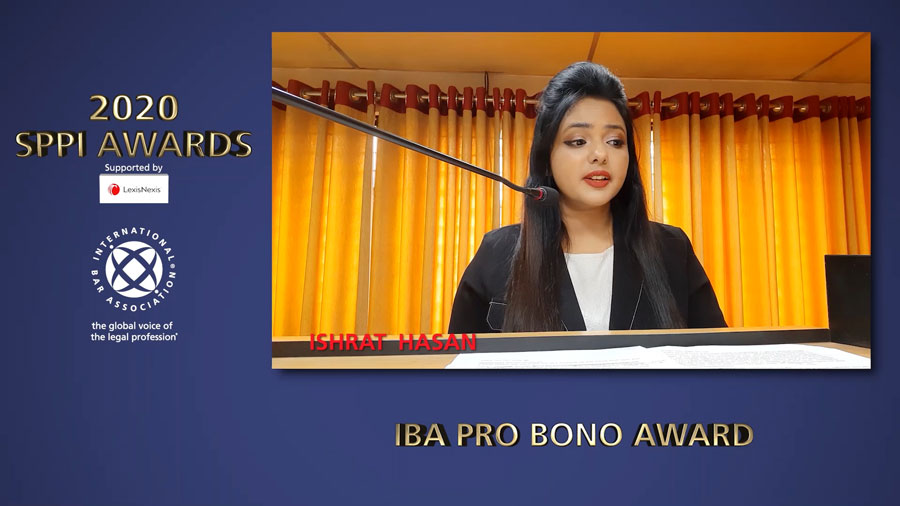 The Award, sponsored by LexisNexis, seeks to honour those who have shown outstanding commitment to pro bono work. It was presented by the IBA Pro Bono Committee during the online Section on Public and Professional Interest Awards ceremony, which took place on Monday 9 November 13:30 – 14:00 GMT, as part of the IBA 2020 - Virtually Together Conference.
On being notified as the IBA 2020 accolade, Ms Hasan commented, 'This award is an international recognition of my pro bono work which increased my courage of fighting for justice, especially for women and children. I have a dream of working for women and children not only in my homeland but across the borders and IBA is the proper forum for sharing ideas and experiences and working together for a better world.'
Ms Hasan is determined to ensure that her working life positively impacts the lives of minorities. While a cornerstone of her work is establishing the rights of children in Bangladeshi jurisprudence, her litigation in the high courts on a number of issues has improved the lives of children and adults.
Among her many pro bono activities, she filed a writ to establish breast feeding areas and baby-care corners in public spaces, including railway stations, bus stands, shopping malls, courts, as well as workplaces. The Supreme Court of Bangladesh ruled that such areas should be created. The ruling allowed nursing mothers whose babies accompany them to work to feed their children in private. Further, in some workplaces, babies and children have been provided with a dedicated room where they eat, play and sleep safely while their mothers work. Consequently, mothers are less stressed, and are more productive at work, knowing their children are nearby. Creatively, Ms Hasan made the petitioner in the writ a nine-month old baby.
IBA President Horacio Bernardes Neto said, 'I am delighted that the IBA Pro Bono Award has been won by Ishrat Hasan. Her tireless work advocating for the rights of women and children in Bangladesh will be felt for generations to come. The establishment of areas to afford mothers privacy when breastfeeding their children was a remarkable and laudable development in Bangladeshi society. It is through the dedication and selflessness of lawyers like her that the world will become an improved and fairer place.'
Ms Hasan also fought for the rights of mothers and their unborn babies seeking the prohibition of gender detection in foetuses. She claimed that such tests violate constitutional protections for gender equality and a baby's right to life. Ms Hasan argued that gender detection of unborn babies is a violation of gender equality, the right to life and the right to protection by the law guaranteed by the Constitution. As there is a preference for male babies in Bangladeshi society, if a woman finds out that the sex of the unborn child is female it can lead to high levels of stress for the mother and negatively impact the baby. In extreme cases, mothers can face pressure from their family to have an abortion. Following a Court ruling a number of diagnostic centres and clinics around the country have complied and no longer provide the tests. Ms Hasan believes that the total prohibition of gender detection in unborn foetuses will dramatically improve the conditions of women in Bangladesh.
Further to her work advocating for mothers and unborn children, Ms Hasan has challenged the legislation on legitimacy of children. She believes that laws which enable a court of law to declare an innocent child legitimate or illegitimate, is contrary to the principles that all human beings are born free and equal in dignity and rights..
Following the death of a mother beaten to death by a mob that left her two children motherless, Ms Hasan filed two separate writs with the Supreme Court: one claiming compensation for the babies of the deceased women and another challenging negligence of the government of Bangladesh in preventing mob lynching. The court has since issued 5 directives to stop prevent mob beatings and for perpetrators to be brought to justice.
The IBA Pro Bono Committee leadership David Herman Flechner, Sarah Morton-Ramwell and Odette Geldenhuys, commented in a joint statement: 'Pro bono work is the cornerstone of the legal profession. Without access to free legal representation for all, justice cannot prevail. Ishrat Hasan has spoken for the voiceless, the powerless and the vulnerable, improving the lives of women and children throughout Bangladesh. She is an inspiration, truly embodying what it means to have firm commitment to social responsibility at the heart of what one does. We are delighted that Ishrat Hasan is the IBA's 2020 Pro Bono awardee.'
The IBA Pro Bono Award was presented to Ishrat Hasan by the Pro Bono Committee on Monday 9 November 2020 as part of the IBA 2020-Virtually Together Conference.
The full 2020 SPPI Award Ceremony can be watched here.
ENDS
Notes to the Editor
Information about the IBA Pro Bono Award is available at: www.ibanet.org/Committees/Divisions/Legal_Practice/Pro-Bono-Award
Information about the IBA Virtually Together Conference is available here: www.ibanet.org/VirtuallyTogether-2020
Journalists requiring media accreditation to attend the IBA Virtually Together Conference should email romana.daniel@int-bar.org
The International Bar Association (IBA), the global voice of the legal profession, is the foremost organisation for international legal practitioners, bar associations and law societies. Established in 1947, shortly after the creation of the United Nations, it was born out of the conviction that an organisation made up of the world's bar associations could contribute to global stability and peace through the administration of justice.
Romana St. Matthew - Daniel
Press Office
International Bar Association
4th Floor, 10 St Bride Street,
London EC4A 4AD
Mobile: +44 (0)7940 731 915
Direct Line: +44 (0)20 7842 0094
Main Office: +44 (0)20 7842 0090
Fax: +44 (0)20 7842 0091
Email: romana.daniel@int-bar.org
Website: www.ibanet.org
IBA website page link for this news release:
Short link: tinyurl.com/y4974rsp