Brexit: implications for dispute resolution after EU-UK transition ends
LUCY TREVELYAN
Despite the European Union and United Kingdom's eleventh-hour deal on trade in December 2020, no direct agreement was reached to replace the Brussels Regulation (recast) regime. This regulation provides a streamlined process for the reciprocal enforcement of judgments between EU Member States' courts. Since 1 January 2021, therefore, the regime has no longer applied to the UK.
The effect is mitigated by the UK's accession in its own right to the Hague Convention on Choice of Court Agreements (HCCCA), says Tim Strong, Co-Chair of the IBA Litigation Committee and a partner at Taylor Wessing. 'This gives us a similar regime […] where a contract contains an exclusive jurisdiction clause, with a simplified enforcement process for resulting judgments.'
Some uncertainties remain about exclusive jurisdiction clauses agreed before 1 January 2021. The UK's view is that the HCCCA will apply to any such clauses agreed since it joined the Convention as an EU Member State in October 2015, explains Lucinda Orr, Chair of the IBA Young Litigators Forum and a partner at Enyo Law. She notes EU courts may not adopt the same approach however.
There's also uncertainty while the UK waits to see if its application to accede to the Lugano Convention on jurisdiction and the recognition and enforcement of judgments in civil and commercial matters is accepted.
In the absence of the Lugano Convention or one with a similar effect, 'there will be no uniform system of rules by which an English judgment can be enforced in EU Member States', says Leigh Crestohl, a commercial disputes partner at Zaiwalla & Co.
Crestohl explains that each case would depend upon the national laws of each country, which may offer a judgment debtor greater opportunities to resist enforcement. This, in turn, 'introduces an element of uncertainty, increased cost and risk', says Crestohl.
An important feature of the previous regime was the possibility of obtaining an English Worldwide Freezing Order – enforceable in other EU Member States with relative ease. 'This may be a more difficult route for claimants should the UK not accede to the Lugano Convention', Crestohl says.
Whether the disputes landscape will be heavily disrupted will depend on the UK's accession to the Lugano Convention, and on how UK courts will interpret EU law in the future and whether they will diverge, says Orr.
'It may also be that some UK litigants will decide to roll the dice and seek to overturn UK decisions grounded in EU law', she adds.
English governing law clauses will continue to be recognised by the EU27 courts. However, Ben Bruton, a dispute resolution partner at Winston & Strawn, recommends using exclusive jurisdiction clauses, rather than non-exclusive or asymmetrical clauses, to improve the enforceability of a resulting UK judgment within the EU27 or to improve enforceability of EU27 judgments within the UK.
'In view of the ambiguity as to whether the HCCCA applies to exclusive jurisdiction clauses concluded prior to 1 January 2021, for business-critical contracts, a prudent approach would be to consider whether the ambiguity can be removed through a supplemental agreement with your counterparty', he says.
Commercial parties should think carefully when negotiating contacts and the potential enforcement issues, says Orr. 'Consider appointing an agent for service of process and potentially consider "conditional" dispute resolution clauses that allow for a greater degree of flexibility as the position becomes clearer.'
Companies may wish to review any standard form templates or agreements and highlight any clauses which may be problematic to enforce in the EU27.
'In practice this may mean considering whether any choice of law agreement is going to be considered valid and effective under the laws of the other contracting party, as well as ensuring wherever possible that contractual terms are compatible with mandatory rules of the other party's national law or EU law', says Crestohl.
Strong does not expect Brexit to have a significant impact on the popularity of English courts being selected for dispute resolution and English law being chosen as the governing law of contracts.
'If English law is specified, that choice will be upheld by courts in the UK and the EU', explains Strong. 'As for jurisdiction, there remain many advantages to commercial parties choosing to resolve disputes in the English courts, and provided contracts specify English jurisdiction exclusively there is no issue with enforcement.'
Similarly, he says, there are Hague conventions on service and the taking of evidence which provide good alternatives to their EU equivalent regulations.
'The other factor which helps, frankly, is that there aren't many realistic alternatives in EU Member States', says Strong.
In time, he says, certain commercial court initiatives in the EU may develop into real competitors, but they do not yet have the history and reputation of the English commercial courts.
Notwithstanding the unlikelihood of the enforceability of UK court judgments being affected by Brexit, Bruton notes a trend 'whereby multinationals, including financial institutions, are becoming more open-minded to including arbitration clauses in their contracts'.
This, he adds, does also seem driven by other perceived benefits of arbitration – including confidentiality and the ability to select an industry expert arbitrator.
---
Tackling gender disparity in law
On the occasion of International Women's Day 2021, the IBA announced the launch of an ambitious first-of-its-kind, nine-year global project to study the lack of gender parity at the most senior levels of the legal profession. The project will identify barriers to, and track progress of, realising equal representation as well as providing practical conclusions and guidance to the profession.
Titled '50/50 by 2030' – a reference to the aspiration of the 2030 United Nations Sustainable Development Goal No 5 on gender equality – the project is supported by the LexisNexis Rule of Law Foundation.

IBA President Sternford Moyo said: 'We need a global legal profession that not only understands and appreciates the need for diversity and gender equality but will take action to ensure their realisation. We cannot continue to have so many eminently qualified and capable women denied parity in senior roles. I have made understanding and effecting change in these areas priorities of my presidency.'
The overarching goal of the project is to provide a blueprint by 2030 for achieving gender parity at the highest levels of private practice, in-house positions, the public sector and the judiciary. Research will be undertaken across 15 countries in Africa, Asia, Europe, Latin America, the Middle East and North America.
The study – with data collection and analysis in 2021, 2024, 2027 and 2030 – will be the first to provide global information from law firms, bar associations, law societies, government, public prosecution, in-house lawyers and the judiciary over an extended period.
'With the benefit of raised general awareness around discrimination, it is time for increased action […] We are committed to developing solutions that will bring about lasting change', commented IBA Vice President Almudena Arpón de Mendívil.
The project is being led by the IBA Legal Policy & Research Unit and the IBA Diversity and Inclusion Council, with support and input from the IBA Women Lawyers' Interest Group. Find out more
---
IBA publishes landmark whistleblower report
The IBA Legal Policy & Research Unit (LPRU) and the Government Accountability Project (GAP) have published Are whistleblowing laws working? A global study of whistleblower protection litigation, a landmark report on whistleblower protection laws around the world.
The report provides an unprecedented analysis of whistleblower protection legislation in 38 countries, and assesses both their successes and shortcomings following a proliferation of laws in recent decades.
The report is the product of a two-year project undertaken by researchers from the LPRU, GAP and IBA membership. It aims to support legislators, policy-makers and regulators in designing and developing judicial frameworks that effectively protect whistleblowers, both in law and in reality. It provides key recommendations in order to implement laws that reflect global best practices in good faith, but notes that best practice laws will be ineffective without public support for these rights, emphasising the importance of transparency and education.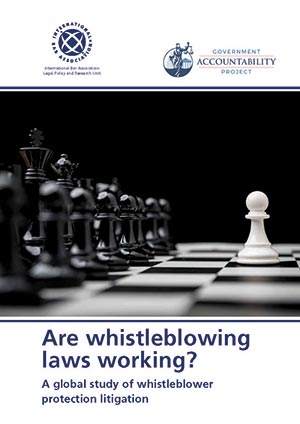 IBA President Sternford Moyo said that the report 'shines a light on the efficacy of laws that are intended to protect and empower whistleblowers', and 'demonstrates much more work is required'. Moyo also commented on the timeliness of the report and the need for whistleblowers to be given the full protection of the law, citing the Covid-19 outbreak in Wuhan and the whistleblower Dr Li Wenliang. Read press release
---
IBA welcomes new Secretaries General
Jaime Carey, Managing Partner of Carey, Santiago, and Claudio Visco, Managing Partner of Macchi di Cellere Gangemi, Rome, have begun their terms as joint Secretaries General of the IBA. Both bring a wealth of experience and a strong background in IBA positions to the role.
Carey is a member of the Latin American Regional Forum Advisory Board and was formerly Chair of the Legal Practice Division (LPD), an LPD Council Member and Chair of the Corporate and M&A Law Committee.
Visco is a member of the Diversity & Inclusion Council and was formerly Chair of the Bar Issues Commission and Chair of the Capital Markets Forum.
This is the first time in the organisation's history that there have been two Secretaries General on the IBA Management Board.
The full list of current IBA Officers and Council Members can be viewed on the IBA website.
---
IBA's webinar programme continues into spring
The IBA's webinar programme – which is a major focus for the organisation during 2021 – continues into spring with numerous committees and groups organising engaging sessions. These include both one-off webinars on specific topics as well as virtual conferences, in some cases to replace in-person events that have not gone ahead due to the Covid-19 pandemic. These webinars are an excellent tool for learning more about a subject and for interacting with other legal professionals.
Webinars that have taken place in the past few months include 'Developing your brand and maximising client care in lockdown: tips and lessons for remote connections', a webinar presented by the IBA Women Lawyers' Interest Group and supported by the IBA African Regional Forum; 'Covid-19 and criminal liability', from the IBA Criminal Law Committee and the IBA Business Crime Committee; 'Business human rights issues for mining pursuits', a webinar jointly presented by the IBA Business Human Rights Committee, the IBA Mining Law Committee and the IBA Public Law Committee; and 'Foreign Corrupt Practices Act enforcement: 2020 and beyond', organised by the IBA Anti-Corruption Committee.
Recent virtual conferences have included events run by the IBA Insurance Committee; the IBA Asset Management and Investment Funds Committee; and by the IBA Private Client Tax Committee, with support from the IBA Family Law Committee.
Forthcoming online events organised for later in 2021 will tackle subjects such as immigration in the context of Brexit; law firm sustainability; environmental crimes and the jurisdiction of the International Criminal Court; and the arbitrator's duty of impartiality and obligation to make disclosure in the wake of the Halliburton v Chubb case.
All single session webinars are free to IBA members to attend and many are free for non-members too. IBA members are entitled to reduced fees for virtual conferences. See the IBA webinar programme here.
---
Podcast: Covid-19 and technology
The Covid-19 pandemic has led to unprecedented changes in the way we live and work and, as a consequence, has accelerated the adoption of digital technologies. However, this transformation has not been without its issues.
In this podcast, Melissa Stock, privacy and data barrister, speaks with Vijay Rathour, Head of the Digital Forensics Group at Grant Thornton, about the problems faced during the pandemic, the commercialisation of hacking, and future trends in cybersecurity.
---
In memoriam: Glower Jones
The IBA was saddened to learn that one of our longest-standing and most revered members, Glower Jones, passed away on 27 January.
During his remarkable relationship with the IBA, Glower held numerous key positions. He was a Trustee of the IBA Foundation from its inception in 1986 and in 2016 was awarded a Certificate of Outstanding Achievement for 30 years of tireless dedication to the Foundation. He was also Chair of the International Sales Committee and a Member of the Section on Business Law's Council.
He remained an active IBA member into 2021.
Fellow Trustee of the IBA Foundation, Tim Powers, described Glower as 'the consummate Southern gentleman – gracious, encouraging, always impeccably dressed and always willing to help.'
'He was an exceptional lawyer and he and [his wife] Joanna always seemed to be the life of each party that we attended', said Powers.
Honorary Life Member of the IBA, Ben Greer, commented: 'Glower was a partner of his firm (Smith, Currie & Hancock) for more than forty years. In that time, he became one of the most respected practitioners in construction law, with a national clientele and an international reputation for excellence. He wrote prolifically for professional journals, served as mentor for younger lawyers in his firm and, in all his endeavours, he was known for his courtesy and collegiality.'
Glower served as a member of UNCITRAL (United Nations Commission on International Trade Law) and was a Fellow of the Chartered Institute of Arbitrators, member of the Vienna Arbitral Center and the American Arbitration Association.
'When I think of my time at the IBA, it is measured by the people I meet - people who transcend the average, who show compassion towards others and touch, with humility and grace, people around them', says Mark Ellis, the IBA's Executive Director. 'If I listed these very special people on a page, Glower would top that list. That is how important he was to me.'
The IBA extends its sincere condolences to Glower's colleagues, friends and family. Read full version
---
Pandemic jeopardises young lawyers' wellbeing and learning opportunities
JOANNE HARRIS
For many junior associates at law firms, the Covid-19 pandemic has meant a working life of flat-sharing and working from bedrooms, living alone or relocating back to their parents' homes.
In the United Kingdom, charity LawCare, which provides support and education on mental health, said it saw a nine per cent rise in the number of legal professionals seeking its help in 2020 compared to 2019.
LawCare said 34 per cent of calls from March 2020 onwards had a Covid element, with lawyers raising concerns about mental health, working from home issues, isolation and being overloaded with work.
'It's easy to hide online. It can be easier to fly under the radar if something's not going well', says LawCare's Chief Executive Officer Elizabeth Rimmer. 'It's hard to admit that you're finding something difficult, or that you're struggling, or that you've made a mistake.'
Manda Banerji, Chair of the Law Society of England and Wales' Junior Lawyers Division, said the group's research before the pandemic had already indicated high levels of stress among junior lawyers, with stress levels rising between 2017 and 2019.
'As such any added stress during the pandemic is extremely concerning', Banerji adds.
Banerji says it's harder for junior lawyers to manage a work-life balance and raise issues when working from home.
She notes concerns about 'virtual presenteeism where the boundaries between home and work life have become blurred, resulting in many junior lawyers feeling obliged to work longer hours or more unsociable hours than when they were in the office'.
Marie Brasseur, Co-Chair of the IBA Young Lawyers' Committee and a partner at Belgian firm Altius, says her firm's associates had admitted to increasing fatigue while working from home.
'There were some of them begging to come to the office', Brasseur adds. 'It's even more difficult now to impose on yourself some limitations.'
The IBA's Legal Policy & Research Unit (LPRU) ran a Young Lawyers' Survey in mid-2020, gathering over 3,000 responses from lawyers aged 40 and under worldwide. The full results of the survey are due to be released later in 2021.
The survey found 24 per cent of respondents had experienced a changed working environment due to Covid-19; 22 per cent had seen workloads increase and 18 per cent had a decreased workload. In-house lawyers were significantly more likely to experience workload increase, with 33 per cent of in-house counsel reporting more work compared to 17 per cent in private practice.
A separate IBA project with input from the LPRU addressing the mental wellbeing of legal professionals found 35 to 40-year-olds were most likely to highlight working practices as the lesson the industry needs to learn from the pandemic, with younger lawyers more likely to mention workload.
Meanwhile, 25 to 29-year-olds reported a higher prevalence of some of the key factors that tend to contribute the most to low wellbeing, including lack of workload control, task neglect, lack of feedback, lack of clarity on objectives and unclear expectations.
And yet, there could be a brighter side to the pandemic. Marco Monaco Sorge, Co-Chair of the IBA Young Lawyers' Committee and of counsel at Tonucci & Partners in Italy, says the Committee's perception is that many firms chose to retain lawyers and reduce salaries, rather than make redundancies, at the height of the pandemic.
'It's important to understand that law firms are investing in the future generation in this pandemic', Monaco Sorge says.
He also thinks that working from home has prompted junior lawyers to become more responsible, active and productive.
'This could be a good opportunity to be more independent and to [develop more expertise] in different areas of law', he adds, noting that those in areas of practice more adversely affected by workflows during the pandemic have adapted to work in other areas.
Brasseur highlights that the shift to flexible, remote working has been easier for younger lawyers than many of their more senior colleagues and says that for her firm at least, there has been more communication through virtual means than ever before.
The impact on professional development remains a concern however.
Rimmer says that while there are lots of benefits to working from home in terms of flexibility, 'the downside of it is we miss our colleagues. You learn so much in your early years from being around and observing the sort of things that your colleagues are doing'.
Banerji agrees this is a worry – that learning through observation and osmosis has been lost to the pandemic. But she says the added flexibility of working from home could be a positive from the crisis.
'Remote working has also been beneficial for junior lawyers with certain disabilities and those with caring responsibilities, which is a positive step towards increasing diversity and accessibility to the profession', Banerji says.
Respondents to the IBA surveys are convinced working patterns have changed for good, and firms will have to grapple with the challenges of nurturing and developing their younger lawyers in this new environment.
---