The IBA's response to the war in Ukraine  
About the Section
The Agriculture and Food Section (AFS), formerly the Agricultural Law Section (ALS) is a young and dynamic Section that focuses on the ever evolving and critically important intersection of agricultural and food law and policy. What could be more essential, more urgent, and more fascinating than the complex law and policy issues invited by the imperative to feed the planet, to do so equitably, and to do so effectively in a time of climate change and during/post a global pandemic? The AFS covers a comprehensive and emerging legal practice area, in particular relating to:
Agriculture land usage
Food production, distribution, and shortages
Ownership and farmers' rights
Seed law, plant variety law, and biotechnology
Food trade, food safety, and food liability
Agri-tech
Sustainable Agriculture—practices and investment strategies
And much more!
Latest news
The Agriculture and Food Section is pleased to share a scholarship opportunity for attending the IBA Annual Conference in Paris, that will take place between 29 October and 3 November 2023.
The Annual Conference Scholarship award includes the following:
waived registration for the IBA Annual Conference;
accommodation while attending the conference;
contribution towards travel costs to attend the conference;
two years' free membership of the IBA;
and a waiver of either the following years' IBA Annual Conference registration fee or a waived registration fee to attend a speciality conference organised by the IBA.
If interested, please submit an essay on the topic "Digitisation of agriculture and food produce" by midnight British Summer Time (BST) on Wednesday 31 May 2023.
More information can be found on the IBA website, under Agriculture and Food Section in the 2023 Annual Conference Scholarship Listing
IBA Annual Conference Paris 2023
We are involved in two sessions at the IBA Annual Conference Paris 2023.
---
Highlights From the Agriculture and Food Section Presentations at the IBA Annual Conference
The International Bar Association (IBA) Annual Conferencetook place in Miami between October 30 and November 4, 2022. During the Annual Conference, the Agriculture and Food Section (AFS) welcomed attendees to several events: an open committee meeting on October 31 and two sessions on current topics in agricultural law on October 31 and November 3. During the open committee meeting, AFS Officers discussed matters of interest and future activities. The committee meeting was attended by several AFS Officers, such as Senior Vice Chair, Fabrizio Paratore; Publication and Newsletter Editor, Adeniji A. Oni; and Member of the AFS Advisory Board and former AFS Chair, Sara Moyo.
The first presentation, on October 31, was titled "Agricultural Food Products Availability and Pricing in Pandemic Times -- Has Anything Changed? " The session explored the challenges faced by farmers, food businesses, consumers, and environmental institutions and entities when dealing with the global tensions that concern the production and supply of food commodities and products, in relation to farming costs and financing. The panel, moderated by Fabrizio Paratore, discussed strategic and legal solutions to be adopted to prevent present and future stress conditions from happening throughout the healthy and less healthy areas of the world. This session's speakers were former U.S. Senator Byron L. Dorgan (D-ND), now with ArentFox Schiff in Washington, D.C.; Courtney Esko, from TreeHouse Foods in Oak Brook, Illinois; Simon Hotte from FIDAL in Lyon, France; and Adeniji A. Oni from Niji Oni & Co. in Lagos, Nigeria.
The second presentation, on November 3, during the session "Sustainability Focus: Sustainable Investment in Agriculture -- The Role Lawyers Play," was titled "Responsible Land-Based Investments in Agriculture: Africa and Asia-Pacific." The session explored the current regulatory framework for sustainable and responsible investment in agriculture, with a focus on Africa and the Asia-Pacific region and how this can contribute to the mitigation of the climate crisis. It analyzed how lawyers in the private and public sectors can use a variety of legal tools, including environmental and human rights law, to promote sustainable and responsible investment in agriculture within their national contexts. The session was moderated by Sara Moyo and Nusrat Hassan, and the speakers were Adeniji A. Oni and Valerie Anne Johnston, from the Food and Agricultural Organization (FAO) of the United Nations (UN), in Rome, Italy. In response to positive feedback, AFS is planning to organize a presentation on the same topic covering Central and South America for May 2023.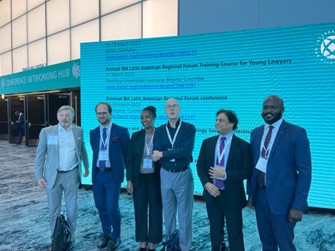 Alfred L.J. Page, Liaison Officer; Fabrizio Paratore, Senior Vice Chair; Sara Moyo, Member of the Advisory Board and former Chair; Jan Holthuis, Co-Chair; and Adeniji A. Oni, Publication and Newsletter Editor.
Please contact the IBA Membership Office at www.ibanet.org/membership/joinTheIBA if you are interested in joining, or e-mail lbergeson@lawbc.com for more information about the AFS.
Webinars
Capacity Development Webinar for Lawyers on Responsible Land-Based Investments in Agriculture: Latin America Focus
Continuing last year's successful series with the same title, focused on Africa and Asia-Pacific, the IBA AFS presents the latest capacity development webinar for lawyers on responsible land-based investments in agriculture, this time focusing on the Latin American region. A trailer is available below.
Capacity Development Webinar for Lawyers on Responsible Land-Based Investments in Agriculture: Africa and Asia Focus
IBA Global Insight: AFS contributions
Food law: regulatory frameworks play catch up on cultivated meat products. In this news analysis, Jan Holthuis, Member of the IBA Agriculture and Food Section Section was interviewed about the situation in cultivated meat.
Cultivated meat is, according to Philip Lymbery, Chief Executive of animal welfare charity Compassion in World Farming, 'humanity's version of something that nature has already given us'. Noting that it's produced in a bioreactor 'from stem cells harmlessly drawn from donor animals', Lymbery says lab-grown meat is therefore a 'game-changer' because it replicates nature 'without the slaughter'.
Read the full article: Food law: regulatory frameworks play catch up on cultivated meat products
---
Diversity and Inclusion (D&I)
The Agriculture and Food Section is strongly committed to upholding and promoting Diversity and Inclusion for its members and activities. The Section advocates for the inclusion and empowerment of all and the elimination of discrimination on the basis of gender, age, culture, race, ethnicity, religion, disability, socioeconomic standing, gender identity or sexual orientation.
How to reduce bias?
Everyone is subject to unconscious bias. Being aware of that makes you more likely to notice biased or stereotypical thought patterns when they arise;
Question your first impressions, as they are a product of automatic thinking which is vulnerable to bias;
Take an honest look at the types of people you resist, seek out and promote;
Justify your decisions by writing down your reasoning and ensure you would be able to justify it to another person;
Ask for feedback and involve people with different perspectives.
How to be more inclusive?
Is there anyone in the team/group who might feel excluded right now? Can you help bridge gaps ? o Example: do you use everyone's name equally? If not, are the names you do not use in the same way names that you find hard to pronounce so that you find other ways of addressing them?
What have you been doing (or not doing) that might affect people with differences you can't see?
Introduce people in a way that gives tribute to their unique contributions and perspective;
Make a genuine effort to get to know all the people you work with;
Ask what would make it easier for people who are reluctant to speak up;
Seek to learn from others.
Actions taken within the Section:
Diversity and Inclusion training of the Section officers;
Opening the officer meetings to all members of the Section for their active participation;
Revision of the composition of officers in terms of Diversity;
Ensuring a diverse mix of people for events and panel discussions.
Subcommittees and other groups
The Agriculture and Food Section also coordinates the activities of the following subcommittees/working groups.
Agriculture and Food Section Advisory Board