About the Committee
The Aviation Law Committee is concerned with several major areas of law. Aircraft transactions and financing are always a major interest. The Committee also follows developments of international law with respect to airlines in both economic and tort areas, and also focuses on competition issues related to aviation.
The Committee provides an opportunity not only to contribute to the development of aviation law but also to make useful contacts with aviation attorneys from all over the world. This is particularly important in an international industry such as aviation, where attorneys are required to deal with aviation attorneys in other countries on a regular basis.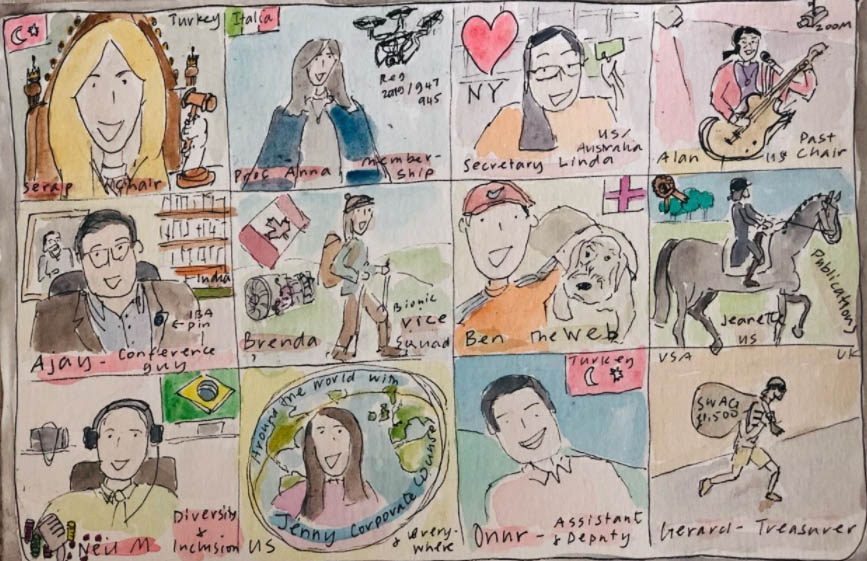 Pic: IBA Aviation Law Committee Officers - illustration by Gerard Melling, Treasurer
Annual Conference
Dear Legal Professionals,
There is not much time left to get registered for the IBA 2022 Miami Conference.
I am happy to inform you that IBA Aviation Law Committee's dinner tickets are now available to book via your My IBA account at the IBA Website.
Do not forget to register yourself as seats are limited, so this is your opportunity to book early!
Mediation of aviation-related disputes webinar
Thank you to those who attended the our IBA webinar Mediation of aviation-related disputes held on Mon 14 March. The webinar was co-hosted and moderated by IBA's Aviation Law committee officer Ben Graham-Evans in conjunction with Tomasz Cyrol from the IBA's Mediation Law Committee.
Many interesting topics were discussed. Including but not limited to the following topics:
The differences between aviation related disputes and other commercial disputes from the counsel's and mediator's perspective?
Why in aviation mediation is seemingly underutilized and how its utilization can be accelerated?
A focus on foreseen specific issues in mediation of aviation disputes, be they virtual or otherwise.
Case studies including the Air France flight lost from Rio to Paris.
A look at mediation in the fields of class actions, investor-state and the Singapore Convention.
Update on the status of passenger rights mediation
Key differences in mediation due to difference in the value of dispute
Process design in mediation taking into consideration that aviation disputes are usually multiparty and multinational
What are the pitfalls of mediating complex aviation disputes?
Photos from IBA conferences and events
Subcommittees and other groups
The Aviation Law Committee also coordinates the activities of the following subcommittees/working groups.
Aviation Law Committee Advisory Board