The IBA's response to the war in Ukraine  
About the Forum
These are exciting times for our Forum! With the primary objective of the enhancement of the value and significance of the Forum to all members globally, we have established various Working Groups which function alongside a panel of distinguished Advisory Board members.
The problems facing African lawyers are different from those affecting lawyers in other regions. To this end, the African Regional Forum was created to identify and address these problems. The aims of the African Regional Forum are as follows:
To further enhance the objectives of the International Bar Association (IBA) by means of cooperation, support of bar associations in developing countries, development of laws, exchange of information and ideals;
to develop interest about the International Bar Association in Africa and provide information to local lawyers on the work of the International Bar Association;
to assist new and potential IBA members when attending conferences and becoming involved in the IBA committee work;
to coordinate the various divisions, sections and committees of the International Bar Association by way of hosting regional conferences, workshops, seminars and various study groups in Africa;
to initiate programmes that will promote specialisation and partnership in the legal profession in Africa;
to liase with the other regional fora, enabling members of the African Regional Forum to learn from their counterparts;
to educate the African society about their rights and duties in their relationship with each other and their governments, by creating awareness of the role of law in democratic societies;
to provide a forum for the regulation of the profession, training of aspirant practitioners, continued legal education, legal reforms and interaction with government in Africa;
to produce a regular newsletter and other communications to serve as a channel for information to be exchanged and shared among members;
to strengthen sub-regional bars in the continent;
to strengthen the relationship between the bench and bar as well as issues of discipline;
to facilitate the exchange of law reports, books, video and other equipment between developed and developing bars.
---
Data Protection/Privacy Guide for Lawyers in Africa
This Guide addresses privacy/data protection planning, functionality and management of a legal practice in Africa. The guide will provide lawyers in Africa with sustainable, practical and easy to implement data protection controls/protocols. It has been developed drawing from the basic principles contained in the various laws and frameworks on the continent of Africa as well as global trends such as the General Data Protection Regulations (GDPR) of Europe and other associated international best practices.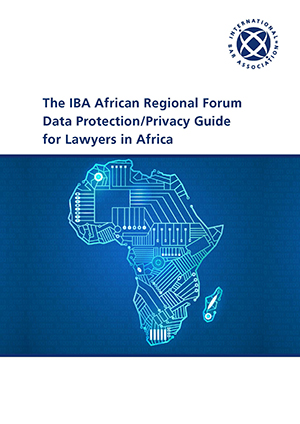 Podcasts
Subcommittees and other groups
The African Regional Forum also coordinates the activities of the following subcommittees/working groups.
African Regional Forum Advisory Board