Annual IBA Pro Bono Award
Supported by LexisNexis
The IBA Pro Bono Committee annually presents an award to a lawyer who is leading our profession in building a pro bono culture. The award is free to enter and it is open to all lawyers, whether or not they are members of the IBA.

Application details
Each year, the IBA Pro Bono Committee honour a lawyer who has shown an outstanding commitment to pro bono work as part of their legal career.
The IBA Pro Bono Committee's mission is to support the IBA in promoting pro bono work globally through implementation of the IBA Pro Bono Declaration and the exchange of information and the promotion of best practice. Pro bono work is a cornerstone of the legal profession, and the IBA Pro Bono Committee wants to help build a culture of pro bono work by lawyers, law firms and organisations of lawyers as a vehicle for access to justice where that right is not fully supported by legal aid.
LexisNexis is honoured to support the Annual IBA Pro Bono Award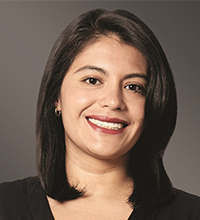 The recipient of the International Bar Association (IBA) Pro Bono Award for 2022 has been announced as Elba Gutiérrez, Manager of the Greenberg Traurig Global Pro Bono Programme. She is honoured for her instrumental role in delivering and promoting pro bono legal services in Mexico, a country where pro bono legal work is uncommon and not mandatory. Describing herself as a 'human rights defender in a corporate attorney's body', Ms Gutiérrez has worked for humanitarian causes throughout her career.
When notified about the award, Ms Gutiérrez remarked: 'I'm deeply honoured to receive this award. As attorneys we have a superpower: we can understand, explain, and enforce the law to change and even save lives. We can improve the world through our profession. I'm convinced that pro bono work is one of the most powerful tools to achieve not just justice, but also social change and people's empowerment. My work as a young woman from the Global South is testament of that.'
Congratulations to Nick Paul, winner of the 2014 Annual IBA Pro Bono Award!
Congratulations to Susan Finegan, winner of the 2013 Annual IBA Pro Bono Award!
Congratulations to Tong Lihua, winner of the 2012 Annual IBA Pro Bono Award!
Congratulations to Flavia Regina de Souza Oliveira, winner of the 2011 Annual IBA Pro Bono Award!
Congratulations to Angeline Welsh, winner of the 2010 Annual IBA Pro Bono Award!