Food insecurity worsens post-pandemic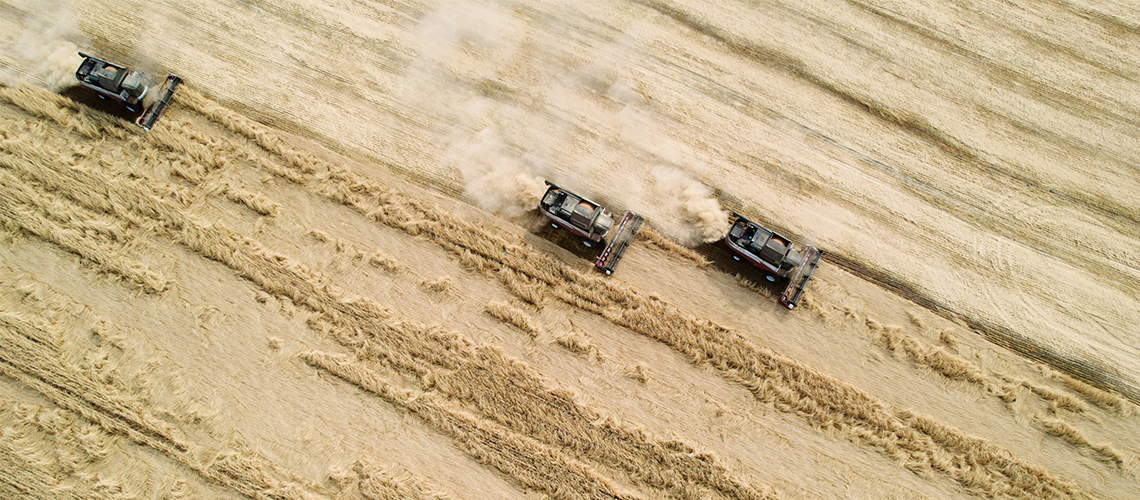 The UN Food and Agriculture Organization's (FAO) latest global assessment of food security and nutrition, published in October, estimates that between 691 million and 783 million people globally faced hunger in 2022. Approximately 122 million more people suffered hunger in 2022 than in 2019. While the Covid-19 pandemic, the Russia-Ukraine conflict, rising inflation and escalating food, fertiliser and energy prices have all had differing effects depending on region, these estimates suggest hunger is getting worse post-pandemic.
The concept of food security describes having physical, economic and social access to sufficient food. A person is considered food insecure when they lack regular access to enough safe and nutritious food for normal growth and development, and for an active and healthy life. International law recognises that everyone has the right to adequate food and to water – part of the broader right to an adequate standard of living.
The increase in food insecurity is at least partially a result of an intensification of several social and systemic drivers – namely conflict, climate extremes, economic downturns, growing inequality, unsustainable production and consumption patterns, resource scarcity and urbanisation. 'The findings presented in the FAO report illustrate a concerning trend, with the global food security situation deteriorating over time. This decline has been exacerbated by the compounding effects of Covid-19, as well as other recent global crises, including climate change and inflation,' says Oluseyi Adisa, Secretary of the IBA Agriculture and Food Section and a partner at Tunde & Adisa Legal Practitioners in Nigeria.
Seventy per cent of people suffering from hunger live in areas afflicted by war and violence, making conflict the largest driver. Russia's invasion of Ukraine – a major supplier of grain crops – in February 2022 led to the blockade of the country's Black Sea ports, which had a significant impact on food security globally. The collapse of a deal intended to resume exports threatens to make food insecurity worse. Valerie A Johnston, a legal officer in the Development Law Service for the FAO, states that 'without urgent support to the Ukrainian agrifood sector, humanitarian needs will continue to rise, and the stability of global food value chains will remain under threat.'
We must adopt a proactive stance and invest in the future of agriculture, recognising that the sector must evolve to remain relevant and sustainable
Oluseyi Adisa
Secretary, IBA Agriculture and Food Section
The US Department of Agriculture's latest figures on household food security, published in October, found that 17 million US households were food insecure in 2022, marking a significant increase to the 13.5 million households recorded in 2021. Luis Guardia, President of the Food Research & Action Center, a nonprofit organisation, attributes the recent increase in food insecurity to the end of pandemic-era benefits and investments by the US government. 'The pandemic raised awareness of food insecurity,' he says. 'Everyone remembers seeing the enormous queues outside food banks, and the federal government's Supplemental Nutrition Assistance Program really helped keep hunger at bay during that time.' He adds that now, 'what we don't want is for hunger to slip back into the shadows again.'
In Africa, Akinwumi Adesina, President of the African Development Bank, believes the continent will rapidly achieve food sufficiency and predicts this will happen within five years. Towards this goal, the African Development Bank Group has, for example, agreed a partnership with the Korean government, which includes a $650m Regional West Africa Rice Development programme involving 16 countries and a million farmers. The programme aims to cultivate up to 750,000 hectares of land to produce 53 million metric tons of rice in five years.
Adeniji Oni, Membership Officer of the IBA Agriculture and Food Section and a principal at Niji Oni & Co, Nigeria, says the rice plan may seem ambitious but is workable. 'After all, Nigeria is currently at 75 per cent rice sufficiency,' he says. Oni highlights that the African Development Bank's Technologies for African Agricultural Transformation programme was able to support Ethiopia in 2022 with over 61,000 metric tons of seed from heat-tolerant wheat varieties, leaving Ethiopia to emerge as a country that no longer imports wheat.
Adisa describes the aspiration to achieve food security in Africa in five years as commendable and optimistic, but ultimately impractical in such a short timeframe. 'Smallholder farmers play a pivotal role in Africa, contributing to the production of at least 70 per cent of the food supply. However, they continue to grapple with inadequate support in various crucial areas, such as knowledge dissemination, the adoption of modern agronomy practices, access to financing and the integration of advanced agricultural technology and input,' he says.
Adisa explains that a substantial portion of these smallholder farmers still exist on meagre incomes and often rely on outdated farming techniques. Meanwhile, young Africans often don't have an interest in a career in agriculture. 'As agricultural professionals, we must adopt a proactive stance and invest in the future of agriculture, recognising that the sector must evolve to remain relevant and sustainable,' he says.
A significant number of Africans still struggle to access an adequate supply of safe and nutritious food. For example, UNICEF's estimation for 2023 suggests that approximately 25 million Nigerians are at risk of hunger, representing an increase from the 17 million recorded previously, while the latest Global Food Security Index ranks Nigeria 107th out of 113 countries globally for food security. Nigerian President Bola Ahmed Tinubu unveiled in May a comprehensive plan to bolster agricultural productivity, enhance food security and increase farmers' incomes. His proposals include creating grain reserves and food storage facilities and the development of rural infrastructure.
'The recent move by the Nigerian presidency to place food insecurity under a state of emergency and […] within the purview of the National Executive Council has been applauded, but the results are yet to be felt,' says Oni. For Adisa, while there's been progress in certain areas, 'the effectiveness of these endeavours is often impeded by challenges such as corruption and the scarcity of resources relative to the size of the population.' He calls for 'sustainable and efficient solutions that can surmount these obstacles and offer lasting relief from food poverty.'
On what needs to be done to address food insecurity, the FAO's Johnston says that the various failings of current food systems, 'where hunger and obesity co-exist, where farmers and food workers do not earn an adequate living and are themselves not food secure, where the farming methods are degrading the soils, polluting the water, and poisoning farm workers, where food is needlessly transported over long distances, where enough food is produced as it is to feed everyone, but in addition to inequality, a lot is lost and wasted,' must be addressed.
Image credit: xartproduction/AdobeStock.com