Food security: Russia's withdrawal from grain deal could push 100 million people into hunger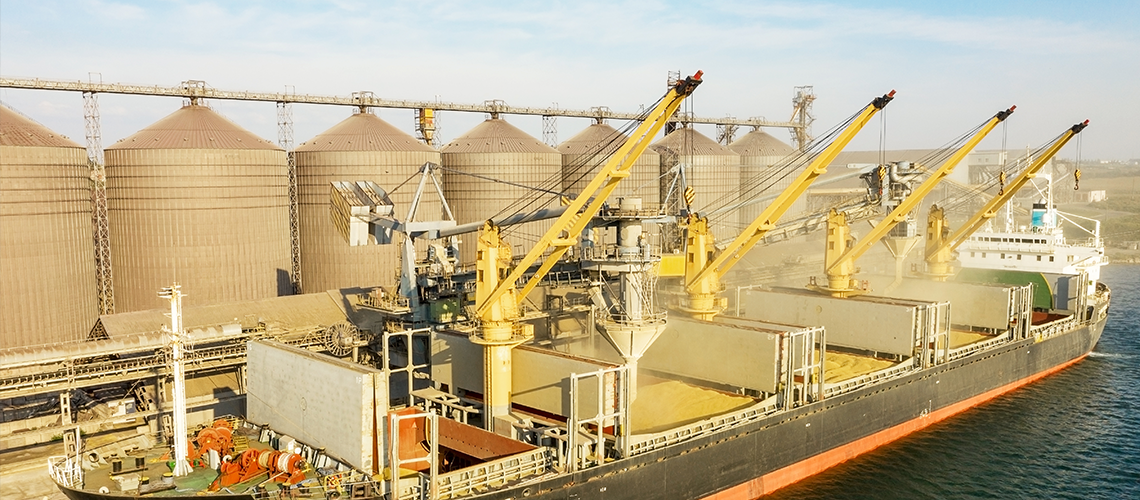 The Russian Federation's withdrawal from the Black Sea Grain Initiative with Ukraine, announced in mid-July, represents a major setback for global food security. Given that Russia and Ukraine are two of the world's largest exporters of grain, some commentators predict a global food supply crisis.
Almost a year after Russian and Ukrainian ministers met in Turkey to sign the deal, which was brokered by UN and Turkish officials, the initiative has ensured the safe passage of over 32.9 million metric tonnes of food commodities from Ukrainian ports, according to the UN. The agreement was designed to kickstart the resumption of grain exports from Ukraine via the Black Sea, through the de-blockading of Ukraine seaports, which had stalled due to the war. A memorandum of understanding was also signed between Russia and the UN to facilitate the exportation of Russian food products and fertilisers to global markets.
The UN estimates that without the deal being in operation, food prices could increase by up to ten per cent, while the World Food Programme suggests an additional 100 million people may be pushed into hunger. Anton Sintsov, counsel at Asters in Kyiv, explains that the impact will vary. 'Some countries, such as Egypt and Lebanon, are heavily reliant on Ukrainian grain imports, and they will be particularly hard hit. Other countries, such as India and China, have larger domestic grain production, and they will be less affected', he says.
Russia has cited various reasons for its withdrawal, including that the sanctions imposed on the country by the West have deterred shipping companies, international banks and insurers from dealing with Russian producers, despite exemptions to the sanctions being made for foodstuffs and agricultural products. Russia has requested that its state-owned agricultural bank, Rosselkhozbank, be reconnected to the SWIFT payment system and Russian ammonia be allowed to transit through Ukrainian territory through the reopening of the Togliatti-Odessa pipeline. It says that if these requests are met, it'll rejoin the deal.
The direct targeting of civilian objects or even excessive damage that might result as a consequence of a legitimate military target nearby can amount to a war crime
Federica D'Alessandra
Co-Chair, IBA Forum for Government and Public Lawyers
Following Russia's withdrawal, UN Secretary-General António Guterres issued a statement in which he expressed deep regret about the termination of the deal, which includes the withdrawal of Russian guarantees on safe passage for ships in the northwestern part of the Black Sea.
The statement explains that prior to the termination of the deal, a letter was sent to Russian President Vladimir Putin with a new proposal. The letter details action taken by the UN to facilitate trade with Russia, including engagement with the private sector to find solutions towards the normalisation of trading conditions and a proposal to build a bespoke payments mechanism for Rosselkhozbank outside of SWIFT.
Glib Bialyi, a partner at Asters in Kyiv, highlights however that despite Western sanctions regimes making an exception for Russian agribusinesses, international operators involved in such supplies 'do not want to deal with a country that has started a war, is terrorising civilians and is provoking a global food crisis', leading to a decrease in demand.
Irina Paliashvili, International Rule of Law Officer for the IBA Rule of Law Forum and President and Senior Counsel at RULG-Ukrainian Legal Group, based in Kyiv, believes that the deal didn't 'collapse', but 'was intentionally undermined by one of its participants – the Russian Federation, which has followed its exit from the deal with massive, repeated missile and drone attacks on Ukrainian grain storage and transportation infrastructure, destroying hundreds of thousands of tons of Ukrainian grain'.
Within hours of its withdrawal, Russia began targeting Odessa and Chornomorsk, two of the three ports included in the grain deal. Pavlo Byelousov, a partner at Aequo in Kyiv, says that Russia is also targeting alternative routes for the export of Ukrainian grain, for example by destroying infrastructure at Izmail, the largest Ukrainian port on the Danube river.
Meanwhile, Sergey Nedelko, counsel at Ilyashev & Partners, highlights that in Odessa, not only have civilians been killed and wounded but significant damage has been caused to port infrastructure, grain terminals and merchant vessels by Russian attacks, while 60,000 tonnes of agricultural products, which were due to be sent to China, have been destroyed.
At the Africa summit held in St Petersburg in late July, Putin told African heads of state and government officials that Russia is making every effort to avert a global food crisis. Putin stated that Russia can replace Ukrainian grain, both on a commercial basis and as free humanitarian aid to the countries that need it most.
Some have asked whether Russia's military strikes on foodstuffs and related agricultural infrastructure might themselves constitute or meaningfully result in the commission of war crimes or crimes against humanity under international criminal law. If so, there's a question as to whether Russian officials can be held accountable for the starvation and suffering of civilians as a result of the country's withdrawal from the deal.
Federica D'Alessandra, Co-Chair of the IBA Forum for Government and Public Lawyers and Deputy Director of the Oxford Institute for Ethics, Law, and Armed Conflict at the Blavatnik School of Government, explains that 'civilian objects are protected under the laws of war in general, so their direct targeting or even excessive damage that might result as a consequence of a legitimate military target nearby can amount to a war crime. This is particularly true for objects indispensable for the survival of the civilian population. Even where some could be considered "dual use", striking such objects is against the laws of war if it results in civilians losing access to indispensable services and goods.'
D'Alessandra adds that this is even more problematic where such strikes are not isolated events but part of a pattern, the accumulated effects of which result in civilians losing access to food, and/or where humanitarian relief is wilfully impeded. 'In such circumstances, we might be looking at the war crime of starvation, among other international crimes', she says.
Image credit: Loading grain into holds of sea cargo vessel through an automatic line in seaport from silos of grain storage. Odessa, Ukraine, 9 August. 2021. Elena/AdobeStock.com