Ghana's Yorm Ama Abledu wins 2022 IBA Outstanding Young Lawyer Award

Pictured left to right: Nigel Roberts, LexisNexis; Yorm Ama Abledu, Centurion Law Group
The 2022 International Bar Association (IBA) Annual Outstanding Young Lawyer Award recipient has been named as Ghana's Yorm Ama Abledu, Senior International Attorney at Centurion Law Group and Lecturer at the University of Professional Studies, Accra (UPSA), for her demonstrable passion for mentoring the next generation of African legal professionals and her remarkable achievements within the academic field. The award was presented during the IBA Annual Conference 2022 in Miami during the Section on Public and Professional Interest (SPPI) breakfast on Thursday 3 November 2022.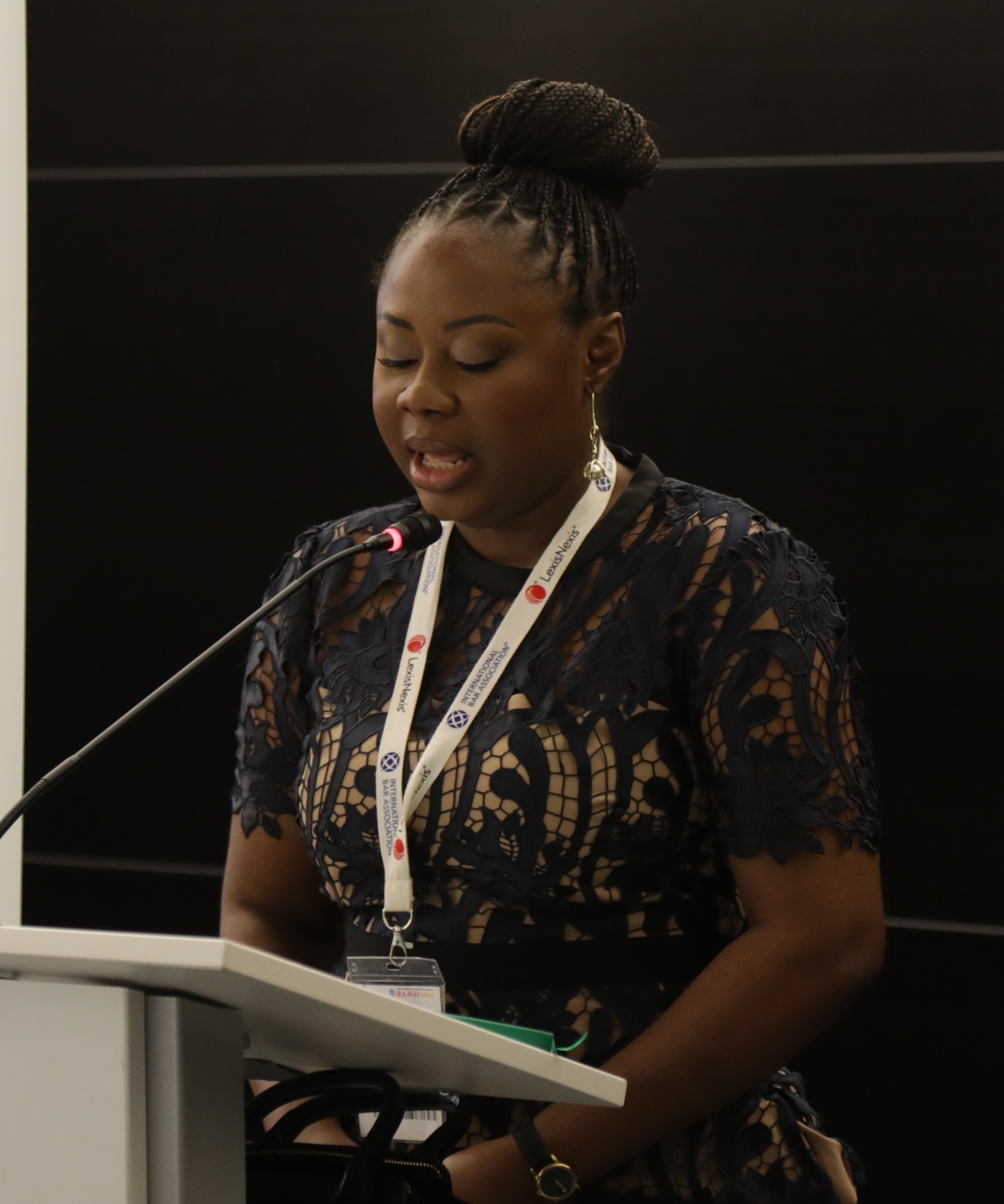 On receiving notification of being the 2022 awardee, Ms Abledu remarked: 'It is a privilege to be honoured as this year's award winner for the IBA Outstanding Young Lawyer Award. History has been made, as I am the second African, and importantly, the first Ghanaian female lawyer, to win this prestigious award. I consider this my greatest achievement so far as a legal academic and lawyer and this victory, I must say, is a dream come true. I know that receiving this award will positively impact young lawyers all over the world and encourage them to do more.'
IBA President Sternford Moyo said: 'On behalf of the International Bar Association, I offer my warmest congratulations to Yorm Ama Abledu on her remarkable achievements. It is my sincere hope that she will inspire others in the legal community to create positive change both within their own spheres of influence, and in wider society.'
Marie Brasseur, Co-Chair of the  IBA Young Lawyers' Committee and one of the judges of this year's award, commented: 'Like every year, we have received the application of so many dedicated young individuals who were more than worthy of this prestigious award. This year, we have chosen to give the award to Yorm Ama Abledu, who has impressed us with her selfless volunteer work and for her dedication to empower African students to academic success.'
Graduating from the Kwame Nkrumah University of Science and Technology, Kumasi in 2013, Ms Abledu went on to advance her legal knowledge at the University of Aberdeen, Scotland (2013 – 2014) and the Ghana School of Law, Accra (2014 – 2016). In 2014, her academic achievements were officially recognised when she received The Ede and Ravenscroft Academic Prize for Excellence.
In 2017, as Assistant Public Defender for Ghana's Legal Aid Commission, Ms Abledu won 57 human rights cases for those in need over a 12-month period. She continues to work for the Commission on a pro bono basis. Her passion for helping others has led to further voluntary work as Policy and Advocacy Team Lead of the African Women in Energy Development Initiative, where she advocates for the inclusion of female legal professionals in the energy sector, and as Alumni Student Ambassador at the University of Aberdeen, which involves helping Ghanian students integrate into university culture.
Ms Abledu specialises in oil and gas law and, as part of her studies, completed a thesis 'Assessing the application of the "stakeholder theory" of company law in the management of oil and gas companies in Ghana'. She has co-written two articles which have been published in the UPSA Africa International & Comparative Law Journal. Her future aspirations include advancing her academic career by pursuing a Master of Philosophy degree at the University of Oxford, England, and contributing to scholarships to help other young African scholars achieve their ambitions.
In a letter of recommendation, Zion Adeoye, Managing Director of Centurion Law Group, noted: 'Ms Abledu possesses unique legal erudition matched only by her sheer hard work and emotional intelligence. Her technical skills, personable character and exceptional organisation skills have distinguished her significantly in the African legal market and beyond. Ms Abledu is a critical thinker, and even though soft-spoken, she is consistently effective with a penchant for the most innovative solutions to high-stakes business issues. I believe she is most deserving of the highest accolade in recognition of her unparalleled contribution to the Ghanian and African legal industry.'
Nigel Roberts, Vice President of Global Associations LexisNexis and Vice President of LexisNexis Rule of Law Foundation, remarked: 'It was a privilege for LexisNexis to partner with the IBA Young Lawyers Committee to establish this award back in 2008. I commend this year's honoree, Yorm Ama Abledu, for her work in Africa, and for her commitment and dedication to advancing the Rule of Law.'​​​​​​​
The IBA Young Lawyers' Committee annually presents an award to a young lawyer who has shown excellence in their career to date, commitment to professional and ethical standards, and dedication to the community at large. The award was established in recognition of William Reece Smith Jr – a past IBA President who distinguished himself as one of the most respected legal experts over the course of a career spanning more than 50 years. LexisNexis sponsored the Award following Mr Reece Smith's passing in 2013. British barrister Michael Polak, recipient of the 2021 award, was acknowledged at this year's ceremony as Covid-19 restrictions meant that the 2021 ceremony was online only.
ENDS
Notes to the Editor
Information about the IBA Outstanding Young Lawyer Award is available here:
Click here to watch the Outstanding Young Lawyer of the Year Award 10th Anniversary film, featuring interviews with previous years' winners.
The International Bar Association (IBA), the global voice of the legal profession, is the foremost organisation for international legal practitioners, bar associations and law societies. Established in 1947, shortly after the creation of the United Nations, it was born out of the conviction that an organisation made up of the world's bar associations could contribute to global stability and peace through the administration of justice.

The IBA acts as a connector, enabler, and influencer, for fair practice and accountability worldwide. The IBA has collaborated on a broad range of ground-breaking, international projects with the United Nations, the European Parliament, the Council of Europe, The Commonwealth, the Organisation for Economic Co-operation and Development (OECD), the World Trade Organization, the International Monetary Fund and the World Bank, among others.
​​​​​​​
The International Bar Association's Human Rights Institute (IBAHRI), established in 1995 under Founding Honorary President Nelson Mandela, is an autonomous and financially independent entity, working to promote, protect and enforce human rights under a just rule of law, and to preserve the independence of the judiciary and the legal profession worldwide.
Find the IBA and IBAHRI on social media here:

​IBA (@IBAnews)

IBAHRI (@IBAHRI)