The IBA's response to the war in Ukraine  
Ukraine's Prosecutor General welcomes IBA help during meeting with IBA Executive Director on expanding support

The International Bar Association's (IBA) Executive Director, Dr Mark Ellis, met with the Prosecutor General of Ukraine, Andriy Kostin, during a recent trip to Ukraine on ongoing support for those affected by Russia's invasion, and future justice for victims.
Mr Kostin commented: 'I had a conversation with the Executive Director of the IBA, Mark Ellis. I thanked him for the support of Ukraine in this difficult time. Mark Ellis is a leading expert in international law. I am sure that his unique experience of working in the former Yugoslavia as an OSCE consultant on the creation of the Serbian war crimes tribunal will be useful to us. The help of the global legal community is very important for the creation of a special international tribunal, which will allow the higher political and military leadership of the Russian Federation to be prosecuted for the crime of aggression. Therefore, it is important for us to have a voice of support for this idea from the IBA, which has wide academic and communication capabilities.
He continued: 'I heard important words about openness to dialogue regarding the promotion of Ukrainian initiatives. Dr Ellis is ready to provide practical assistance to Ukraine. Ukrainian prosecutors and investigators can get access to the international platform for preserving evidence of war crimes, eyeWitness to Atrocities, an organisation founded by the IBA and created on the initiative of Dr Ellis. It can become an additional source of obtaining testimony and potential evidence of international crimes together with the Ukrainian platform warcrimes.gov.ua. We also discussed the idea of coordinating efforts with the independent legal community to develop a transparent international compensation mechanism for Ukraine and citizens affected by aggression. International lawyers could join already established working groups as experts. We agreed to continue the dialogue on effective cooperation.'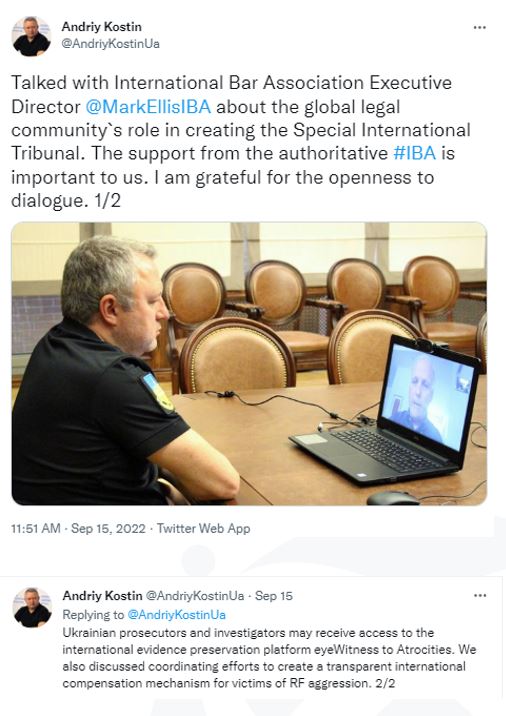 Dr Ellis said: 'I am delighted to have had the opportunity to discuss important justice matters with Mr Kostin, whom I have known for many years. Well-regarded for his diligence and attention to detail, Mr Kostin's comments on potential legal routes to justice for Ukraine were insightful and determined. Holding the perpetrators of crimes of aggression and war crimes accountable is never easy; it requires international cooperation and dedication to the cause. Nevertheless, we must continue with this endeavour and ensure that justice prevails. The IBA is committed to supporting Ukraine in this ambition.'
IBA Executive Director Dr Mark Ellis recently visited Ukraine for a week of high-level meetings between 5-10 September 2022. 
ENDS
Notes to the Editor
Read about the IBA's response to the war in Ukraine.
Related material:


- Ukraine: IBA Anti-Corruption Committee creates taskforce to aid reconstruction efforts
- IBA and Ukrainian National Bar Association partner to deliver a series of training seminars for lawyers
- eyeWitness to Atrocities app reaches 10,000 milestone of verifiable photos and videos relating to war in Ukraine

The International Bar Association (IBA), the global voice of the legal profession, is the foremost organisation for international legal practitioners, bar associations and law societies. Established in 1947, shortly after the creation of the United Nations, it was born out of the conviction that an organisation made up of the world's bar associations could contribute to global stability and peace through the administration of justice.
Please direct enquiries/interview requests to:
Romana St. Matthew-Daniel
Press Office
International Bar Association
5 Chancery Lane
London WC2A 1LG
United Kingdom
Mobile: +44 (0)7940 731 915
Direct Line: +44 (0)20 7842 0094
Main Office: +44 (0)20 7842 0090
Fax: +44 (0)20 7842 0091
Email:romana.daniel@int-bar.org
Email:IBApressoffice@int-bar.org
Website: www.ibanet.org
Website page link for this news release:
Short link: tinyurl.com/5h9eb3ve
Full link: www.ibanet.org/Ukraines-Prosecutor-General-welcomes-IBA-help-during-meeting-with-IBA-Executive-Director-on-expanding-support