Sanctions: businesses prepare for latest twist in geopolitical saga between the West and China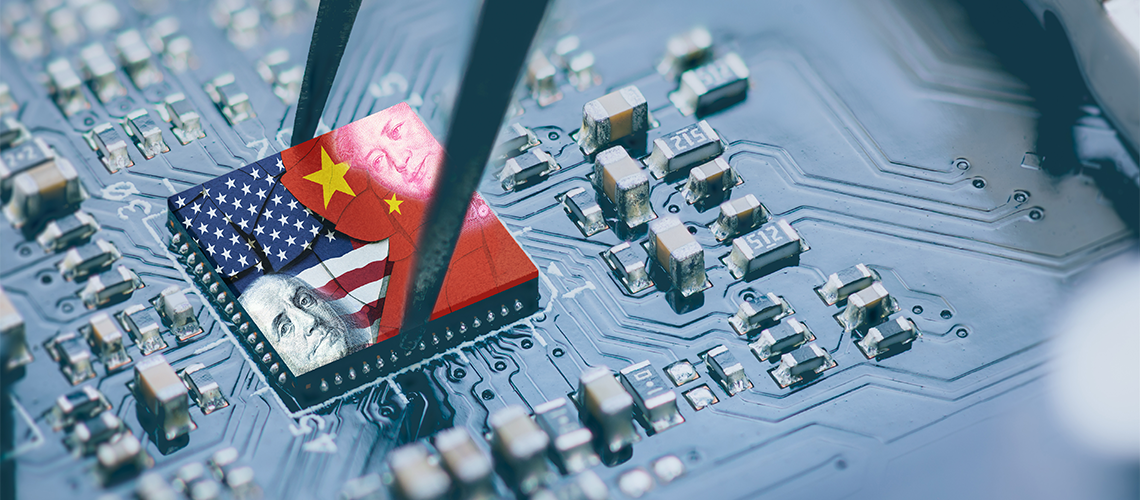 In early May, it was reported that several Chinese companies had been identified by the EU as allegedly supplying components and technology for military equipment to Russia. Given that the bloc has sanctions in place against Russia resulting from the country's invasion of Ukraine, the EU is weighing up whether to impose sanctions on this group of Chinese companies.
Trade wars, including the imposition of higher tariffs, have been a feature of the tense relationship between the US and China over the past several years – and Washington's allies are often found following suit. UK Prime Minister Rishi Sunak and US President Joe Biden issued an 'Atlantic declaration' in early June, which they describe as a 'a framework for a twenty-first century US-UK Economic Partnership'. One of its goals is to exercise further control over certain sectors of the global economy, such as the manufacture of semiconductors – vital in many technologies, including weaponry. Under the partnership, the two Western powers are planning to collaborate in research and development in this area. This may well marginalise China, which hopes to grow its own ability to produce semiconductors. Currently, 90 per cent of the world's supply of semiconductors are manufactured in Taiwan, itself a hotspot of tension between the US and China.
Over the past few years, the US has imposed sanctions and export restrictions on China's semiconductor industry and simultaneously has sought to expand its homegrown production of chips through the Inflation Reduction Act, the Creating Helpful Incentives to Produce Semiconductors and Science Act and other legislative programmes. Meanwhile, in terms of sanctions against Chinese entities more generally, the EU established its Global Human Rights sanctions regime in late 2020, which targets individuals and entities – both state and non-state actors – that it determines are committing or are involved in serious human rights violations or abuses worldwide. The regime has been used to target Chinese officials and entities in connection to the alleged mass detention and persecution of the Uyghur ethnic minority in Xinjiang. China has consistently denied the allegations and retaliated with sanctions including against certain EU parliamentary committees and members of the European Parliament.
If I'm not wrong, the volume of trade from China to the US through the Trump and Biden administrations has continued to grow. So that's not going to change
Yves Melin
Vice-Chair, IBA International Trade and Customs Law Committee
While rapid globalisation over the past few decades has created economic bonds between nations and continents, some links are weakening as trade tensions and the threat of sanctions become more apparent. In March, the Netherlands aligned itself with the US when it announced proposals to restrict chip technology exports to China. The plans will have implications for businesses – for example, the Dutch company ASML, Europe's largest technology company by market capitalisation, has reportedly sold more than €8m worth of chip lithography equipment to China over the last decade.
Manufacturers and businesses more widely previously looked offshore for cheaper labour, hoping to offer better value products and services. Now, fervent efforts are being made to bring manufacturing and supply chains nearer to home, through 'onshoring' or 'nearshoring' initiatives, as the US, the EU and other jurisdictions seek to establish supply chain security and to depend less on far-off countries that are or may become geopolitical adversaries. 'Sanctions against China may accelerate the ongoing trend of supply chain diversification', says Carol Monteiro de Carvalho, a founding partner of M&W Trade, an international trade boutique law firm, in São Paulo. 'Companies may seek to reduce their dependence on Chinese suppliers by sourcing across multiple countries or regions.'
Although not a blatant sanction, the EU Customs Reform – proposals for which were put forward in mid-May – is expected to affect imports from China and other nations, because of the additional stringency that it places on e-commerce products in particular. 'There is a growing willingness to stop products which are not compliant. And so it's difficult to know whether this is something that is geopolitical, but it is definitely the world we live in now', says Yves Melin, Vice-Chair of the IBA International Trade and Customs Law Committee and a partner at Reed Smith in Brussels.
Melin highlights that the trading landscape is becoming ever more complicated, but it doesn't mean that China is going to be cut adrift. 'If I'm not wrong, the volume of trade from China to the US through the Trump and Biden administrations has continued to grow. So that's not going to change. Things will be made in China by cheaper labour or by a Chinese company in the Southeast Asia region. And that's going to continue', he says, adding that there will be an impact on certain products, such as technologies where there are vulnerability or security concerns.
Tit-for-tat episodes of sanctions, higher tariffs and other trade measures are emblematic of the history of economic and geopolitical tensions. Whether they actually have the desired effect is unclear. Michael Diaz, Global Managing Partner of Miami-based Diaz Reus, warns that the West's approach in respect of China will have consequential effects for both sides. 'China will be limited in getting what they need in terms of technology to scale-up, and then the UK, Europe, and the US will have to start creating their own foundries for chip makers and semiconductors and will have to start to decouple from China', he explains. 'But that decoupling comes at a huge expense in terms of billions and billions of dollars of lost revenue and sales for all companies involved in these trade and sanction wars.'
Diaz, whose firm has experienced an 'exponential' uptick in sanctions work in recent years, including in regard to measures implemented by the US Office of Foreign Assets Control, adds that countries that face sanctions – such as Cuba, Iran and North Korea – have typically established their own shadow and parallel economies to counter such moves. 'In the end, folks will adjust, just like water finds a way to run through stone', says Diaz.
Image credit: William W. Potter/AdobeStock.com