Bullying, harassment and discrimination in the legal profession - IBA launches major reports highlighting regulatory responses

The Us Too? Hub page  The BIC page 
The International Bar Association (IBA) has published two comprehensive reports designed to aid the global legal profession's ongoing efforts to address bullying, sexual harassment and discrimination. Beyond Us Too? Regulatory Responses to Bullying and Sexual Harassment in the Legal Profession and A Global Directory of Anti-Discrimination Rules Within the Legal Profession: Main Findings build on the IBA's landmark 2019 report, Us Too?, which highlighted the prevalence of unacceptable workplace behaviour within the profession.
The new reports' findings will be discussed during the launch webinar on 27 June 2022 from 1300 - 1400 BST.
IBA President Sternford Moyo, Chairman and Senior Partner of law firm Scanlen and Holderness in Zimbabwe, commented: 'Achieving and maintaining a safe, supportive and healthy professional environment, free from inappropriate behaviour, is an ongoing undertaking. Collaboration is key to achieving positive, genuine change in this regard. These reports underscore the IBA's enduring commitment to addressing bullying, sexual harassment and discrimination, which have no place in our noble profession.'
The Beyond Us Too? Regulatory Responses to Bullying and Sexual Harassment in the Legal Profession report, explores the emerging interest of regulatory and disciplinary bodies in these issues. 70 organisations were surveyed to gain an understanding of the bodies' approaches to bullying and sexual harassment in the profession. 
Of the respondent regulatory bodies: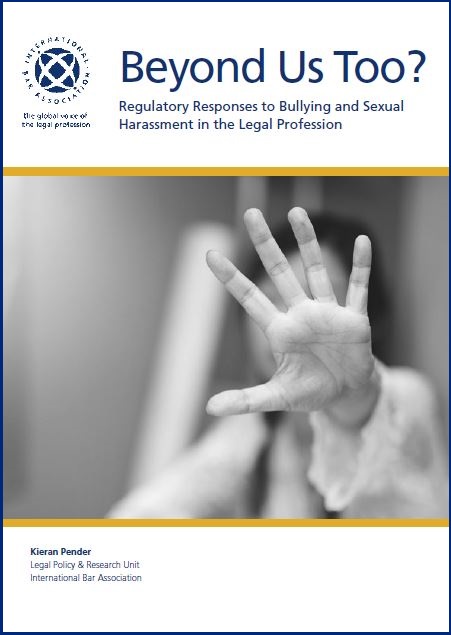 70 per cent have an express or implied authority to address sexual harassment;
58 per cent had taken disciplinary action in relation to sexual harassment, while 47 per cent had taken disciplinary action for bullying;
a majority viewed sexual harassment as a top priority, with the median priority ranking for sexual harassment at seven, on a scale of one to ten; but
80 per cent had received fewer than 20 reports of sexual harassment within the 12 months prior to the survey.
While almost half of the respondent regulatory bodies had a dedicated strategy for addressing bullying and sexual harassment, only a quarter had undertaken data gathering on inappropriate behaviour within their jurisdiction.
In the report's foreword, Fiona McLeay, Victorian Legal Services Commissioner (Australia), said: 'This report is a timely and important resource. It offers useful insights and lessons for regulators who may be considering whether – and if so, how best – to intervene to address problems of harassment and bullying within their own professions. It makes it clear that, although achieving lasting and positive change in this area is challenging, with long-term commitment, creativity and innovation, it is certainly achievable.'
Kieran Pender, lead author of Beyond Us Too? and a consultant with the IBA's Legal Policy & Research Unit (LPRU), said: 'Regulators across the globe are grappling with how to address inappropriate behaviour within the law. Our aim was to allow regulators to learn from each other, by sharing insight among peers and offering guidance to inform the evolution of regulatory and disciplinary approaches to bullying and sexual harassment.'
The report was prepared by the IBA's LPRU with the support of the IBA Bar Issues Commission (BIC) Regulation Committee. The survey was conducted by the IBA in collaboration with the Market Insights team at Thomson Reuters (formerly Acritas).
The A Global Directory of Anti-Discrimination Rules Within the Legal Profession: Main Findings report is focused on the issue of discrimination within the legal profession. It provides an overview of data contained in a separate Directory of what – if any – express rules and regulations have been adopted in relation to discrimination on the grounds of race, sex, disability or any other characteristic by some 238 bar associations, law societies, and other professional bodies representing 156 countries.
While the Directory contains links to the relevant websites and specific rules containing anti-discrimination provisions, the Main Findings analyses and summarises the different approaches taken by professional bodies that have adopted such regulations.
Key analysis from the report include:
bars and regulators in only 18 per cent of countries globally deal with discrimination as a specific issue in their codes, rules or regulations;
overall, it is the anglophone, common law jurisdictions that seem to have adopted anti-discrimination provisions more readily than others; and
most – though not all – of the state jurisdictions of Australia, Canada and the United States have express wording in their rules and codes, with all the regulatory bodies within the United Kingdom and Ireland taking a similar approach.
Ellyn Rosen, Chair BIC Regulation Committee, commented: 'We hope that this report will assist our members, and beyond, in their efforts to address discrimination by providing them with a living resource about the different approaches taken to this issue around the world, while also inspiring those who are just beginning their work in this area. Ultimately, our work is about helping to build a profession fit for the future, and fair for all.'
The conclusion of the Main Findings report notes that while it is 'not intended as a commentary on the wisdom of the regulatory initiatives undertaken, or not undertaken, to introduce specific anti-discrimination rules into lawyers' codes of conduct around the world', nevertheless 'the pressure on the legal profession to conform and adapt to ever-evolving concepts of social justice and sustainability is only likely to increase in coming years.'
Moderating the discussion at the reports' launch event will be by IBA BIC Regulation Committee Chair Ellyn Rosen. Speakers include Gregory Vijayendran SC (Immediate Past President, Law Society of Singapore), Juliet Oliver (General Counsel, Solicitors Regulation Authority, England and Wales) and Antoinette Moriarty (Head of Psychological Services, Law Society of Ireland).
ENDS
Notes to the Editor
Click here to read the Beyond Us Too? report.
Click here to read A Global Directory of Anti-Discrimination Rules Within the Legal Profession: Main Findings report.
Click here to register for the webinar Addressing bullying, harassment and discrimination in the legal profession - a view from the regulatory perch
For information on the Us Too? Bullying and Sexual Harassment in the Legal Profession campaign, visit the IBA website at www.ibanet.org/bullying-and-sexual-harassment
The IBA's Legal Policy & Research Unit (LPRU) undertakes research, and develops and implements innovative strategies, projects and initiatives that are relevant to business and the rule of law, the global legal profession and the broader global community.
The IBA Bar Issues Commission (BIC) Regulation Committee monitors, researches and exchanges information about developments in lawyer regulation around the world.
The International Bar Association (IBA), the global voice of the legal profession, is the foremost organisation for international legal practitioners, bar associations and law societies. Established in 1947, shortly after the creation of the United Nations, it was born out of the conviction that an organisation made up of the world's bar associations could contribute to global stability and peace through the administration of justice.
The International Bar Association's Human Rights Institute (IBAHRI), established in 1995 under Founding Honorary President Nelson Mandela, is an autonomous and financially independent entity, working to promote, protect and enforce human rights under a just rule of law, and to preserve the independence of the judiciary and the legal profession worldwide.
Find the IBA and IBAHRI on social media here: