High Level Panel of Legal Experts on Media Freedom - Our Reports
Advisory Reports to the Media Freedom Coalition
Throughout 2020, the High Level Panel of Legal Experts on Media Freedom produced a series of four advisory reports that focus on improving international mechanisms to enforce international human rights norms. The recommendations from the four advisory reports request action from states, including state members of the Media Freedom Coalition, to promote and protect a vibrant free press and ensure the safety of journalists.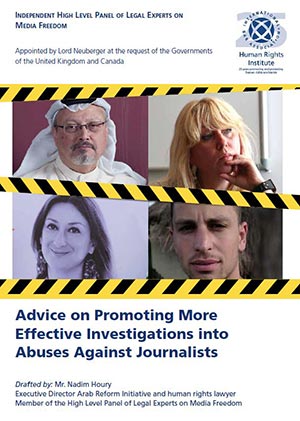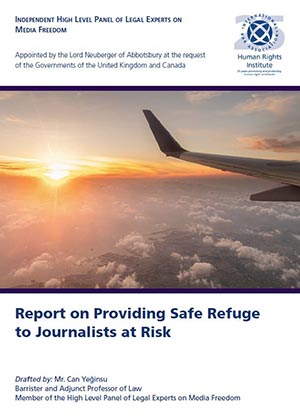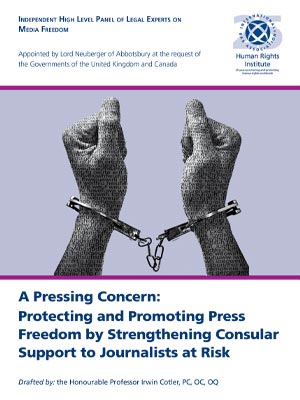 Research Reports on International Standards
The Panel is working with leading academic institutions and law firms around the world to provide advice on model elements for the drafting and interpretation of legislation in line with international human rights standards.
This involves:
(1) reviewing the laws that are most frequently used to target media freedom and studying their use in prosecutions around the world;
(2) reviewing national and international standards relevant to such laws;
(3) reviewing existing guidance issued by international experts and bodies; and
(4) providing practical advice to governments, legislators and judges on drafting legislation, including specific guidance on penalties and language that would comply with international human rights law and reflect best practices in this area.
The High Level Panel addressing laws that are most frequently used to target journalists and those undertaking journalistic activity in six separate reports covering:
Defamation, Sedition and 'insult' laws
Misinformation and Disinformation (so-called 'fake news' laws)
Hate Speech
National Security Laws, including Counterterrorism laws and Espionage and Official Secrets laws
Internet Shutdowns