Legal and business news analysis - Global Insight Dec/Jan 2023

Aerial view on oil refinery plant. Tyumen, Russia.
Russia's invasion of Ukraine: EU and G7 sanctions test West's resolve
As successive packages of international sanctions imposed against Russia since 24 February weigh heavily on the global economy, there's been growing unease in the West that the country is not bearing the brunt of the restrictions.
These concerns may now be assuaged, however, as the EU's long-awaited embargo on Russian crude oil imports was imposed on 5 December.
Sergei Guriev, former chief economist at the European Bank for Reconstruction and Development and current Provost at Sciences Po in Paris, says the embargo will have a devastating impact on Russia's economy. 'Exports from Russia to the EU represent half of the exports of Russian oil and gas, so this is a major, major hit for the Russian budget,' he says.
In fact, Guriev says there are already strong indications that international sanctions are taking their toll on Russia. 'A lot of people think that a stronger rouble suggests the sanctions have failed – this is incorrect,' says Guriev. 'A stronger rouble is not a sign of a strong Russian economy, but a side effect of a decline in imports, which actually hits the Russian economy. In that sense, sanctions have played out pretty significantly in hurting the Russian economy quite badly.'
EU and G7 countries have also reached a consensus on setting a price cap on Russian oil at $60 per barrel, following intense negotiations. This much-debated move came into effect on 5 December and is designed to strike a careful balance between defunding Putin's war machine and limiting the war's impact on global energy prices, whilst allowing countries time to find alternative suppliers and avoid creating a global fuel shortage. From 5 February, EU countries will also stop importing all refined oil products from Russia.
Sanctions are more significant than diplomatic protestations because they signal that the senders are willing to bear costs
Professor Thomas Biersteker
Geneva Graduate Institute
As oil and gas revenues play such a significant role in supporting Russia's economy and its military campaign in Ukraine, Thomas Biersteker, a professor at the Geneva Graduate Institute, say the full weight of Western sanctions on Russia will be felt now these changes have taken effect. 'The caps will be difficult to implement, but their introduction is a creative idea,' he says. 'I think that many analysts and pundits are too quick to conclude the sanctions on Russia are not working or not having an effect. The most powerful sectoral restrictions have yet to be implemented and are only slated to come into effect next year.'
Despite concerns the West has underestimated the Kremlin's ability to withstand sanctions, Guriev says the impact on key technologies and sectors is already apparent. 'Putin cannot get advanced semi-conductors, aeroplane engines or high-grade steel, so he cannot build more weapons,' he says. 'We see that Putin had to start unpacking Soviet era tanks, which are, of course, not as effective and can break down at any moment. We also see that Putin goes to Iran to buy drones, which shows that he cannot replenish his own equipment himself and he cannot import drones because of technological sanctions. There are also reports from American intelligence, which suggest that he even asks North Korea to send him rockets. So technological sanctions also work [and are] saving lives in Ukraine.'
Biersteker says voluntary measures taken by many companies to exit the Russian market have been striking. However, he maintains that sanctions themselves are the most effective way of displaying a united front in the wake of Russian aggression. 'Sanctions are more significant than diplomatic protestations because they signal that the senders are willing to bear costs,' he says. 'The question is how much of the costs are going to be borne by each side and the resolve to continue them.'
The real test will now come as temperatures start to plummet and nations, particularly in Europe, are forced to end their reliance on Russian energy supplies, says Biersteker. 'Russia is calculating that the increased costs of energy will in fact undercut the European resolve in particular,' he says. 'The US and Canada and other sanctioning parties are far enough removed that they're not as affected as Europe. I think that's the focus on the Russian side: to try to create division and try to break up the solidarity with Ukraine that currently exists within the EU, in particular, and of course with the UK as well.'
The myriad sanctions packages against Russia also continues to pose considerable challenges for the legal profession. 'There is a lot of uncertainty in relation to sanctions, in particular regarding Ukraine,' says Simone Nadelhofer, partner at LALIVE in Zurich and the IBA Business Crime Committee's Corporate Counsel Forum Liaison Officer. 'This is why there has been and still is an increased demand for sanctions-related advice. Clients are just not able to answer these questions without guidance or assurance from lawyers.'
As consumer boycotts and the trend for sanctions over-compliance continues, Nadelhofer says clients' need for legal advice is stronger than ever. 'We have also seen that financial institutions have blocked business relationships with any links to Russia – even though maybe the sanctions would not have obliged them to block these accounts – probably out of fear of sanctions breaches,' she says.
Global Insight spoke to lawyers in several jurisdictions who reported instances of government agencies being 'hugely overwhelmed' by licence applications relating to sanctions and taking months to respond.
Nadelhofer says in Switzerland, which is home to numerous trust companies that have Russian settlors or beneficiaries, the demand for sanctions advice has skyrocketed. 'The rules regarding trusts are quite tricky and not always clear,' she says. 'We have been advising a number of trust companies in this respect and have requested licences from SECO, our government agency responsible for sanctions, on behalf of our clients. However, SECO is overwhelmed by the number of enquiries and patience is required.'
Image credit: Aikon/AdobeStock.com
Miami conference brings together 5,000 participants
The IBA Annual Conference 2022 – the legal world's leading international conference – held at the start of November in Miami, Florida, US, saw more than 5,000 participants come together to enjoy a wide variety of working sessions, social functions and networking opportunities. For many, it was the first time they had seen IBA colleagues in some years.
IBA President Sternford Moyo began the proceedings at the Opening Ceremony with an impassioned speech thanking the delegates for their support. He emphasised the importance of fighting for the independence of the legal profession and the judiciary and went on to extol the potential of Africa, calling it 'a continent of the future' – and the need to balance the interests of investors with those of local communities.
Lionel Barber, former Editor of the Financial Times, gave the keynote speech, offering his vision of what the future holds for liberal democracies and how they must adapt to face future challenges. Also at the Opening Ceremony, a video message from Ukrainian President Volodymyr Zelensky spoke of the devastation caused by the war in Ukraine but also of the role lawyers can play in ensuring accountability and justice.
During the week, among the 200+ working sessions covering all areas of legal practice were Showcase sessions addressing issues including cybersecurity, sustainability, artificial intelligence and the rule of law. In addition, the regular 'Conversation with…' sessions and interviews were held with key speakers – some of which are presented in this edition of Global Insight.
Complementing these was an array of social functions bookended by the spectacular opening party at Ice Palace Studios and the wonderful closing party at Nikki Beach.
Elsewhere during the Conference, various individuals and organisations received accolades for their professional contributions, with awards presented for outstanding young lawyer, pro bono practitioner and human rights lawyer (Yorm Ama Abledu, Elba Gutiérrez and Jiang Tianyong respectively). Debevoise & Plimpton were recognised with an IBA Group Member Pro Bono Award, and the Ukrainian Bar Association and Ukraine National Bar Association accepted an award for extraordinary leadership and dedication in protecting human rights and the rule of law. Additionally, Benjamin Ferencz, the last surviving Nuremberg prosecutor, was awarded a lifetime achievement award by the IBA Rule of Law Forum and LexisNexis.
Catch up on films, photos and in-depth news here.
IBA LegalBrief Africa reaches 20th anniversary
On 4 November 2022, the IBA LegalBrief Africa turned 20 years old. The publication provides a succinct weekly email round-up of legal news from across Africa.
The publication came about during the 2002 IBA Annual Conference in Durban, South Africa, the first time the flagship event had been held on the African continent. This was at a time when the IBA's African focus was being significantly expanded, largely due to the IBA's Human Rights Institute, whose Honorary Life President at that time was Nelson Mandela, and a newly developed and inspiring partnership with the Open Society Initiative for Southern Africa.
IBA Executive Director Dr Mark Ellis and IBA Deputy Executive Director Tim Hughes wanted a tangible legacy to follow the Conference, so a publication was discussed at a meeting during the Conference with William Saunderson-Meyer, Founding Editor of Legalbrief. After brainstorming, the idea emerged to have a weekly round-up of legal news from across Africa and IBA Legalbrief Africa was created. It was agreed to launch a publication quickly, and to test reaction among delegates at the IBA Annual Conference. It was to be free to all subscribers and remains so today.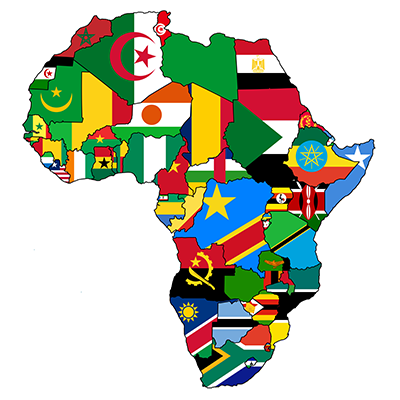 Sign up for a free subscription to IBA LegalBrief Africa here